Every brand searches for ways to expand its Twitter community. At the same time, many rely on manually following new potential followers, while others benefit from Twitter auto-follow tools to get unique followers automatically. Keep reading to get an insight about auto-follow.
You will explore in detail the goal behind using Twitter auto follow. Also, find how Twitter reacts to using auto follow on its platform.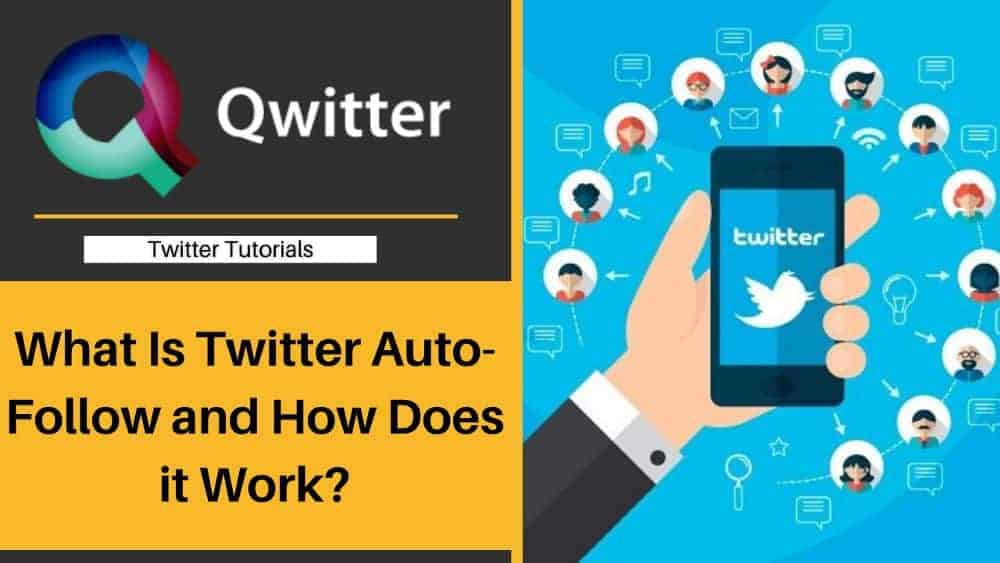 What you need to know about this common tool
---
In the coming section, find what precisely the Twitter auto follow term is all about. People link to this approach as buying followers.
The most important question that comes to mind is How Twitter views this term for its platform as its focus on developing relations on mutual interests. Here's everything you need to find about this commonly used tool.
What Is Twitter Auto-Follow?
---
Twitter auto follow term is collectively used for applications, software programs, services, or methods that operate in automation mode. Twitter users don't have to spare time to follow unique people manually.
Some call these automation tools mass follow/unfollow software.
These tools automatically follow many accounts at once through the automation working principle. Sometimes, they auto retweet, Auto dm & auto-like tweets to gain large followers. These work even when the user has logged out or is not online.
Also, Auto-follow tools work on the principle of reciprocal following, which means following the Twitter accounts that follow you. They quickly unfollow the same accounts automatically.
That's why it's not necessary that one can get all authentic and genuinely interested users. People get many fake followers. These relations are not built naturally.
Some of the premium automation applications work for other social networks to boost relationships on LinkedIn, Facebook, and Myspace. Some tools are available for free, but most companies offer automation services in exchange for premium charges.
For the same reason, their application on the Twitter platform is many times called by the term "buying followers."
What's the Goal of Twitter Auto-Follow?
---
The ultimate goal of Twitter auto-follow tools is to gain a large number of new followers. Your follower ratio goes higher at a fast pace. Many businesses and & brands use these auto-follow tools to sky-rocket their community on Twitter.
These tools claim to use an advanced AI program. In reality, they automatically follow Twitter accounts having tweets containing & keywords & specific hashtags.
Sometimes, follow a certain number of people having specific words in their bio. That's how they target the audience for a Twitter account.
Twitter's No Auto-Follow Rule
---
Twitter doesn't promote the use of auto-follow tools on its platform. These apps engage in aggressive auto following/unfollowing of other Twitter accounts, which is strictly against the rules of this platform.
Twitter only encourages following reciprocal behavior. It means following any user when they have followed you first. There must be a time difference between the following of another new account.
Auto follows tools run on a numbers game. First, they will generate tons of followers with the motive to get follow-backs. If this doesn't happen, they will quickly unfollow these Twitter profiles to start their follower addition process again.
These activities can result in temporary and permanent suspensions. These automation tools break Twitter rules such as posting duplicate links multiple times, retweeting spam updates, etc.
Attract Twitter Followers With Advertising
---
Not every automation service breaks Twitter rules. The advertising methods target the audience on Twitter by paying an amount. This kind of approach to gaining new followers doesn't count in automation activities.
There's no aggressive following or unfollowing. Twitter Ads help users connect with the audience to obtain lasting and meaningful results.
You can see three kinds of Twitter ads: Follower Ads, Promoted Ads, and Trend Takeovers. These are marked with the "Promoted" text at the top to recognize quickly. Different users engage with these promoted ads in the same ways as with organic content.
It depends on the audience whether they want to go further with the account promoted in the ad or not.
Buy Twitter Followers
---
Many third-party companies provide many ways to advertise a Twitter account. They charge a specific amount for Twitter based on the number of followers gained via each promotion. This way or approach to charging a sum for gaining followers is sometimes termed as buying followers.
These services include a mixed approach consisting of automation and advertising, which they won't disclose clearly.
They don't rely on organic methods to connect with the potential audience. No one knows when a user can land in trouble for using these services on a big scale.
If anyone chooses to implement these services, They should be ready about the suspension risks. Earlier, Twitter didn't act against this auto-follow-back behavior. Now, the situation is different.
Twitter's Following Rules and Best Practices
---
Twitter has created rules for following activities to encourage genuine and authentic experiences on its platform. Therefore, Twitter has set a technical limit on the number of accounts to follow to prevent misuse and spam.
Twitter's Follower Limits
Twitter has not set a limit for overall lifetime until an account exists. Every Twitter user can follow a maximum of 400 accounts in a day. Verified Twitter accounts are allowed to follow a max. of 1000 accounts per day.
It has applied limits as per follow ratios once a user has gained a specific number of accounts.
Once a user has reached a limit to follow 5000 accounts, they will have to wait for some time before following new accounts. This number differs for every account and is calculated on the unique followers to following ratio.
Twitter prohibits more activities around this behavior are-
"follow churn" means when any person follows and unfollows many accounts to inflate one's follower count.
Doing indiscriminate following or unfollowing many unrelated accounts in less time via automated services.
Duplicating other accounts' followers, specifically using automation.
Use and promotion of third-party apps/services claiming for followers addition.
Many users came across this message stating, "You are unable to follow more people at this time," for the following reasons.
Once they reach their daily follow limit. They can only resume following on the next day.
Once a user has hit his follow ratio limit. They can try once again after they get more followers. The second way is to unfollow some Twitter profiles to follow unique ones.
Once their accounts get locked by violating Twitter Rules due to aggressive follow activity.
Do Your Own Following Most of the Time
Definitely, automation services seem compelling for a business that is new to Twitter and wants to build its brand presence. Real growth depends on connections that get developed when people engage with quality content.
The meaningful connections are built only when users find an account offering valuable for their learning.
Every user should focus on acquiring followers through organic strategies. These can take time but support long-term community growth. These AI tools find invaluable people to connect with.
For long-term success, it's better to manually add followers and avoid auto-following applications.