With the tremendous increase in the total number of Twitter users every year, people find it hard to get their desired username for their personal brand or business company.
For many companies, it can be a severe issue if any other accounts impersonate their brand identity by using their name.
Are you also facing the same issue of getting the username and wondering How to get a Twitter username that is taken? Here are your helpful 9 steps to secure your Twitter username if it's already been taken.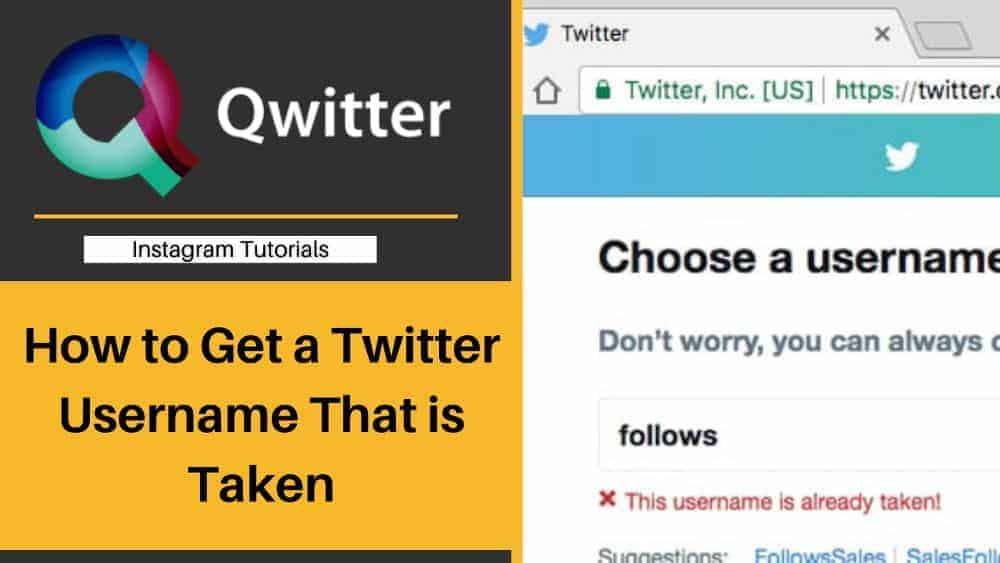 Can you claim a Twitter name that is taken?
---
Well. Yes or no, both. We have a mixed answer to the question as there are no official guidelines mentioned in Twitter rules that can help you to claim the same name.
Twitter clearly says that They cannot release inactive usernames used by the accounts that seem inactive. Twitter is strictly against trademark violations and impersonation actions. 
The answer seems yes when we look for other practically tested options that have helped some users get their desired usernames in the past. We have devised practical solutions to help a person claim the already taken Twitter handle.
9 Steps to secure your Twitter username if it's already taken
---
Here are your 9 steps to secure your Twitter username if it's already taken.
Secure the corresponding Top Level Domain .com (TLD), ideally
We would recommend you secure your username.com. If the .COM domain isn't available; you can try other extensions like .NET, .org, and another famous Top Level Domain. Search on google to find more domains.
Some best websites that offer cheap domain services are Namecheap, GoDaddy, and hostinger. You can save your money in the long run.
For hosting, we recommend A2 Hosting website, Hostinger, GoDaddy, and The blue host with lightning-fast servers and 24*7 customer service, and reasonable prices.
List that .COM as the primary site in your account
Go to your Twitter account, tap on Edit Profile, and add this .COM URL in your primary website section.
Ensure the target username's profile is inactive.
Your probability of securing the username of inactive accounts increases when the target username's profile is inactive. According to Twitter's inactive account policy, it encourages people to actively log in to their Twitter account and use it after registration.
If any user does not log in to their account even once during six months, Twitter might remove that account due to long-duration inactivity.
Look for all these signs in an inactive account.
No recent tweets.
Zero or few followers.
Very old tweets.
It's still counted as an active account if a user scrolls the feed without posting.
File an impersonation claim with Twitter
It can be effective if an account is impersonating your business name and company name.
Steps to file an impersonation claim with the company Twitter.
Type this https://help.twitter.com/en/forms/authenticity/impersonation in your browser.
Select: "An account is pretending to be me or someone I know."
Select "I am being impersonated."
For "Username of the account you are reporting," type the username you want.
Enter your email.
In the "Anything else you'd like to tell us?" section, explain all reasons like why you deserve the username along with The evidence proving that the target usernames belong to an inactive user.
Share government photo ID proofs like your passport and driver's license verifying your identity.
Submit and press enter.
You'll receive an immediate auto-reply email notification from Twitter acknowledging your request.
Wait for an email from Twitter
If they find your claim to be accurate, You can receive an email from Twitter with the following steps to transfer the username.
Email Twitter back with your desired option
Twitter in the email allows you to choose an option from the following.
To replace your current existing username with the impersonated one.
If you would like to create a new account with the requested username.
Some have received email replies even in some minutes, informing completion of the username transfer process. Now keep your Twitter name as you desire.
Create your consistent presence online
If you cannot get your desired username, People should consider selecting a variation name available on Twitter. They can add numbers, underscores, and abbreviations with the same username to create a unique available Twitter handle.
However, use the same username to create consistent personal branding across all your social media profiles like Facebook, Instagram, and LinkedIn. Secure this username on all social media platforms to create a robust online presence.
Asking or Paying the Account Owner
Ask the current owner with a polite and request tone, If you have a good reason to use a particular handle. Maybe the current holder gets ready to give up on the username. But if this doesn't work, try offering an amount in exchange.
Ensure that you discuss this conversation outside of the Twitter platform. If anyone tries to buy or sell usernames, Twitter can permanently suspend your accounts.
Filing a Trademark Dispute with Twitter
Filing a Trademark dispute with Twitter is a legal process. Choose this step at the end. For Twitter, a Trademark violation means when any account uses a company name, official logo, and other trademarked material to copy their identity to mislead people.
Twitter starts investigating requests submitted by the trademark holders or their brand authorized representative. If Twitter finds your request valid, they can suspend the other user.
If you are sure about your username being subject to trademark violation, Fill out this form to raise a request with Twitter – https://help.twitter.com/en/forms/ipi/trademark. Submit your form with valid proof.
Bonus tip: Resecure your old username & set up a forwarding message.
If you emerge victorious in rescuing the old username, Set the details as per the new username to avoid confusion for followers.
Refrain from using your full name in your old profile to avoid confusion for search engines. Write about your new username in the description area of your Profile page.
Twitter Username Taken but Does Not Exist
---
If a username doesn't exist, possible reasons are that the current owner has deactivated the account or Twitter has suspended the account from public view. The username may belong to a suspended or deactivated account.
As Twitter mentions in this policy –https://help.twitter.com/en/managing-your-account/twitter-username-rules that deactivated and suspended usernames are not immediately available to claim. So, people should develop new ideas and choose a new username.
The best advice is to read Twitter username rules that help with the registration process. Remember that there's no guarantee that a particular step will work.
Twitter provides options to people via filing forms to transfer inactive usernames but doesn't mention any specific time duration for getting the response.
No step guarantees you any success. Impatient people can finally choose another name.