Twitter is one of the best popular social media platforms, and it's been quite strict with what Content its users are posting. In recent days, many users, both android and iOS, have been facing 'content is not available error' on Twitter while viewing gifs, images, and videos.
In this article, we'll tell you why you're seeing this error and several methods for how to fix it.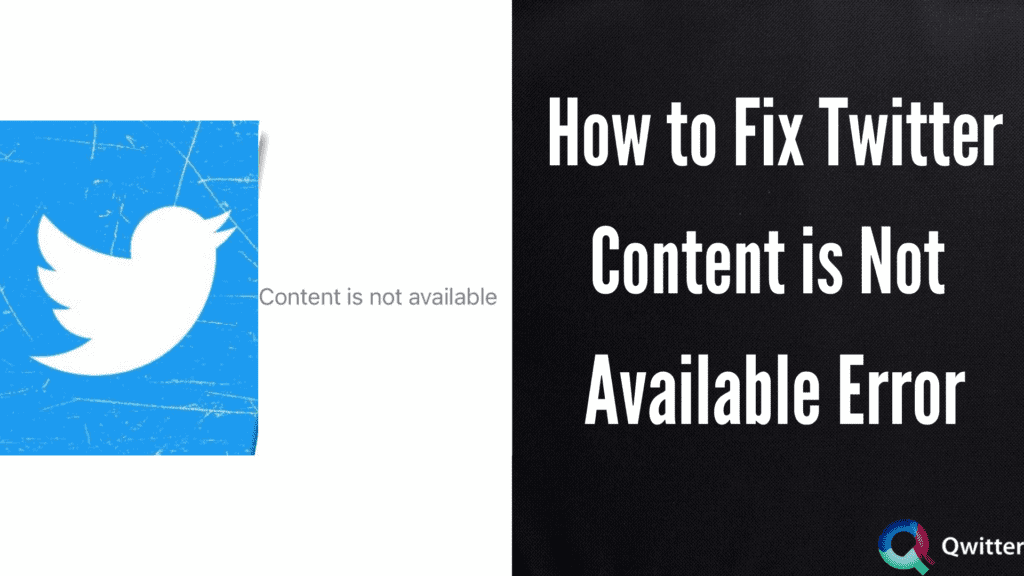 Why are Twitter gifs not working?
---
If you're facing the problem of gifs not working, there might be a problem with your data or wifi network. Try switching to a different network, or you can also try to reboot your device and see if it helps.
Why are Twitter videos content not available?
---
Sometimes, Twitter videos content might not play due to cached data. You can try clearing cache and cookies on your device's mobile browser or Twitter app. You can do this from settings. Also, the video you're trying to play might be sensitive and possibly, Twitter is blurring it.
Why are Twitter photos not loading?
---
Twitter photos not loading issues can arise due to slow internet connection or too much load on Twitter servers. You should clear your app data and cookies and also restart your phone to check if it fixes the issue.
Do I need to change Twitter media settings?
---
If you're unable to watch videos or gifs and if pictures are not loading, it's possible that you might need to change media settings on Twitter. This setting identifies potentially sensitive and inappropriate Content and blurs it from being visible to you on your feed.
These contents may be violent or contain nudity. In that case, if you want to change it, you can go to Settings and privacy on your Twitter profile and then go to privacy and safety.
Next, select Content you see and turn on 'Display media that may contain sensitive Content.'
What does it mean – this media is not available because it includes Content you've chosen not to see?
By default, Twitter sets each of its users' settings that blur Content and doesn't let you see any unsuitable and sensitive content, thereby the message "this media is not available because it includes content you've chosen not to see" on your screen. However, Twitter allows you to disable this setting officially and easily see Content if you want to.
Twitter 'Content is not available' Error fix
---
These methods that we are going to provide will help you fix the 'Content is not available error, and Twitter media files will quickly load on your Twitter. We suggest you check all these ways and see if they are helpful. Let's see these methods:
Try switching to a different wifi or data network
If Twitter media files such as videos, images, and gifs are not loading on your device, it's possible that there might be a problem with your internet connectivity. Switch to a different data network or wifi and check if the problem persists. In the meantime, check and ensure that the battery saver and mobile data limit are turned off. If it isn't already turned off, make sure to turn it off because it may prevent higher continuing connections from reducing data usage or battery loss.
Reboot your Device
Rebooting a device helps in clearing cache data and refreshes your device's system. Try to Restart the device you've Twitter installed in and see if the issue is solved.
Check Twitter Server Status
Check Twitter server status with the use of third-party down-detector websites and make sure it's not Twitter's fault. It is often seen that many platforms, including Twitter, face background outages or server-related downtime that may hinder your experience in using Twitter. These issues are common, including the Twitter app not loading on iPhone or iPad, Twitter web page not loading, and Twitter users have also reported this.
Reinstall the Twitter app
Uninstall and install the Twitter app again on your device, whether ios or android, from the official play/app store and see if the issue is fixed. Sometimes there might be problems with the Twitter app configuration or its older version; that might be why media files are not loading. Reinstalling helps with this issue.
Update Device Software
In addition, you can also check and make sure that you have installed the latest version available on your device. If not, download and install updates. To check updates, go to settings, select software update and check for updates, download if available.
Contact Twitter Support @TwitterSupport
If none of these methods help you fix the 'content not available' issue and the problem still persists, try to contact Twitter support. The representatives there will help you by providing guidance. Also, as there is no official bug announcement about this issue, Twitter should fix it soon.
Conclusion
---
This article explains how you can fix the 'Twitter content not available' error that users have faced for some time. I hope you find this helpful.