Black Twitter is the spirit of Twitter altogether. Many Twitter users have come across the hashtags associated with Black Twitter. If anyone has a famous joke, meme, or even method to operate Twitter, most likely, it has started on black Twitter. Some are part of this community, and many are clueless about what it is.
Here is your complete guide about Black Twitter, starting from how it originated. People interested in joining this community will explore how to join this.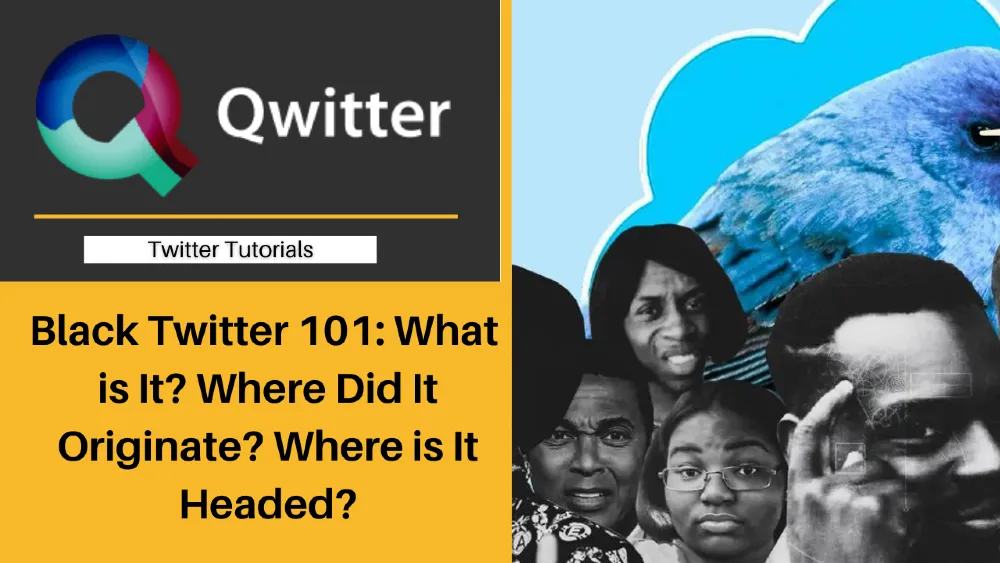 Did Somebody Coin the Term "Black Twitter"? And When Did It Start?
---
Black Twitter term describes the collective community of primarily black Twitter users. Most of the time, the primary focus remains to reflect the experience of Black African & American people. People use this term to draw attention to the issue concerning the black community.
The community presents a supporting culture where all members can discuss issues like problematic people, institutionalized racism, racist messaging, and other softer subjects like movies, pop culture, and memes.
Multiple references point toward the start of the Black Twitter movement.
In 2010, Farhad Manjoo wrote the article "How black people use Twitter" for Slate. This article received an aggressive response from the Twitter community, and people trimmed the headlines to "Black Twitter."
From March 2013, It started to become a topic for large-scale discussions. More people became aware of Black Twitter. It became more prominent in Feb 2012, when controversies surrounded the death of Trayvon Martin.
The subsequent acquittal of George Zimmerman in July 2013 played a significant role in evolving Black Twitter into a political movement for the coming years. People started to connect movements with black twitter using #blaclivesmatter.
In 2014, a dissertation by Meredith Clark researched the subject of African American methods of making hashtags on Twitter. She describes that people on Black Twitter started using hashtags to lure community associates with the same ideals to interact and feel like they are part of a safe space.
Do You Have to Be Black to Be Part of Black Twitter?
---
No, it's not necessary that one has to be black to take part in black Twitter. Many white people participate and tweet with Black Twitter. What matters is that participants must be aware of the focus of the conversation surrounding black Twitter.
Every member should be thoughtful and move with care. Anyone should make sure what they are communicating is reasonable to the black community.
What's the Easiest Way for People to See What's Going on With Black Twitter?
---
Black Twitter community people often recognize themselves by utilizing the #blacktwitter hashtag, and others such as #blackboyjoy, #sayhername, #icantbreathe, #BlackGirlJoy, #blacklivesmatter, or other hashtag concentrates on matters connected to the black people's experiences.
One can observe Black Twitter tweets by observing people known for sharing topics concerning black experiences. Sometimes, serious issues emerge in trending topics.
Many contents on Black Twitter come into light during the problem that affects black people, like their race-related happenings. Suppose the authorities don't handle such situations well; black Twitter steps in to manage it. Black Twitter people also together discuss media about content like movies, TV shows, and award ceremonies from the black viewpoint.
Black Twitter is all concerning community engagement. It usually concerns little activities such as retweeting to show attraction in a discussion or replying to others' user's tweets. They show that a black individual is not alone during a tough time. There's even plenty of variety in interests and matters covered.
Are There Prominent African-Americans Within Black Twitter to Follow?
---
People can follow many prominent African- Americans on Black Twitter from diverse fields. Individuals like Jamilah Lemieux are part of this community. She was the editor at Ebony.com.While she ran for governor; She worked with Cynthia Nixon as communications director.
A writer Vann Newkirk working at The Atlantic is an active part of Black Twitter. Another influential face is Genie Lauren, who began a petition to obtain a book contract During the trial of George Zimmerman from a juror. She did her best to support the blacks.
Scholars like Dr. Meredith Clark & Feminista Jones have followed the past of Black Twitter, mentioning that the forum is used to communicate matters on timely issues such as politics, racial inequalities, women's rights, and police brutality.
Mikki Kendall formed the particular hashtag "#SolidarityIsForWhiteWomen," which pushed her into the spotlight. Jamie Nesbitt Golden thought a hashtag, "#FastTailGirls," which discusses the sensitive topic of black girls' hypersexualization.
She has worked hard to draw worldwide attention to the grudges black women carry with R. Kelly.
What's an example of something that happens on Black Twitter that just kind of explodes and turns into a foxhole you can't escape?
---
1. A. Jill Scott started an explicit concert show. Someone clicked a snippet of that performance and published it online one night. Another day Jill Scott started to trend on Twitter. People shared their responses, jokes, and memes around the performance.
She became the hot topic for discussion on black Twitter.
2. Another defining moment for Black Twitter was in 2014. This moment permanently changed Twitter, like its power and how it is utilized. Twitter, and its service Vine, functioned as a platform and clearinghouse and presented video evidence of police killing a Mike Brown-named teenager.
The evidence appeared during the protests in Missouri. The people started the black lives matter campaigns on Twitter. People were on the streets. Most of the activities were organized online.
3. The crying meme of Michael Jordan is receiving attention now on Twitter. During the Basketball Hall of fame in 2009, This worldwide famous basketball player cried at his induction. Soon, this turned into a meme and surfaced around 2012.
Black Twitter kept it in the limelight till 2018 or even till now. This meme can burst people into laughter so quickly. It's the strength of Black Twitter that it can make any event famous for many years.