There are 2 ways by which you can Link your Youtube channel to the Twitter account. One is directly taking the channel link and add in Twitter bio or vice versa and the second is using third-party apps like IFTTT and Zapier which automatically share your Youtube videos to Twitter. This way you can tweet a new video on your Twitter account.
The benefit of connecting youtube and twitter is it will increase your subscribers on youtube and followers on twitter.
Link Twitter to Youtube
To add your Twitter profile URL to your Youtube channel, you can use the social networking integration tools. Let's start the process.
Step 1: If you are not logged in, sign in to your channel and click on the profile picture on the top right corner of the screen.
Step 2: You see will see a list of options after clicking on the profile picture. Click on Your Channel.
Step 3: You will see a bunch of tabs and two big blue buttons with a name with "Customize Channel" and "Manage Videos". Click on the customize button.
Step 4: Once you click on that button you will be taken to a new Channel customization tab.
Step 5: There you will see 3 tabs named Layout, Branding, and Basic info. Click on Basic info.
Step 6: As you scroll down, you will see Links. Below that, you will see a bold blue text Link with "+ Add Link". Click on that.

Step 7: After clicking on Add Link, you will see two blank boxes with "Link title" required and "URL" required.
Step 8: In the title, space add "Twitter" and in place of URL, add your Twitter profile URL.
Step 9: Click on Publish button at top right.
Connect Twitter & YouTube via IFTTT
The major benefit of linking Youtube and twitter via IFTTT is that you can share your latest videos on twitter automatically. You should take advantage of your followers on twitter and convert them into subscribers.
Here are the steps to connect both via IFTTT.
Step 1: Create your IFTTT account if you don't have one else just log in.
Step 2: Now visit this page https://ifttt.com/connect/youtube/twitter. There you will see lots of recipes like Youtube Video to Twitter or If upload video to Youtube then Tweet with link and image.
Step 3: Suppose we have selected this recipe "If upload video to Youtube then Tweet with link and image". Now click on the Connect button. This will ask you to connect your Youtube account.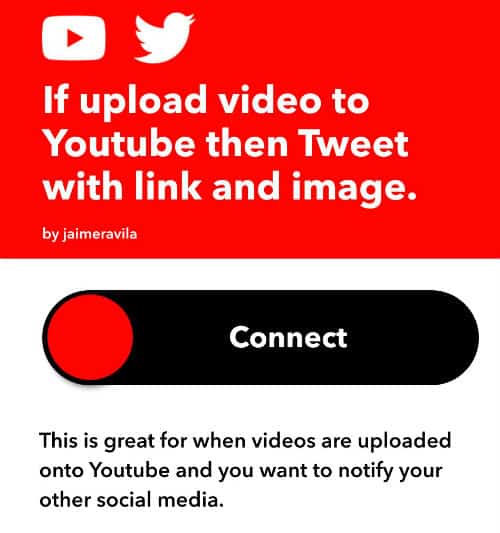 Step 4: Authorize your Youtube account and select the channel you want to link.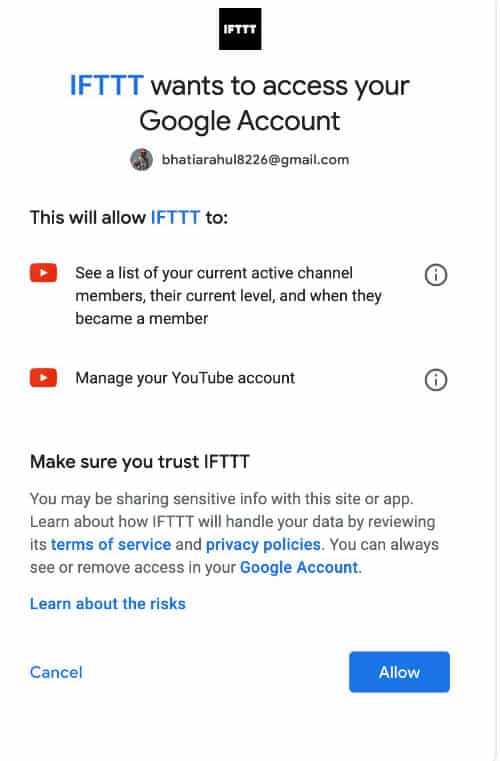 Step 5: Click on the Allow button at the end as "IFTTT wants to access your Google Account".
Step 6: Now in the same way it will ask you to authorize your Twitter account.
It's all done. Now, whenever you post a video on Youtube it will be shared on your Twitter account.
Also Read: