After the Ban of Donald Trump from Twitter in January 2021, many people worldwide search where to read Trump's deleted tweets. People became curious to know what led Twitter to take such strict action against this former president of the USA.
We will suggest ways to read Donald's Trump deleted tweets and describe the reasons behind his ban.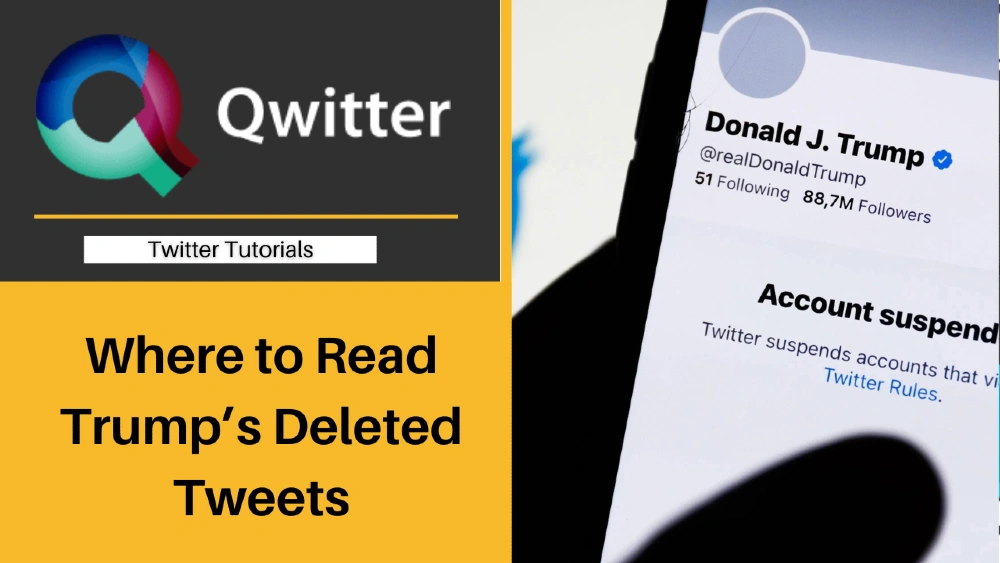 Why Was Donald Trump Banned From Twitter?
---
Donald Trump's official Twitter account was banned on 8th January 2021. Twitter released a detailed explanation of this suspension by particularly highlighting the specific tweets behind their strict action.
As this famous micro-blogging company pointed out, Donald Trump has also constantly received a warning from Twitter in his tweets.
On January 6th, 2021, the followers of Donald Trump spread violence in the U.S. capitol. Donald Trump was blamed for their actions as he tweeted a series of tweets before and after this event. Finally, after his two tweets on 8th January 2021, Twitter decided to place the ban to stop violence from further spreading the violent acts on his platform and outside.
These two tweets were against Twitter's Glorification of Violence policy.
Twitter stated that its motive was to stop the violence as these tweets could encourage people to repeat violent actions and criminal deeds that occurred at the U.S. Capitol on January 6, 2021. No one is above the rules of Twitter.
Even Donald Trump filed a case in the Southern District of Florida District Court. He requested the judges to order Twitter to lift the suspension on his account @realDonaldTrump. But he lost the case and couldn't remove the ban.
How Can I Read Trump's Deleted Tweets?
---
As Donald's Trump official account doesn't exist on Twitter, it's impossible to read his deleted tweets from the same platform.
But, There are three sites from where you can access the Archive of Trump's deleted and other tweets since his first post. These three sites provide you with data for free.
This site contains all the tweets of Donald Trump starting from 2009 till Jan 8, 2021. It provides you with different filter options to narrow your search results. It allows you to export 9877 tweets as a CSV file. You can arrange the search results from newest to oldest and vice-versa.
Search Tips: You can search any tweet of Trump using specific terms included in it.
Retweet filters
Deleted filters
Date filters
Device filters
You can also use this search to view all the old tweets of Donald Trump in the order from newest to oldest and versa. It has fewer search filters than the above site, but still, it's useful. You can choose to view deleted and flagged tweets of Trump.
Twitter didn't delete all tweets but flagged many visible on this site using the "Flagged" filter at the top of your screen.
You can click on the "Followers" section at the top to view and compare the follower's growth rate on the Twitter accounts of Donald Trump and Joe Biden. You can download this data on any device.
This site fetches the tweets data from the Trump Twitter Archive site. The only difference is how it displays and organizes the site information. To download the tweets data, you have to create a new account for free.
This site provides analytics data such as retweets, likes, devices used for tweeting, etc., for each tweet.
Which Trump Tweets Were Deleted
---
These were the two tweets that Donald Trump tweeted last on 8th January 2021, which Twitter reviewed could instigate mass violent acts in the future. These Trump Tweets Were Deleted.
1." The 75,000,000 great American Patriots who voted for me, AMERICA FIRST, and MAKE AMERICA GREAT AGAIN, will have a GIANT VOICE long into the future. They will not be disrespected or treated unfairly in any way, shape or form!!! "
2. "To all of those who have asked, I will not be going to the Inauguration on January 20th."
Twitter delivered the final account ban verdict after reviewing the factors mentioned in the above tweets.
Saying that he would not attend the inauguration may have given his followers the message that the elections were held illegally.
The second Tweet may encourage others to indulge in violent acts on Inauguration day because he will not be present at this event.
The word "American Patriots" represents some supporters of Donald Trump, which means that he supports their actions of executing violent actions in the U.S. Capitol.
Strategies for future armed acts began increasing on and off Twitter, where people were found planning for their second attack on the U.S. Capitol and more places on January 17, 2021.
Isn't Trump on Truth Social?
---
After suspension from Twitter, Donald Trump created another social media platform, Truth Social, in October 2021. This app was officially launched in February 2022. This platform is defined as an "uncensored alternative" and a competitor of Twitter and Facebook.
This app is constantly facing software and technical issues. If you want to read what Donald Trump shares, you can join him on Truth Social.
Is Trump Coming Back to Twitter?
---
After Elon musk made an offer for twitter in April 2022, strong speculations were boosted online about whether the Trump account's suspension will lift or not. Elon Musk was in support of this former president of America. But till now, Donald Trump is still not on Twitter.
In an interview with Fox News in April, Trump said he is not interested in joining Twitter again. He was happy with Elon musk's take over: "I am not going on Twitter; I am going to stay on TRUTH." He mentioned Twitter as a boring platform because it's shutting down the accounts of Conservative voices.
Where to Find Trump on Social Media
---
If you want to view all the old tweets of Donald Trump, visit the Archive mentioned above sites. If you want to read his opinions in the present time, join him on truth Social. You can install this app in the app store.