Emojis are ubiquitous these days, whether you're composing a text message on your phone, typing a social message, or sending an email. Users on all platforms are so much into using emojis as it helps deliver the straightforward expression of emotions.
Twitter users have long been using emojis to communicate and express themselves on the platform. But, did you know that you can add emojis to your tweets? In this blog post, we'll show you how to add emojis to Twitter.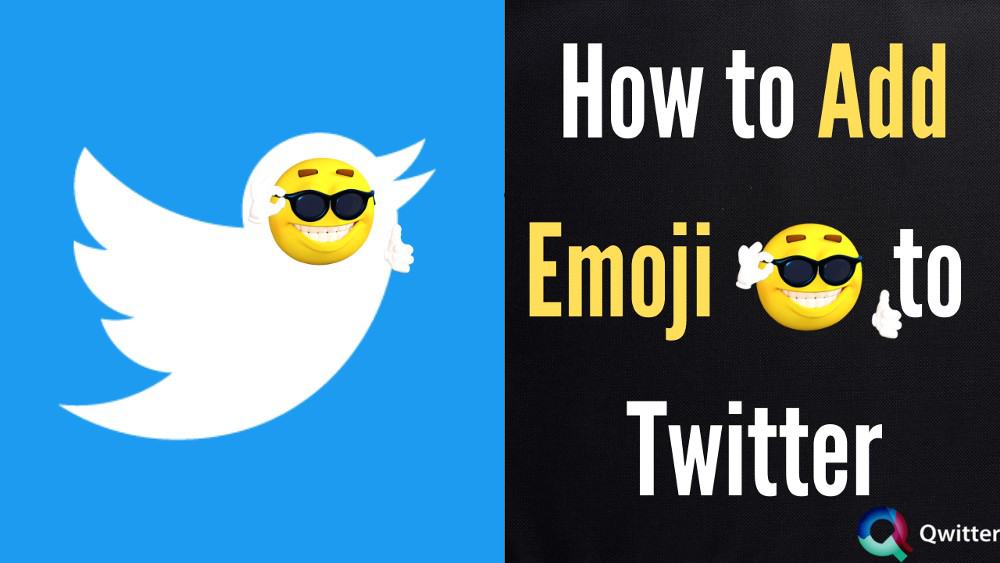 So, whether you want to jazz up your tweets or simply add some extra fun, keep reading!
Should I use Emojis in Twitter Name?
---
Well, it depends on the kind of Twitter account you have. While you may be an emoji expert in your personal life, using them conventionally when representing a company might be tricky.
Including them in your Tweets, on the other hand, can help your company stand out and inspire people to interact with you on Twitter.
Emoticons enable people to interpret and express themselves more effectively than simple text because they allow them to convey subtlety and emotions.
Using relevant emojis in your writing will help you clearly explain your point while also providing a creative touch to your interactions.
How to Add Emoji to Twitter Name
---
Method 1: Using the Mobile App
On your phone or tablet, launch the Twitter app.
To tweet, tap the "Tweet" symbol. You'll find a blue icon in the bottom-right corner of the screen with a white feather and a Plus symbol. This will generate the new Twitter box along with your keyboard.
After following the above points you must follow the below steps according to your use of emojis on Android or iPhone:
How to use Twitter emojis on Android by turning on custom emoji:
On the keyboard, press the smiley face key. If you don't see it, press and hold the spacebar, Enter, or an arrow key while tapping the smiling face.
If it doesn't work, tap the number or symbol key; the happy face key can be hidden there.
How to use Twitter emojis on iPhone:
You'll see a smiley face or globe key on the left of the spacebar at the bottom of the keyboard, which you need to tap to proceed. In case you have many languages loaded, you may need to hit the globe key more than once to go to the emoji keyboard.
Insert an emoji by tapping on it. Swipe left or right to see what emojis are available, then tap the one you wish to use.
If you want to tweet then simply press the Tweet button. It's in the box's top-right corner. That is it, your tweet will be published.
You can also embed an emoji into your profile name or bio.
In case you want to add an emoji to your Twitter name or profile bio, follow these steps:
Select Profile by tapping your profile photo in the top-left corner of the screen.
On the top-right corner of the screen, tap Edit profile.
Now, to add an emoji in the name box, tap it, then tap the emoji key on the keyboard, then type the emoji you want.
To add an emoji to your bio, tap the spot where you want the emoji to appear in your bio, tap the emoji key, and then select an emoji.
To save your changes, tap Save in the top-right corner.
Method 2: Using Twitter.com website
Go to the Twitter webpage. If you're logged into Twitter, this will bring up your feed. Enter your Twitter username and password, then click Log in if you aren't already logged in.
To make a new tweet, you may also start a new tweet by going to the top of the page and tapping the "What's Happening?" button.
Select the icon of a smiling face. It's in the tweet box's top-right corner. This will bring up the emoji panel.
Choose an emoji. To view different types of emoji, use the category icons on the side of the emoji panel, then choose the one you wish to put.
To tweet, simply click the Tweet button. This adds your emoji to your tweet or comment.
Here's how to add an emoji to your profile information:
Select Profile from the profile icon in the top-right corner.
Click Edit profile.
Click the emoji icon to select the favorable emoji, then click the bio box where you'd like it to appear.
To save your changes, click Save Changes on the top right corner.
Method 3: Copy and Paste Emoji on Twitter Using Twemoji
---
There are a plethora of keyboard shortcuts for navigating and acting on individual tweets. However, there are no such keyboards available as shortcuts for putting emojis in tweets which is very unfortunate.
The only possible thing is to copy and paste Twemoji symbols into a new tweet or replying to a tweet appears to be a possibility. Twemoji is considered to be Twitter emoji that supports all free Unicode emoji.
FAQ's
---
How do you copy and paste emojis on Twitter?
To use this emoji, simply click on it, and the code will display in a popup window. Right-click to copy and paste it into your tweets on Twitter. You can simply make use of Twemoji to copy-paste emojis on Twitter
Why can't I see emojis on Twitter?
If you are an iPhone user then, you may have to click on the globe symbol in case you have multiple languages launched on your phone. However, on android phones, you can tap the smiley face on the keyboard or long-press the spacebar.
How do you get emojis on Twitter for Android?
You can use the emoji on the keyboard which you'll find in the bottom left side corner of the keyboard. Even if it is not working on your phone then you can install various emoji apps such as Twemoji itself to get access to emojis.
Why can't I put emojis in my Twitter bio?
Twitter doesn't allow you to use some emojis that will make your profile look verified e.g Eight-Spoked Asterisk emoji or blue diamond emoji. \
Conclusion
---
Due to their widespread use emojis have now become a beautiful part of our mobile keyboards. Emoticons have revolutionized the way we communicate with one another today, with their widespread use on social media.
It is the best way to express feelings to one another and help in growing on Twitter.