Twitter is a fast-paced social media platform that allows users to share short messages from their mobile devices. Users can reach out and communicate through direct messaging (DM). DM's are a great way to connect with people on the go.
It's also an excellent way to promote brands, events, and products. In this article, we will go over the when and how of sending DMs on Twitter and some best practices for using DMs in your business strategy.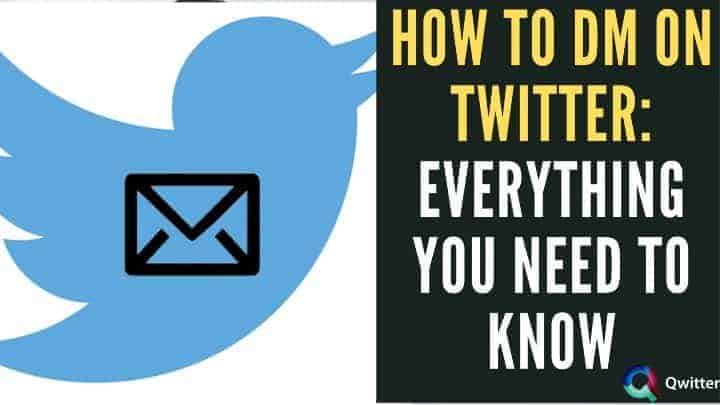 What is a DM on Twitter?
---
On Twitter, a DM, or Direct Message, is a private message that the sender and recipient can only see. Messages are delivered in-app to your phone/laptop. People often send DMs for sensitive conversations they don't wish others to see or be involved with.
Where Does a DM Show Up?
---
DM messages appear next to the person's name in your list of followers. This makes it easy for you to distinguish between people following you and those DMing with you.
You can see a full list of all DMs by visiting "Messages" on Twitter, where they will be sorted separately from tweets.
If you are looking for messages from people who have already followed you, select "Messages" on the left-hand side of your home page on the website, where they will be listed alphabetically.
How Do I Know If I've Received a DM?
---
On mobile, you can find your DM by opening the Twitter app and tapping on the message icon in the bottom-right corner. On the website, on the left side of the screen, you will find an envelope symbol, click on it and all your DM's will appear.
Who Can I DM With?
---
Anybody who follows you can DM you. Aside from that, Twitter's DM feature is not just for sending messages to individuals; it can also be used for group chats.
You can send a DM to any of your followers by clicking on "Contact" and then selecting "Send Direct Message." You'll get the person's profile photo as well as their Twitter handle.
If you want to DM a group of people, click on "Home" and then select the option that corresponds to your desired group chat (either @mentions or #Hashtags). This will bring up all the relevant tweets for that category in chronological order. You can find out who's following each tweet by clicking on the number of followers next to it.
@mentions are an excellent way to send messages to specific people, while #Hashtags lets you send messages to groups rather than individuals. If you want only certain members of your group chat (say just those who replied), then use @reply instead.
If you know that somebody follows you, but you can't find them in your DM list, then they may have blocked you.
If somebody has been blocked from messaging by the sender of a DM, then there is no way for either party to see each other's DMs, and so any missed messages will not show up in their "Inbox."
How to Send a Twitter DM Using a Mobile App and Computer
---
Now that you have a clear idea of what DMs on Twitter are, let's go over the simple steps to DM someone from the Twitter website and the mobile app.
Send a DM on Twitter Using a Mobile App
---
The Twitter mobile app is quite similar on Android and iOS platforms. Follow the steps listed below to send DMs on the Twitter app.
Open the Twitter app and log in to your account.
From the bottom navigation bar, tap on the envelope icon to access the DMs that you have sent or received.
Now, you can select the user that you want to send the DM to by tapping on the envelope icon with a plus icon on it located in the bottom right corner.
After selecting the users, tap on the "Next" button on the top right corner.
Tapping on the "Start a message" box, you can type in your desired message and send it.
How to send a Twitter DM Using a Computer
---
On the Twitter website, you can send new messages to users quite easily. Let's go over the steps required to send a DM on a computer.
Open the Twitter website and tap on the envelope button from the left navigation bar.
After the messages section comes out, tap on the new message button from the right side of the settings icon, next to "Messages"
Type in your message on the text box located on the bottom of the Twitter website or select GIFs or photos if you need to use them.
Tap on the send button to complete this process.
When and Why to Send a DM on Twitter
---
Depending on the context, sending a DM can be a great idea to reach your followers or customers better. Also, sending DMs can be useful when you want to keep certain messages private.
There are many reasons why one might want to send a DM on Twitter – for marketing purposes, customer service, or professional networking. Sending DMs is also important to manage direct conversations with businesses or individuals.
As clarified earlier, deciding whether or not to send a DM depends on several factors. Both DMs and tweets serve similar purposes but need to be used interchangeably in order to have the highest reach for followers and prospective clients on the platform.
When should I use Direct Messages?
---
There are different ways in which you can use this feature, you can use it for connecting to your known ones or reach out to your personalized audience and provide them the service you offer. Here are some ways, you can use the DM.
Use Direct Messages while taking a Twitter conversation from public to private
One of the most important things to know about Direct Messages is that you can take a conversation between two people from the public to private. This allows for more sensitive conversations or discussions without worrying about what other Twitter seeing it.
This is also important to receive messages directly when you run a business account on the platform. Your customers can directly reach out to you instead of commenting or tweeting. This provides a better experience for both the customers and the business end.
Use Twitter DMs for Customer Support
When using Twitter for running an online business, the Direct Message feature is a great tool to provide customer support on a medium to large scale. Twitter DMs can be used to solve problems on the customer's end quite easily, with the aid of images, videos, and text support on the go.
Using DMs for customer support also enables consumers to message you directly regarding feedback or inquiries on the product. This can help to facilitate a better relationship between the business and customers, thus improving sales and trust in the long run.
Enhance Twitter DM conversations with Chatbots
When you have a large follower or customer base on Twitter, using chatbots can be a great way to manage simple requests and inquiries through the platform. Automating your chats is a good idea for enhancing your Twitter DM conversations.
You can automate various aspects of the Twitter DM experience. This includes feedback requests or automated support on Twitter to help iron out simple issues that customers might have. With enough research on your audience, responses to common problems can be automated to save the time and effort needed to reach all of your customers.
Lead generation with Twitter DMs
Twitter DMs can be a great way to generate leads for your business. To get started, simply create a list of potential customers and reach out to them with a personal message. In your message, be sure to include a compelling reason for them to connect with you, such as special offers or exclusive content.
You can also use Twitter DMs to build relationships with potential customers by responding to their tweets and engaging in conversation. By taking the time to connect with potential customers on a personal level, you'll be more likely to convert them into paying clients.
Connecting with influencers
One of the best ways to use Twitter DM is to connect with influencers. When you find someone who has a lot of followers and valuable insights, it can be worth your time to follow them back or send them a direct message (DM). But how do you DM?
First off, it's good not to start by asking for something – this will likely make people feel like they're being spammed.
It's better if you offer something first: "Hey, I love following what you have going on in our industry! Can we chat sometime soon?" Letting them know that their tweets are appreciated, and interesting goes a long way towards making an impactful connection.
If the person responds positively, exchange phone numbers or email addresses and set up a time to chat. You can also offer them the opportunity to blog (or guest post) on your site, which allows both parties to benefit from the relationship.
If they don't respond positively, it might be worth following what's going on in their lives and respecting how much space they need for themselves – these people are busy!
If you're getting too many requests that go nowhere, you may want to create some rules about who DM's whom or when DMs should happen so as not to overburden one person with constant outreach requests…
How Do I Delete a DM
---
On Twitter, it is quite easy to delete a DM on your side. This can be easily done on either the Twitter website or mobile apps. Let's take a look at how you can delete a DM on Twitter.
On Android and iOS app
Open the Twitter app and log in to your account.
From the bottom navigation bar, tap on the messages icon to open the DM section.
Here, tap and hold the conversation that you want to delete, and tap on the "Delete Conversation" button from the pop-up.
Once the confirmation comes up, tap on "Delete" to completely remove the conversation from your end.
On the Twitter Website
Go to the Twitter website from your browser and log in to your account. 
From the left navigation bar, tap on the Messages button to open the Twitter DM section. 
Hover over your selected conversation to bring up the three horizontal dots with various options. 
Tap on the three horizontal dots and select "Delete for you". 
Once the confirmation window comes up, select "Delete" to permanently remove the conversation on your end. 
How to Run a Direct Message Campaign
---
Twitter marketing initiatives entail a lot more than just Tweets. Direct messages can be used for a lot more than just texting your friends and family; they can also be utilized as a part of a larger marketing strategy to ensure you're reaching the proper individuals.
And here are the points that can help you.
Prepare a list of Twitter handles with whom you want to direct the message. These are people who have expressed interest in your brand, tweeted about your content, or don't already follow you on Twitter.
Draft the message and studies show people respond more favorably to handwritten messages than typed ones. Use an appropriate tone and keep it brief so as not to overwhelm them with extra information.
Use keywords from their recent tweets when possible, and insert conversation starters like "did you see our latest post?"
Send the message and wait for the response. If not, don't fret! Just work on Step One over again until you find a match.
The critical thing is making sure they know why you're reaching out – what value can you provide them? What's essential for them to know now or soon? And make it short and informative. Keep at it because it will most likely take several messages before finding a match.
Conclusion
---
We hope this article has helped clear up some of your questions about how best to use Direct Messages on Twitter! Let us know what other articles would help answer more of your questions below!