Have you seen lock on some particular account on Twitter and wondered what exactly it signifies? Well, the lock symbol on an account indicates that the account is private.
This means those accounts that are not following that particular account cannot view its Tweet, and those following it cannot retweet it.
Business accounts and individual users can choose to make their accounts private or to protect their tweets so that a limited number of people can see them whom they have approved.
When you encounter a person with a locked symbol, you can request to follow them, but the user can approve or refuse your request.
In a simple line, the significance of this feature is to allow its users to control their followers and choose and build a community with whom they want to engage.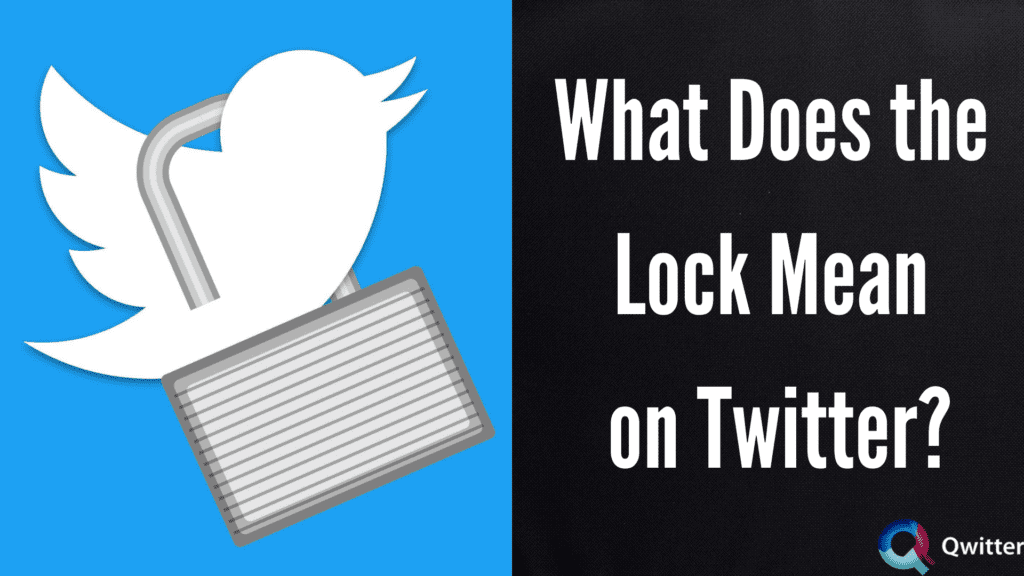 What does the Twitter lock mean?
---
A Twitter lock means that the account is protected, i.e., it is private. The tweets from a protected account are also protected, which means no one can see a protected account's tweets unless the users have approved them. Users with a private account can only share their tweets with those they want to.
Why Do You Need A Protected Twitter Account?
---
You may need a protected account if you want to limit your tweets to a certain number of people that you approve of. Sometimes, businesses also keep their accounts protected to ensure that their upcoming news and projects only get shared with people who follow the account.
They do so to prevent any leaks about their upcoming projects or information.
Protecting your account will not allow you to retweet your tweets, but it does not mean that the users that follow you can't copy your tweets and paste them; they can also take a screenshot of your tweets and share them.
You may also want to protect your Twitter account if you want to prevent spam, bots, and misleading accounts from following you. Protecting your account will help you to keep your account spam-free.
What are protected Tweets?
---
Protected Tweets are tweets that the user has protected from being seen by anyone other than the account owner. The only people who can see them are the account owner and their followers.
Protected tweets have a lock icon next to your username. Only your followers, i.e., people you approve, will see your tweets, but they would not be able to retweet them. However, there is no restriction if they copy the contents of your tweets or take screenshots of your tweets and share them.
When you create a new Twitter account, your account is public by default. Anyone can see your tweets, retweets, and replies. But if you have a private account, your tweets are also protected, which means not anyone can see them.
How Protected Tweets Work?
---
Not anyone can view your tweets if they are protected; only your followers will be able to see your tweets. Only approved people can see protected tweets, so anyone who wants to see a protected tweet must get the approval of the user first to see the protected tweets.
No one can retweet protected tweets, but sharing a protected tweet is impossible. A follower can copy the contents or take pictures of the tweet to share it.
Advantages & Disadvantages of Protecting Tweets
---
Every feature that Twitter provides is for the benefit of the user. But, it solely depends on how the user wants to use it, and the same is the case for the Lock feature. Here are a few advantages and disadvantages that you can consider while deciding if you want to make your account public or private.
Advantages
Protecting your tweets can be useful if you want to restrict your comments to a limited number of people.
Protecting your account can also help you to keep your account safe from spam or misleading accounts.
Protecting your tweets will give you full control over who can view your tweets and lets you enjoy your account privacy.
Disadvantages
If you want to reach a larger audience, it may not be a good idea to protect your tweets.
If you are using your Twitter account to promote your business and it's services, it would be a huge hustle to approve every single customer.
Customers will not be able to get updates if they are not following you. Therefore, such accounts are better off as public. Also, if your account is locked, and you replied to a post by another user, they won't be able to see your reply unless they follow you.
Why Shouldn't You Lock Twitter Account?
There are many reasons why you shouldn't lock your Twitter account.
---
One such reason is marketing. If you want to promote your business or services, it wouldn't be a good idea to have a protected account. People will not see your updates or upcoming products if your tweets are protected.
Your followers would not be able to retweet, so your services will not reach many people; they will get restricted to a limited number of people.
Protecting your account will also hinder your growth if you aim to reach a larger audience, as no one will like to go through a hustle to follow and get approved unless they are seriously interested.
So, locking your account is not a good idea to reach a larger audience or make your tweets go viral.