You can also use Bumble dating app on desktop using Bumble website. With this, every user can comfortably swipe, chat, and video call with their compatible match on their computer or laptop.
The Desktop version (Bumble Web) uplifts the user experience to use Bumble profile. Bumble Web is almost similar to the Bumble app, with the same features and mode of use but on a bigger screen.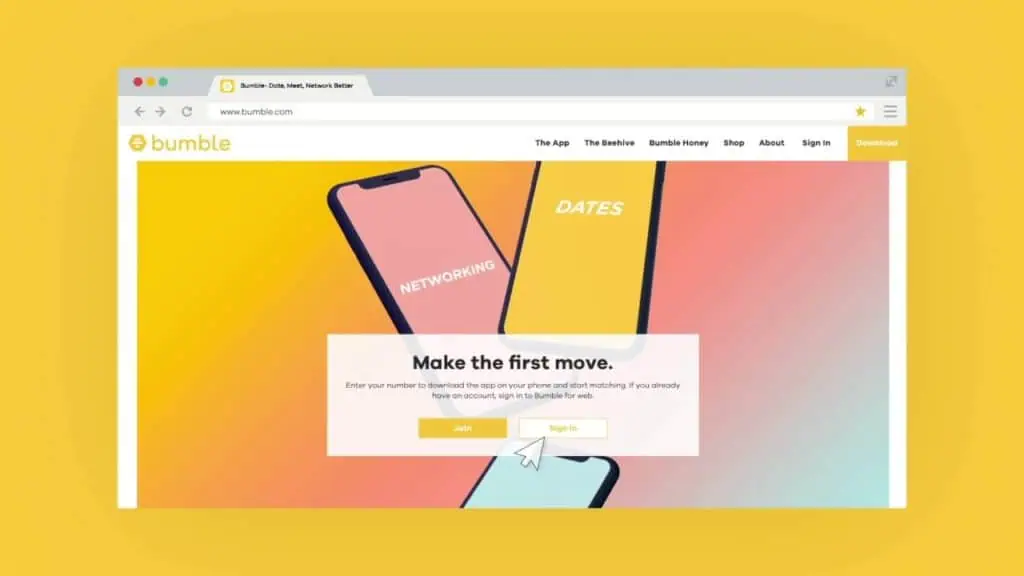 What is the Bumble Web?
Bumble has launched its website version called Bumble Website (Bumble Web) to its users. These offers allow users to operate their Bumble account from a broader screen display of laptops, PC, Macs, or tablets. Bumble Web offers similar features as smartphone apps to enhance user experience and comfortable screening.
Users can take advantage of Bumble features easier than a smartphone screen. Similar features privileges to swipe up your match from the queue, chat, video call, and SuperSwipe. Premium subscriptions provide similar benefits such as Spotlight, Beelive, and SuperSwipes to their features. You can report and block the faulty user with the available option.
Does Bumble have a desktop version?
Fortunately, Bumble has a Desktop version to keep your online networking experience alive! To use it, just Go to their official website Bumble.com, sign in, and use it like you on mobile.
Can I use Bumble on chrome?
Yes, Users can use their Bumble account by signing up via Google Chrome. Bumble is accessible from various web browsers such as Chrome, Internet Explorer, and Firefox.
What to know before using Bumble Desktop?
Before using Bumble Web or Bumble Desktop version, know the following details:
– Bumble Desktop is a handy version.
– It is suitable for Bumble-addicted users who would love to navigate all day. The broader screen and well-spaced options are easy to handle.
– It is easy to switch between the different modes of connectivity.
– Users can browse it through Laptops, Macs, and even Tablets for an uplifted and comfortable time.
– The features are similar. They do not need an additional tutorial to get acquainted with the version.
– For fast-typing users, the Bumble Desktop version is a boon. It allows users to chat faster than on the compact smartphone keyboard.
How to use Bumble on the Desktop web?
Using Bumble on the Desktop is uncomplicated. You need to follow simple steps to get started:-
(a) Sign in to the Bumble official website or create a new account
(b) New users can create an account using a Facebook account or Apple ID. Using a contact number needs an additional step to verify the account and enter the OTP.
(c) Now, the user can select the mode of connectivity. Bumble Dating for dating, BFF for finding new friends, and Bizz for business chit-chats.
(d) Select the range of finding a potential partner.
(e) Set up a mesmerizing profile image and add bio-data such as qualifications, college, and preferences. Be sure to use fewer but impactful words to grow the chances of getting the right swipes.
(f) Select the potential match from the queue section. Begin swiping! You can use advanced SuperSwipe to let the person know your interest.
(g) If you are a woman searching for an opposite gender, Make the first move!
Can I use Bumble web on my phone?
Absolutely! Bumble Web can get accessed using smartphones. All you need to do is to sign in to the Bumble website and add the details. The features and way of using it are very similar to Mac or desktop. Once done with the signup, add a few preferences and get started!
Conclusion
Bumble Website is a handy way of operating your Bumble account. Users can sign up using their profile or create a new profile at Bumble.com. Add the gender preferences, select the mode, and use the Web or Desktop version of Bumble.
It offers similar features on a broader screen. Users can get access on PC, laptops, Macs, etc. Bumble is accessible from various web platforms such as Chrome, Internet Explorer, and Firefox.