This comprehensive article has listed how to fix it when your Bumble app is not working. Have you ever faced problems loading your Bumble app or couldn't resolve the issue? It happens if there is an outage or a technical issue for a general location. Sometimes occur from your side as well.
Read this article to figure out the cause of such improper working of your Bumble app and find ways to fix them.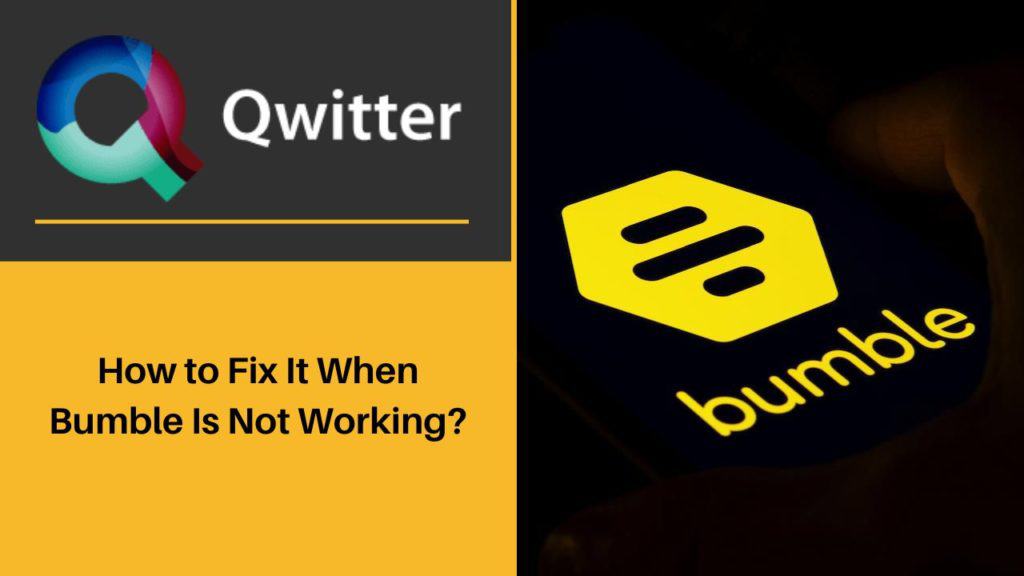 Causes of Bumble Issues
---
There can be five principal causes of Bumble issues. You can check these first to fix your Bumble account:-
(a)  Internet connection:- To start with, check if you have a better Internet connection for operating a Bumble account. Sometimes, a poor Wifi connection can trouble your Bumble access.
(b)  A damaged or broken device:-  A damaged device (ex:- smartphone) can cause a poor sync between the device and the app's functioning. Recent damage to your device can cause a Bumble issue.
(c)  Outdated Bumble app:-  Maybe you are using a non-updated Bumble app. If so, update your Bumble app and continue buzzing with potential partners.
(d)  Bumble widespread issues:-  A widespread server-down will cause Bumble issues with all users. 
(e)  Wrong sign-up:-  Signing your Bumble app to the wrong account will cause trouble while using Bumble.
How to Fix It When Bumble Is Not Working?
---
There are several ways to fix issues when Bumble is not working. Some are below to keep your social buzz alive!
(a)  Sign out of your Bumble profile
(b)  Sign in to a different device-  Try signing your Bumble account to another device. You can download the Bumble app (for an alternative) and check if the account works appropriately.
(c)  Delete your Bumble app and download it again.
(d)  Sign in to your Bumble account using alternate options. For example, sign in using a contact number instead of a Facebook account, or vice versa.
(e)  Clear your device's web browser cache and cookies.
For Android devices-  
Visit the Chrome app. 
Tap on "History" > and select "Clear images and files."
Tap "Clear data."
For iOS devices-
Open your device Settings.
Scroll down to "Safari" > Again, scroll down to "Advanced."
Select "Website data" and clear by tapping on " Clear all website data."
(f)  Check Bumble's social media handles regarding server-down or issues. You can use third-party tools such as Downdetector to check Bumble's current functioning.
(g)  Update your Bumble app on iOS and Android versions.
(h)  Restart your devices (iOS, Android, or Computers). It fixes many glitches.
(i)  If nothing works, contact Bumble's customer service and address your issue.
FAQ's
---
Bumble Stuck on Loading Screen
To fix Bumble stuck on the loading screen, follow these steps:-
Check your Internet connection
Restart your device
Sign in to Bumble with an alternate device
Update your Bumble application
Delete and Re-install the Bumble app (not the account)
Clear Web Browser data and cache
Last but not least, contact Bumble's customer service.
I need help logging in to Bumble With my Phone Number.
It usually happens when you have changed your phone number. To avoid such a situation, sign into your Bumble profile with alternates (Facebook account and Apple ID). If you forgot, contact their customer service and ask them to delete your account.
Bumble Verification Not Working
Your Buble verification may not work if:-
There is a network problem around your location
Bumble is not supporting your contact number
Or, you have generated a previous profile with the same contact number.
If you made a mistake while entering the verification code
Your message inbox is full
Incorrect phone number
You may have blocked verification codes on your device.
To fix the verification code issue:-
Check your contact number
Restart your phone
Check your blocked features on the device's Settings. 
Contact Bumble customer service.
Bumble Not Opening Iphone
If your Bumble app is not working on iPhones, follow these measures:-
Restart your iOS device
Sign in to the alternate method
Check if Internet access is appropriate
Delete your Bumble iOS app and restart.
Bumble Messages Not Showing Up
Usually, messages or chats do not show up in two scenarios:-
Your potential match "Unmatched you!" Oops! 
Your match deleted their Bumble account.
Bumble Photos Not Showing
Your match's profile does not show up if:-
If your match "Unmatched you."
Your match no longer uses a Bumble account (deleted it)
Bumble Session Not Found 0030 3001 0049 Error
The causes of such errors could be:-
Internet problems
Bumble banned your account
You need to update your device
Wrong sign up
How to know if your bumble account is banned?
You can not log in to your Bumble account using the password
You can see an error shown while signing in.
Bumble removed your picture, and users cannot see you any longer.
You can contact Bumble customer service directly on Facebook to receive a faster response.
Conclusion
---
As of now, you may have gotten a deep knowledge of the causes of Bumble issues and how to fix them on various devices.
Read this complete article and know why your Bumble account goes through issues like messages not being shown or disappeared images.