Instagram Screenshot Notification Rules, Explained
Instagram is one of the most famous platforms for sharing unique and innovative visual content. Many times, you may end up taking a screenshot of any appealing story or post on Instagram. Out of awkwardness and hesitation, This comes to all our minds Does Instagram send notifications for Taking screenshots of stories or posts? 
You may not want another person to know you have taken the screenshot. In this article, we will end all your doubts by explaining all the necessary and available information about Instagram screenshot Notification rules.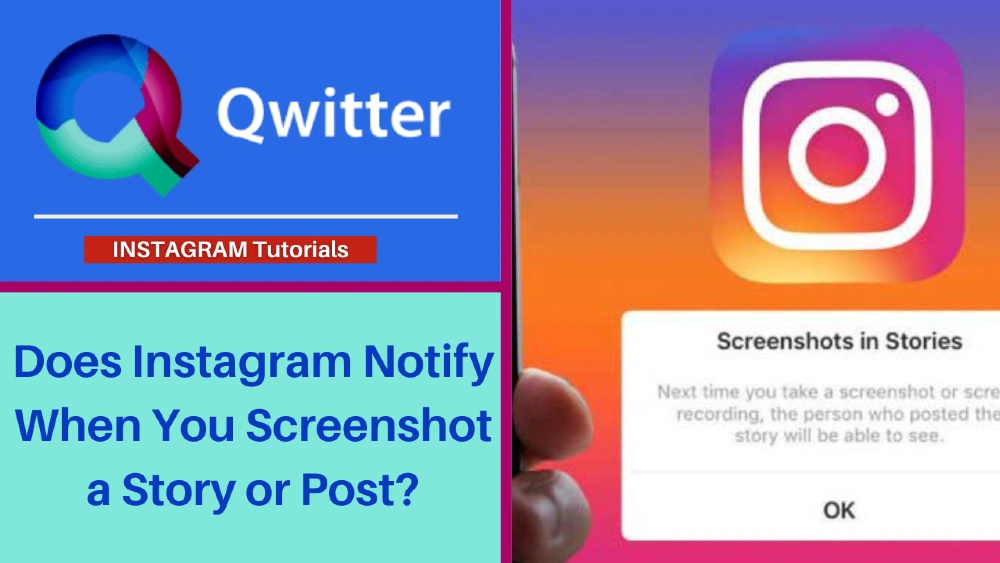 Does Instagram Notify When Screenshotting a Story?
---
No, Instagram doesn't send screenshot notifications to its users for stories. No matter whether the account posting an Instagram story is in public or private mode; It won't receive any message alerting for a screenshot.
This is the current scenario. An Instagram user with a private profile can restrict random strangers from accessing their content.
In 2018, Instagram announced a new update in which it started to send notifications for story screenshots. It lasted for some months. For some Instagram users, this was a helpful update.
For other users, They feared or hesitated before capturing screenshots of Instagram stories. But soon, Instagram removed this feature and stopped sending notifications for story screenshots.
One thing is for sure Instagram has developed this feature and may introduce it anytime in the future again if needed.
Does Instagram Notify When Screenshotting a Post?
---
No, just like stories, when the users screenshot Instagram posts, another user won't receive a notification for alerting. Whether it's an image or video post, If any of your followers want to capture a screenshot or do a screen recording in the Instagram app, they can easily without letting you know.
If you don't want to capture screenshots of posts, Instagram provides a way to save posts any user likes through a bookmark icon.
Using this, you can save the posts for the future in your profile. You may lose the captured screenshot with time in your gallery. Saved Posts will stay until your profile is active or the other user has not deleted them from their feeds.
Steps to bookmark the Instagram posts.
Open Instagram.
Open the post that you want to save or bookmark.
There's a bookmark icon on the right side, below the post. Tap on it.
The post gets saved instantly. You can save it in a particular collection.
You can create one during saving posts.
Steps to access the bookmarked post.
In the bottom right corner of your screen, tap on your profile image icon.
There's a menu icon on the top right side in the form of three horizontal lines.
Tap on it.
Select the "saved" option.
You will find here all your bookmarked posts.
The only issue is you can access the saved posts only when you are online. If you feel like sharing them with any friends, you can. To share Screenshots, one doesn't need online data.
Does Instagram Notify When You Screenshot a Story Highlight?
---
No, Instagram doesn't notify when you screenshot a story highlight. Anyone can tap on your story highlights and take screenshots if they like them.
You won't know that other users have found your story highlights interesting enough to save. Instagram notifies for screenshots only in one scene, which we will discuss next. 
When Does Instagram Notify That a Screenshot Has Been Taken?
---
The unique case when a user receives a screenshot notification on Instagram is only for a disappearing photo or video in the direct messages chat inbox.
Instagram doesn't notify you of all direct messages. Other messages in the dm chat can be in the form of texts, images, shared posts, and videos.
A disappearing message is one that a user sends to another for viewing only once. It's up to the user whether they permit the receiver to replay the messages again. Once viewed, they vanish from the direct message chat.
Important point: The notifications are sent for only those disappearing messages sent through the camera inside the Instagram message window. If you send any dm message from your camera roll, another user captures the screenshot; you won't know about it.
What to Know About Screenshotting Instagram DMs
---
Here are two ways in which Instagram sends notifications for disappearing messages.
When a disappearing Instagram dm is captured, a starburst icon appears next to this. Long-press on the message to find the exact time of the screenshot.
Instagram sends a pop-up notification by mentioning the username of the person who has taken the screenshot. In the conversation summary, Instagram displays a message "screenshot" over the particular person's inbox.
How to Avoid Being Detected for an Instagram Screenshot
---
Many of you may have good intentions for taking screenshots. That's why We recommend three helpful steps to avoid being detected for Instagram screenshots.
These will surely save you from facing embarrassing moments. It's okay if you keep their content to yourself. We suggest you be careful before sharing someone's private content without permission.
1. Use another person's camera– It's the safest and most guaranteed way of not getting caught. Grab someone's camera, and open the desired post, video, or dm message that you want to capture.

Either take a picture or record the video; it's your choice. You can share the captured file on your phone. You may have to compromise with the image or video quality.
2. Open your Instagram account in any web browser – Open your account and navigate to the desired section you want to take a screenshot of. Before that, search google to find relevant plugins for capturing screenshots.
Many desktops have an in-built "snipping tool" to capture the entire windows screen. Access the snipping tool and crop the image into the desired section. Instagram notifies users of screenshotting disappearing photos or videos only in its apps.
3. Put your smartphone in airplane mode – During this mode, the cell phone signals or networks get cut off. This may not be the safest method to avoid getting caught. The above two are the safest.
But remember to open a disappearing photo before turning on airplane mode. This will turn off mobile networks. Take a screenshot easily without alerting the other person.
Do Not Trust Third-party Apps Claiming to Notify You of Screenshots
---
If any third-party app claims to notify you of screenshots, Don't give them access to your account. Many of these run on automation and applications of bots; they can most probably infect your phones with viruses.
Even if you still use it, Instagram is strict against using automation apps on its platform for security and privacy issues.
If detected, Instagram can take specific actions temporarily or permanently to stop your activities. Don't trust such apps.