Twitter has become a popular social media network for people to consume the latest information. Twitter generates a large part of its revenue through advertisements by collecting information about its users. This step invades the privacy of people.
Many users, out of concern for their privacy, wonder, Does Twitter Track them? What Does Twitter Know About them? If you think the same, you have reached the best place to find the detailed answer to these questions.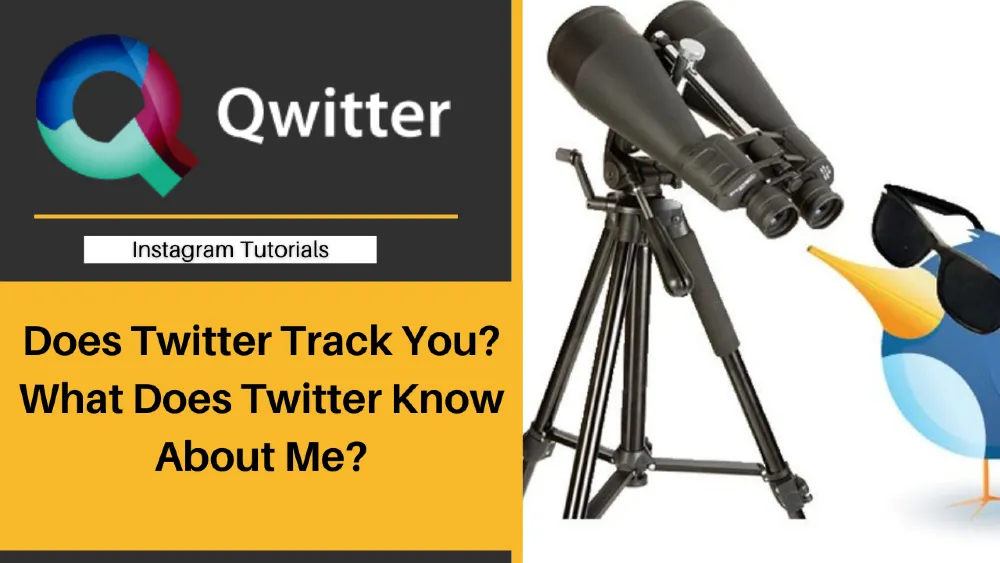 Does Twitter Track You?
---
Yes, Twitter tracks its users on its platform when they use it. Twitter even tracks its users when they use other websites, third-party apps, and affiliates it has partnered with. Even Twitter allows its advertiser's partners to collect user data from its platform to know people's interests and targeting with ads.
What Does Twitter Track?
---
Twitter divides the data collected from its users into three categories.
Information provided by users
Users are bound to submit the following information to Twitter for using its services and products.
Personal Accounts– This includes display name, username, password, phone number or email address, date of birth, display language, sign-in info of the third party, location ( if you allow), and address book uploaded by users.
Professional accounts include the professional category, street address, contact phone number, and email address.
Payment Information– When purchasing ads or other services, Twitter stores data about debit card or credit card numbers, expiration date, billing address, and CVV code.
Information collected when users engage on Twitter.
Usage Information includes posted tweets, followed people, lists, broadcasted Twitter spaces, interactions made with people, bookmarks, followed topics & interests, direct messages content, etc.
Payments information includes transactions like amounts paid/received, subscription expiration date, etc.
Device information includes information about address book, IP address, connection, browser type, device type, and its settings like operating system, apps installed, language, etc.
Location information.
Inferred identity information– Twitter associates information like email address, phone number, browser, and device used with your account.
Log Information includes browser type, language, device IDs, search terms, pages visited, application IDs, ads shown, etc.
Interactions are made with Advertisements ( on and off Twitter) through viewing, watching the video ads, clicking an ad, retweeting, and replying.
Interactions with Twitter content on third-party websites include tweet buttons and embedded timelines on other sites.
Information obtained from third parties.
The company collects usage information of other products/services from Developers, Ad Partners, Publishers, and third-party apps( not its partners).
Twitter Is Tracking You On The Web
---
Twitter has mentioned in its privacy policy that it tracks user data such as demographics, interests, email addresses, browser cookies, and viewed content through third parties. It becomes evident that Twitter monitors users and even people with no account on its platform.
Here's What You Can Do To Stop It
---
To some extent, you can control your privacy settings by unticking the options in personalize ads, data sharing, and Twitter activities sections to prevent the company from tracking and sharing your information.
To stop seeing ads based on interest on Twitter, Visit optout.aboutads.info.
Does Twitter Track everything you do?
---
To an extent, Twitter collects almost all data necessary to understand how people interact and use its services. It has partnered with other websites and applications that can serve its purpose.
It wants to know its users in every way, even to verify their identity to keep its platform secure from any activity that affects people's experience.
How to Check What Twitter Knows About You
---
Follow these steps to know what information Twitter gathers about you.
Open any web browser like google chrome or safari and log in to your Twitter account.
Navigate to the left corner of your dashboard; click on the "more" option.
Select "Settings & Privacy" and then "Privacy & Safety."
Under the option, you can see various options related to your on and off Twitter activities.
Explore the "Your Twitter activity" section to view information like your interests, topics, muted/blocked accounts, etc. You can control settings as your preferences.
Download a Copy of Your Twitter Data
---
Twitter maintains an archive data of all your activities, starting from posting the first tweet to deleted messages and posts. Use these steps to download a copy of your Twitter data.
Log in to your Twitter Account on any browser like Google Chrome or Safari.
Navigate to the left corner of your screen, click on "More," and then "Settings and Privacy."
Click on the "Your Account" option and then on "Download an archive of your data."
For your account protection, verify your identity. Enter the password, and the code is sent to your phone or email.
Click on the "Request Archive," and Twitter will start creating your information data. You will be notified once your zip file is ready.
Download the file from the emailed link and unzip the whole folder.
Why and How Twitter Determines What You're Interested In
---
Twitter is interested in the user's data because of the following purposes.
Twitter collects data to enhance and personalize its services for a better user experience.
To show people better appropriate ads & content, suggest new accounts, topics & interests to follow, helping find affiliates, services, and third-party apps.
To recognize users' devices to serve them with ads on Twitter and other websites.
Let's discover two ways how Twitter determines your activity and hidden information.
Your activity on Twitter
Twitter explores more about users' interests through the following activities they perform on Twitter.
Tweets & different content you publish, Twitter spaces or lives information, Communities you have joined, bookmarks, and your lists.
Interaction with your follower's posts or others through likes, replies, mentions, tagging, retweeting, and participation in broadcasts ( including commenting, viewing history, listening, reacting, and speaking ).
People you follow and others who follow back, the contents of your direct messages, including time & date.
Your Interactions with links across Twitter services.
Hidden information you provide
Twitter detects the hidden information which you don't provide in your profile or settings. Some information it collects through its platform and browsing activity on other websites and third-party apps.
Does Twitter Track Your Location?
---
Twitter apps for IOS and Android devices provide the option to set a location. If this is off, it will prevent Twitter from finding your location.
Twitter determines your location by tracking GPS information, the IP address, and data around nearby cell towers or wireless networks while using a smartphone. IP address points to the exact location of users and the time people spend using Twitter in different locations.
Does Twitter Track What You Look at – Your browsing activity
---
Navigate to the "Data sharing and off-Twitter activity" under the Privacy and Safety tab. In the off-Twitter activity section, you can allow Twitter to use your browsing activities outside of Twitter at other websites you explore. The kind of websites you visit indicates your interests.
Twitter Even Tracks People Without an Account
---
Yes, People are now aware that Twitter can collect their data even if they have not created an account. Twitter has made agreements with websites that help it track the activities of people without an account.
When non-Twitter users explore such websites, it collects valuable information related to interests, IP addresses, and more.
How to Protect Your Privacy on Twitter
---
Finally, people can protect their privacy on Twitter through settings and other alternatives. These are some steps to help you in protecting your privacy.
1. Review your privacy settings
Twitter considers its users as the ultimate boss to control their information. Open your account through the Twitter website for detailed access to settings options. Explore and read the "Privacy & Safety" sections to adjust your settings. To find in details, visit the Twitter privacy policy page.
2. Use a VPN
Even people without a Twitter account are getting tracked. One of the best security options to hide your identity online is through a VPN. A VPN hides the IP address so no one can track your online data like browsing history, sensitive data, etc.
So, You can access Twitter from any location or device while using VPN. Some of the best VPN for twitter are – NordVPN, ExpressVPN, Surfshark, Cyberghost, Zenmate, and IPVanish.
3. Use privacy-minded software and alternatives
Some effective alternatives are if you don't want to be targeted with ads on Twitter and other websites.
Start using private web browsers like Tor, Brave, Mozilla Firefox, Safari, Chromium, Vivaldi, Epic privacy browser, etc., for blocking cookies and ads to protect your privacy.
You can use Reddit, which offers better privacy options.
You can install privacy browser extensions like ublock, AdBlock plus, etc.