As part of your business marketing strategy, you should include YouTube in your campaigns. You can utilize YouTube for business to increase your sales and improve your bottom line. But you'll need the right tools and tips to achieve success. 
In this article, we'll provide you tips to Use YouTube for Business to attract a wider audience. You'll also learn about the benefits of YouTube marketing, so you know you're not wasting precious time and money on advertising through this platform.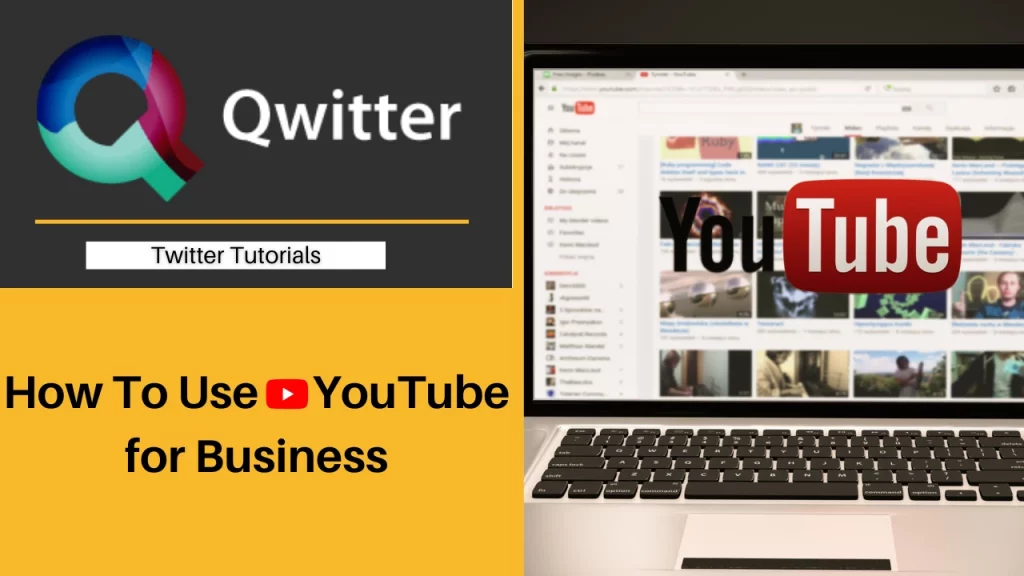 Why Your Small Business Needs YouTube Promotion
YouTube has over 2.1 billion active users worldwide. Of those users, approximately 122 million people visit the site daily. The platform provides plenty of opportunities for your company to expand its reach and increase its sales. Here are the reasons your business requires YouTube. 
Reach a Wider Target Audience
eCommerce stores and influencers use YouTube to reach a wider target audience. You can sell products to various demographics. When you promote products, create tutorials, or provide information on your business, you can attract subscribers worldwide.
Build Trust and Credibility
One of the reasons businesses use YouTube is that it boosts their credibility. You must provide reasons for your customers to buy your products or watch your content. You can build trust with your audience by displaying your business on YouTube. This is especially true if you include testimonial videos. 
Show Authority in Your Industry
YouTube is the second-largest search engine on the internet. This means that there are thousands of competitors out there that your audience is getting information. If you start a channel, you can establish authority in your industry by providing accurate and current information about your business. 
The Benefits of Using YouTube for Business
An advertising YouTube channel can provide many benefits that have the potential to expand your organization. Here is a list of what you can expect when you start a channel to promote your company:
Boost brand awareness
YouTube channels have the potential to be discovered through Google
The potential to build your email list through YouTube
The opportunity to engage with your audience on a personal level
You can boost traffic to your website
Experience higher conversion rates
The ability to educate your audience through your videos
Lastly, people prefer to watch videos compared to reading long articles about products and services. A person's brain processes visuals faster, meaning people will be more engaged when watching your videos. 
How to Set Up Your Business YouTube Channel
Before you can start creating promotional videos, you'll need to know how to set up a YouTube business channel. You can then manage your YouTube platform more effectively. Follow these easy steps to create a successful channel: 
Sign up for a YouTube account by using a valid Google email address and username.
Once you're signed in you can change your profile picture. Add your company logo as your avatar.
When you click on your avatar at the top right-hand corner of your screen a drop-down menu will appear.
Click on "Your Channel." Then select "Use a business or other name." You can then enter your company's name.
Click on "Create." You'll now have a functioning YouTube business account.
Return to your homepage to view your library and subscriptions.
At the top right-hand corner, you'll find a video camera icon. Click on it to upload your first video.
Why You Need to Create High-Quality YouTube Videos
If you upload pixelated YouTube videos with poor audio, your viewers may stop watching your content. Additionally, poor-quality videos can destroy your credibility and brand perception. Customers will hesitate to purchase products from a brand that has low-quality videos.
On the other hand, videos with high picture quality improve your engagement and your viewer's watch time. They can also improve your ranking on search engines, especially if you have informative captions. You'll have more chance of converting leads into paying customers when you upload videos with excellent sound and picture quality. 
How to Market Your Small Business Using YouTube 
Now that you know the importance of video marketing, here are YouTube tips and tricks to successfully market your company. 
Follow Trends
Trends allow businesses to break the boundaries of the market. Your company can then tap into innovative ideas and opportunities. Moreover, following current trends will allow you to create content your audience appreciates. 
Although there are some types of content every business should create, current YouTube trends include: 
Short form videos
Brand storytelling
Live videos
Relaxing and comforting content
AI creations
Creative visuals
Creator-led content
Implement one or more of these ideas in your YouTube marketing campaign to attract new leads and boost brand awareness.
Create YouTube Shorts
Vine started the short-form video trend in January 2013. Since then, major platforms such as Snapchat and TikTok have been introduced. Now YouTube and Instagram have created a section where people can view and upload short videos. 
If you want to grab the attention of your viewers quickly, you'll need to create short videos with brilliant visual effects. Shorter videos, between 15 seconds and a minute long, are perfect for those who want to consume content quickly. These types of videos are also easier to share, making them ideal for social media. 
You can get creative with your short videos. They work well for promotions and advertising discounts on products and services. Create YouTube shorts by using a video trimmer to showcase important parts of your content in 15 seconds or less. 
Use YouTube Ads
Create short 5-second ads and connect them to other YouTube channels. For example, if someone clicks on a video on how to play guitar, your ad can appear just before the video starts to play. YouTube ads allow you to connect to a wider audience in a unique way. 
You can allow ads to show up in a video when it counts without the high costs of standardized advertising. YouTube explains that ads use Google data to match your message to the right people at the right time. Your target audience will then have access to ads that are relevant to their needs.
Collaborate with Popular YouTubers
Another way to promote your company through YouTube is to collaborate with other channels. For example, if your company sells makeup, you can ask other YouTubers to try out your products through makeup tutorials or provide a review of an item.
Select content creators that have a large audience. Some will have channels with 500,000 subscribers and others will be over 1 million followers. Simply ensure the people you collaborate with are in the same industry as your company.
Share Your Videos on Other Platforms
To drive more traffic to your business YouTube channel, you can share your content on other platforms such as: 
Facebook
Twitter
LinkedIn
Instagram
Snapchat
TikTok
WhatsApp Status
You can also link to these platforms to your YouTube channel. For example, to connect Twitter to YouTube you need to add a link to your Twitter profile in the "Basic info" section.
Ensure your social media accounts have a decent following before you share your videos. When sharing your videos on any platform, explain the video in two to three sentences, and don't forget to add hashtags to boost your reach. 
Final Thoughts
Platforms like Vine and Dubsmash didn't last long on the internet because other newer and better platforms were created. But even though YouTube may have small competitors such as Rumble or Twitch, the platform isn't going anywhere.
So, you can grow your channel and have peace of mind knowing that YouTube won't cease to exist anytime soon. If you want to become a key player in your industry, use the tips in this article to help you build a successful business channel on YouTube.