Snapstreaks makes Snapchat stand out from the rest of social media. It reinforces new forms of interaction with friends and strengthens bonds between people. The more Snapstreaks you have with the person, the stronger your bond is with them. However, the Snapchat streak might get lost for one reason. Do not worry; we bring you 4 easy steps to help you get Snapstreak back.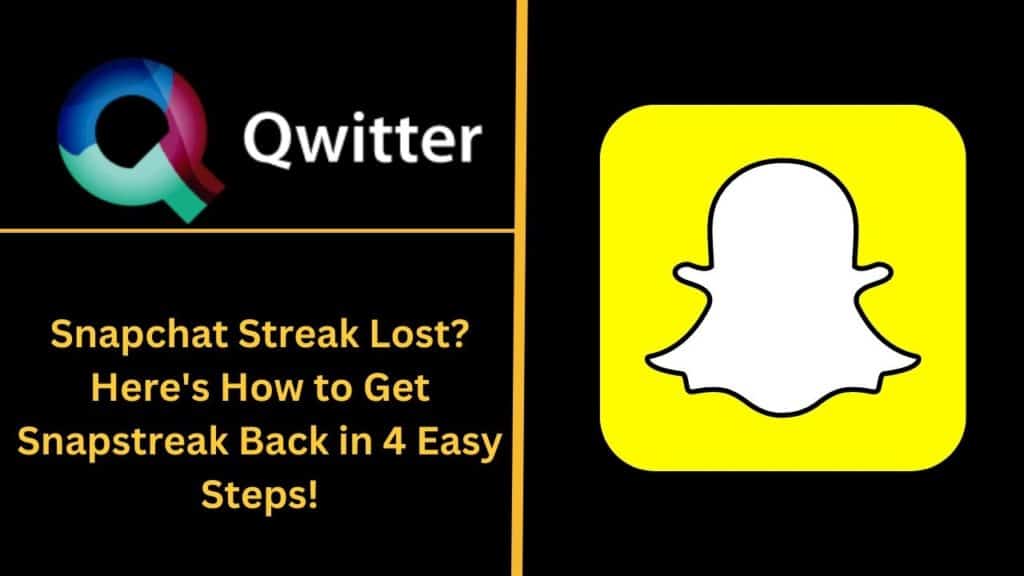 Get Snapchat Streak Back (2023)
---
How to Restore Snapstreak on Snapchat in 4 Easy Steps
We have made restoring Snapstreak on Snapchat easy in just 4 steps:
Go to Settings:

Open your Snapchat account. Locate and tap on your Snapchat bitmoji in the top left corner to open your profile page. Now choose the " Settings " gear-shaped icon from the upper right corner. 

Open Snapchat's support:

Locate the option "Support". Now look and find the option " I need Help". On the next screen, choose "Snapstreaks" from the various options. 

Get help to recover your Snapstreaks

: Next, find the question called "

What if my Snapstreak has gone away, but I know we've sent a Snap (not Chat) back and forth within the 24-hour window?".

The answer to his question would provide you with a link. Tap on that link, and on the next screen, choose the option " I lost my Snapstreak".

Fill out the form and submit your problem

: You will be now directed to a form where fill in every detail about our account and the issue related to Snapstreak you are facing. Once done, choose "Send" to submit your problem. 
It is advised to wait until after reporting the problem, as Snapchat support usually contacts someone within 24 hours. Besides, if you have lost Snapstreak with multiple people, you must fill out different forms and submit a different request for each Snapstreak lost. 
Snapchat also intends to roll out restoring Snapstreaks using an in-app purchase method. If this feature is made available, it might not allow the restoration of Snapstreaks using the support method.
Well, only time will tell whether this method will be introduced or not and how effective it will be. 
What is Snapchat Streak Lost and How to maintain it?
You both have to send Snaps back and forth regularly to maintain Snapstreak. It is essential to highlight here that a Snapstreak starts showing on Snapchat only when you have exchanged snaps with your friend for three or more days.
Once you create a snap streak with a person, it is indicated by the fire emoji on Snapchat, followed by the number of days you have been exchanging snaps regularly. 
To maintain a Snapstreak, you need to exchange Snaps every day. You must ensure that you send a new snap to your friend and receive one from them within 24 hours of lapse, or else you will lose Snapstreak.
Moreover, you can only create snaps from photos or videos you send using Snaochat's in-built camera, not those saved in your camera roll. 
Frequently Asked Questions (FAQ)
---
Is Snapchat streak truly limited to 24 hours?
To put it simply, yes, Snapstreaks are limited to 24 hours only.  You have to ensure that you send a new snap to your friend and receive one from them within 24 hours of lapse or else you will lose your Snapstreak. 
What does the hourglass emoji () mean on Snapchat?
The hourglass emoji denotes that you will soon lose the Snapstreak with your friend if you do not immediately send each other Snaps back and forth.
There is a 24-hour window given to you and your friend during which you have to send and receive snaps to create a Snapstreak. Once the hourglass emoji starts showing, it means 20 out of 24 hours are over and you need to take steps to save your Snapstreak. 
How long does the hourglass emoji () last on Snapchat?
The hourglass indicates that 20 out of 24 hours are over since you last sent received a snap from your friend. It tells you to need to take immediate steps to save your Snapstreak. It gives you 4 hours to save your Snapstreak.
Thus, its duration depends on whether you exchange snaps or not. If you do not send or receive the snap, it will remain for 4 hours. However, if you exchange snaps before that, they will go away instantly. 
Do I have to reply to a Snapchat streak?
If you want to build a Snapstreak with your friend, it is imperative that you reply to it by sending a snap in return. You can send any picture or video using Snapchat's in-built camera If you have sent a snap previously, you need not necessarily reply to it. 
Can one person keep a Snapchat streak alive? 
It is not possible for a single person to keep Snapchat alive. Both people in a conversation have to send each other snaps on Snapchat to keep the Snapstreak alive. 
How long does it take to restore a Snapstreak? 
To restore a Snapstreak, you must contact the support team on Snapchat; They generally take around a day to reply to your restoring request. If they accept your request, they will inform you of the time they will restore your Snapstreak. 
Related Post:
Get Back Your Snapstreak in Snapchat!
---
Snapstreaks demonstrate the strong bond of friendship between you and your friends and make you a power user on Snapchat by increasing your Snapscore.
Snapstreak gives you a sense of achievement and you can also brag about your amazing friendship bond in front of others. Thus, never lose them; if you do, try your best to recover them.
If you have lost your Snapstreak without your fault or your friend's, it might result from a technical issue. In that case, contacting Snapcaht's support team is your best bet. We have listed the steps above detailing how to get back your Snapstreak in Snapchat.