Twitter has been a social media powerhouse for many years, and live streaming is only making it stronger. Twitter's live streaming feature has made it easier than ever for users to share their thoughts and experiences with the world in real-time. For businesses, this presents an opportunity to connect with customers in a new way and build brand loyalty.
In this article, I am going to tell you several tips that can help you live stream on Twitter.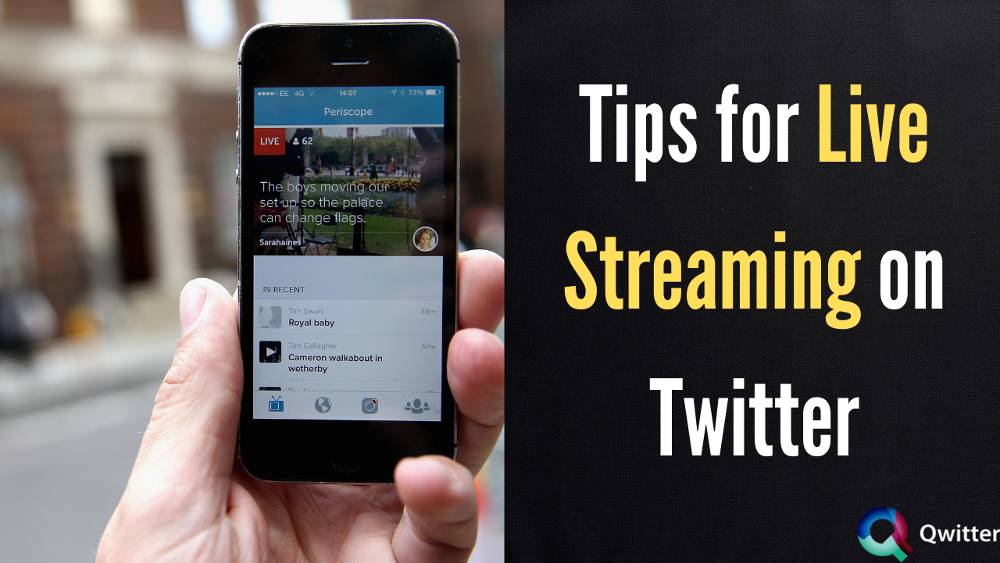 Best Practices for Live Streaming on Twitter
---
Following are 7 easy steps that you will have to follow in order to get an interactive and enthusiastic live streaming on Twitter, live streaming that everyone remembers.
Stream to multiple networks simultaneously
---
Make the most of your live show by simultaneously streaming to Twitter and Facebook. How? To film and moderate comments, use numerous devices and an assistant.
Periscope introduced 'Periscope Producer,' a new tool that allows broadcasters to stream content directly to Periscope from a variety of devices other than mobile phones, including professional cameras, studio editing rigs, satellite trucks, desktop streaming software, games, and virtual reality headsets.
Launch new products
---
Conduct a Twitter live stream to get people enthusiastic about your newest offerings. You can use them to promote new products or as product teasers.
Live streaming should be the first thing that comes to mind whenever you require digital content that encourages engagement. Platform selection is an important consideration.
If you want your product launch to be successful, you must match the product with the appropriate audience. Twitter is a popular social media platform for consumers to interact with brands.
Promote your event with Twitter live
---
You're aware that live-tweeting can aid in the promotion of an event. Now, to promote your event, go live on Twitter. Everyone enjoys a sneak peek, and live streaming is an excellent way to build anticipation for your event.
Host live streaming events on your event website or app, such as a behind-the-scenes peek at the venue or a Q&A session with a keynote speaker. Audiences will be more engaged if comments and questions are solicited.
People enjoy watching live video streams, but they enjoy being on camera even more. Because live stream broadcasting is so simple, anyone can be their own TV star, which event organizers may take advantage of.
Use emojis/icons that mean the most to your audiences
---
The huge red dot in the entertainment sector symbolizes press record and going live. You can utilize an emoji to draw the attention of your audience. Emojis are extremely powerful because they allow us to express ourselves in ways that words alone cannot. 
When you make a momentary emotional connection with someone, they are more likely to respond positively to your messaging. People who abuse their emoji powers are the ones who give them a bad name. There are numerous possibilities. And an effective emoji strategy entails far more than just using a cheerful face.
Include important links for replay viewers
---
In the tweet for your live broadcast, provide crucial links for replay viewers, such as your call to action. This makes it available to anyone, including those who don't have time to watch the entire replay.
Individuals will share the video stream with people they care about, people they think would find the content beneficial, and if it is available after the live stream has ended, it will almost certainly reach a greater audience than the live stream did. It can also assist you to attract visitors to your personal or commercial website, which is a huge win.
Remind people to turn their sound up
---
Simple text instructions can sometimes make a significant impact on overall audience involvement. Therefore encourage your viewers to turn up the volume on their speakers. Alternatively, you may ask them to put their earplugs in.  
This will give them a heads up about switching on their speakers as the event will sound better that way. Similarly, you can ask them to put on earbuds if you find that the stream would be a success in such a way.
Watch when reactions happen
---
The number of engagement actions will be revealed by your statistics. However, monitoring your live broadcast replay will disclose when certain engagements occur.
Conclusion
---
Unless you already have a large following on Twitter, live broadcasting can be beneficial. A simple tweet might alert your followers to your live broadcast. However, pursuing a streaming career on this platform can be difficult for a newcomer. It's not helped by the restricted monetization possibilities and lack of universal access to Media Studio.
In general, live streaming on Twitter, as well as other popular sites like YouTube, Facebook, LinkedIn, and Twitch, is a fantastic idea. Restream offers a variety of useful tools to help you improve your streams, from comprehensive analytics to a professional live video studio, in addition to multistreaming.