There are a few typical techniques to tell whether Instagram tagging is working or not. Tags on Instagram uploads disappear, the tags don't display on the uploaded image, or you cannot tag anybody before sharing a picture- these are all signs of it. 
This confusion brings only one question- Why Can't I Tag People on Instagram Story, posts, or Comments? To clarify, we have made this in-depth guide mentioning how to fix this issue, the probable reasons for it happening, and much more!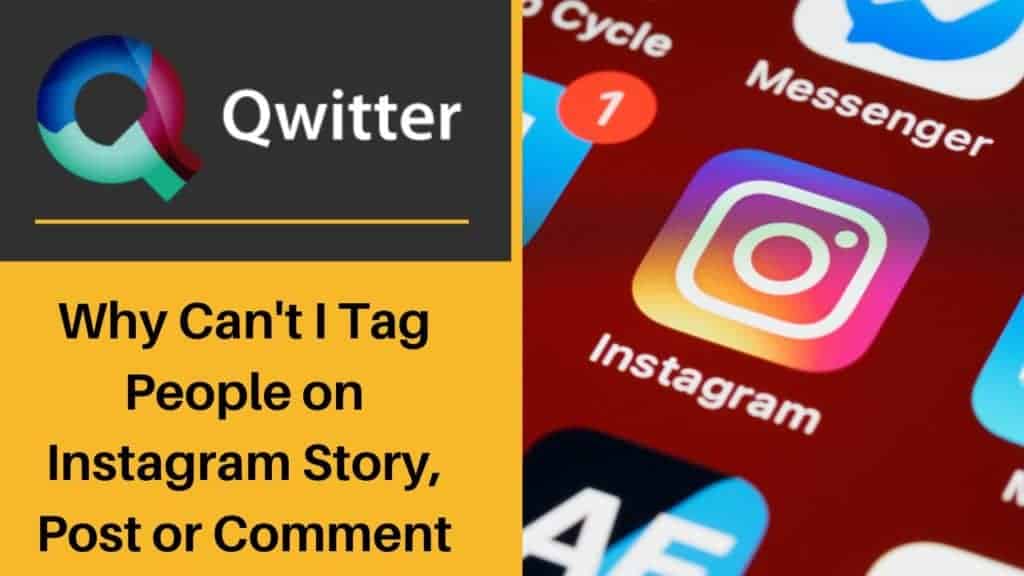 Mistakes You Might Be Making While Tagging Someone on Instagram
---
You have a new Instagram account.
Possibly because you have a fresh account if you are unable to name someone in your posts. New accounts cannot mention other users in their stories on Instagram. So, if you just joined Instagram, you shouldn't be concerned. You have to wait 1-3 weeks for it.
You tagged too many people on Instagram.
In all, you are permitted to mention up to 20 persons in every story that you post. If there is a problem uploading your Instagram story, double-check the number of users you mentioned.
The number of individuals you may follow or unfollow, the number of posts you would like, and other features are limited for new profiles.
To prevent spam on Instagram, there is a limit on the number of people you may tag in a post.
Not Using "@" While tagging people.
Users must include the @ sign before the username to tag someone on Instagram. If you enter an empty username, Instagram won't recognize the account to tag.
Don't forget to include this symbol when inputting the right username and attempting to tag someone who has agreed to your request.
Wrong Username
Users often have an Instagram name that is distinct from their account name. These names might be challenging to recall at times for this reason.
Therefore, there is a chance that you are typing the wrong username they've chosen for their account if you cannot tag them.
8 Things to Try if You Can't Tag People on Instagram
---
Update Instagram App
It's possible that the problems are being brought on by the fact that your Instagram app hasn't been updated. Visit your app store to find out.
You'll notice an update option if the app hasn't been updated yet.
Switch to Instagram Web temporarily
Switch temporarily to the web client if you are experiencing trouble tagging on the Instagram app and you are certain that the problem is with the app. The reverse side of this repair also works.
Switching Off Your Phone and restarting it
The apps get a new start after being restarted. As a result, there's a chance that this easy method will help you with your issue.
Examine your spelling
Check the profile username you wish to tag again if the steps above don't work. Verify that the username you are typing is spelled correctly.
Delete Your Cache
It's a widespread fallacy that destroying your important data would happen when you clean the cache. When you clean the cache, you eliminate unnecessary and outdated files from the program. To check whether it resolves the issue, try deleting your cache once.
Re-install the Instagram app
You'd be best served by uninstalling Instagram and installing it again if none of the abovementioned solutions work.
Request Their Approval of the Tag
You might send the person you're trying to tag a private message asking them to accept your tag if they have activated the "manually approve tags" option.
Instagram Help Center may be contacted.
If none of the above-mentioned solutions work, getting in touch with Instagram customer care would be the best course of action.
Other Rules to Know About Instagram Tagging
---
Additionally, you may change the settings for posts in which you have been tagged. There are two possibilities available under the visibility settings:
Public: On Instagram, the pictures you are tagged in are visible to everyone.
Private: It is only visible to a restricted group of followers.
Instagram users can mention you, and it shows up on your profile. You may choose who is allowed to see that you have been tagged by adjusting your visibility settings.
FAQs
---
When I Tag Someone on Instagram It Doesn't Show Up on Their Page
Users of Instagram have the option to decide who can tag them in posts. You may do this by turning on the privacy setting for "manually approve tags." The post won't appear on their timeline until the person you're attempting to tag has approved it (if they have enabled that function).
Why Can't I Tag Celebrities on Instagram?
If you are unable to tag a famous Instagram user, Instagram may likely block you till your profile has higher follower/following ratio or greater interaction.
Interacting with the general people and followers might help you with this. Begin liking and commenting on articles in your area or category that have a genuine interaction.
How to Tag Someone on Instagram So It Shows on Their Profile
Open the Instagram app by searching for it on your phone.
Click the "Next" button after selecting the image to upload. To tag others, use the "Tag People" button and enter the username of the individual and tap the area where the name should display. This may be accomplished by entering the "@" sign before the user's username.
On Android phones, press the check button or tap "Done."
Conclusion
---
On Instagram, tagging occasionally might not function as intended. There are instances when Instagram tagging may not function, which itself is annoying because Instagram won't explain why. In that case, you must fix it by using the methods listed in this article.
We hope this guide helped you understand what to do when you can't tag people on Instagram posts, comments, or stories.