Bumble is the second most admired dating and networking app. People like Bumble due to several reasons, and one among them is their user privacy. So, does Bumble notifies the other person when you screenshot their profile images or personal chats? 
This article will unveil whether Bumble's screenshot policy even exists or not. Do they provide any shield to their users or notify them? We will further compare Bumble with other dating apps for security concerns.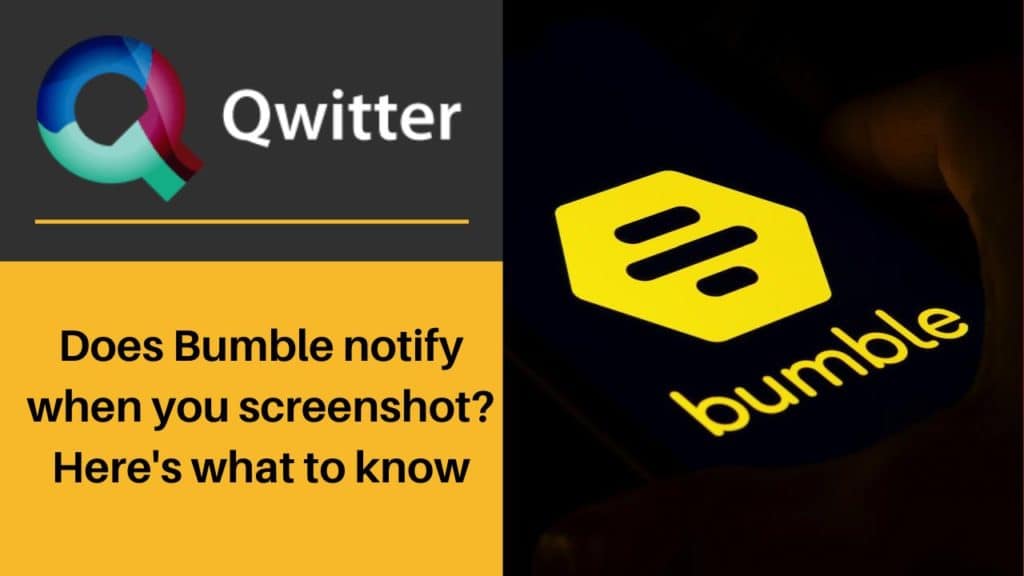 Does Bumble notify users about screenshots?
---
No, currently, Bumble does not notify its users about any screenshots. Although it solely depends on your intentions, it is an alarming situation for others' security concerns. A person can screenshot others' profile images and conversations (chats) without being caught. 
At the beginning of sign-up, Bumble claims many privacy-driven categories such as your name, sex, sexual preference, profile pictures, and other login information.
Does Bumble really keep it private or put it public? The simple answer is Bumble does not preserve your information instead shares it! Only specific details such as your email, contact details, and credit card number are kept private- the rest is not in their condition.
Can you screenshot on Bumble without them knowing?
---
Yes, you can screenshot on Bumble without them knowing. Currently, the other person neither gets a notification nor a message to your chatting page. Even though it may depend on person to person, it can raise serious problems for privacy concerns. 
Just keep in mind if you are secretly capturing someone's profile pictures, or chats, someone else might also do this to you! Instead, it's advised not to overshare on any networking platform. Keep your personal information up to yourself, and don't disclose your hidden secrets frankly.
How do other apps notify users about screenshots?
---
Talking about how other apps notify their users about screenshots, they get mixed responses. Some provide notifications to their users, while other still does not inform their users.
Let's take a look at how other apps inform their users at the time of the screenshot:-
Dating apps that will not notify their users about screenshots:- 
Tinder:- 

Tinder, a popular dating app, does not inform its users about any screenshots. The other person will never know if you secretly capture their profile images or chats within the conversation page.

Facebook:-

 Similar to Bumble and Tinder, Facebook also does not provide any access to the users where they can find if someone screenshots their personal information.

Hinge:-

For now, Hinde has not introduced any norms regarding screenshots and doesn't notify the person. If a person wants to capture a picture, the other person will be unaware of this incident.
Dating apps that will notify their users about screenshots:-
Instagram:-

Instagram, on the other hand, provides a bit-more secure platform to its users. An Insta-user will receive a notification on his private chat if someone screenshots their disappearing picture. Instead of disappearing messages, Instagram does not notify users about screenshots or screen recordings.

Snapchat:- 

Snapchat provides a more secure networking platform to its users. Users will instantly get notified in chat messages that someone has screenshot their picture or chats.

BeReal:-

 BeReal will notify users if someone takes their profile's screenshot. Specifically, the person will receive a notification with a little icon on the picture they screenshotted.

Badoo:- 

Badoo is the most strict app that has already introduced a "Screenshot Block feature" to promote users' privacy. It highly disallows privacy breaches without the user's consent. Thus, Android users can not capture pictures on their app, while Apple users will receive a warning message in this scenario.
Are screenshots allowed on Bumble?
---
Yes, users are allowed to screenshot on Bumble. They can capture their match's favorite picture, a never-ending funny or cherishing message- to keep it safe for your upcoming generations. Or, you can ask your friends or family to suggest you if you seek assistance for your dating life, and more! 
You can take a screenshot of your private chats and images until you respect each other's boundaries. Lots of crimes start from social networking sites and dating apps. To keep yourself safe, never compromise your privacy and safety.
Share your information without oversharing. Think wisely before sharing a picture or personal information. And if something seems off or suspicious about the next person, take Bumblee's help, or report them immediately.
Which dating apps notify screenshots?
---
Several dating and social networking apps notify their users of getting screenshots. Some of them are:-
Instagram:- In case of the screen of a disappearing image, the other person will get notified.
BeReal:- BeReal users will get notified if someone screenshots their image. The users will get a notification with a little icon beside the image.
Snapchat:- Snapchat sends a notification to their users' chat messages when getting screenshots of images or chats.
Badoo:- Badoo users get the best privacy in their Badoo journey. Android users are restricted to screenshots, while iOS users will get a warning.
If You Screenshot Someone's Bumble Profile, Does the Person Get Notified?
---
Nope! If you screenshot someone's Bumble profile, the other person will not get notified. The other person will neither get a notification nor a message. Presently, Bumble has no policy that stops capturing users' profile images or chats.
Still, users can keep their information private and secure. Think before sharing any personal data, photos, videos, or details.
Conclusion
---
To sum up, Bumble does not send any notification or message to its users in case of screenshots. However, other dating and networking apps take their users' privacy at first and disallow screenshots of images and chats. 
To keep themselves safe, users can keep their information private. They can report or unmatch anytime if something suspicious happens.