Bumble is the best way to approach someone remotely and build preferential connections. But what if, even after creating a profile, you're facing issues with your swipes or no swipes ever? This article will help you address the critical problems and figuring how to fix no matches on Bumble.
Bumble works by swiping right your match's profile you come across. If they like your profile, they can right-swipe you to start a conversation. Bumble offers limited swipes to like others' profiles but no limit to getting them.
Even after this opportunity, if you are not getting matches on Bumble, just read this article to figure out the actual problem and fix it immediately.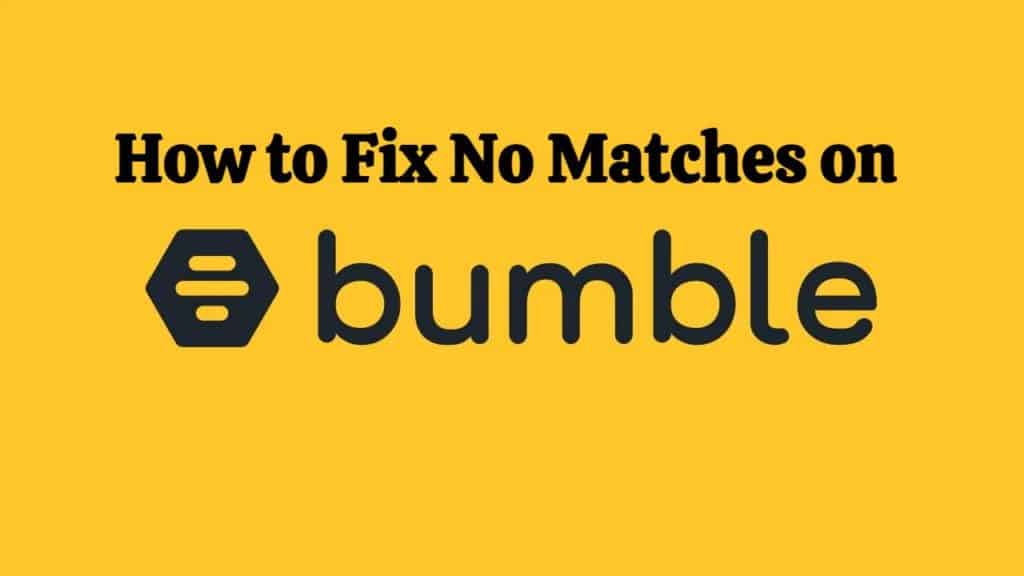 Reasons Why Am I Getting No Matches, Likes on Bumble
Remote dating can be tough with time. As the other person can only see your profile to draw a rudimentary picture of your personality, your profile is the first key to unlocking your unlimited swipes!
So, double-check the following points to figure out why your profile gets no matches or like on Bumble. And fix them right away!
(a) Profile verification:- Verify your Bumble profile and let others know that you are on Bumble for (dating, friends, or professional relations). It helps to confidently showcase that you are the person in the Bumble profile image and builds trust among others.
(b) Six profile images to steal the deal!:- Choose six high-pixeled solo photos for your Bumble profile (avoid group photos with boys or girls). Clear pictures will show your face and surrounding clearly to let others aww at your profile and increase the potential matches.
(c) A conversational bio:- Fill out your bio with your interests, hobbies, likes, and other thoughtful things in your life. Be genuine and respectful while filling out your bio and about me sections. If Bumble does not offer you the privilege of initiating the conversation, start your conversation with this section. Write a few lines to allow others to be emphatic and reply instantly!
(d) Give more options to know yourself better! The best way is to link your social media handles with Bumble. This way, your match will get a better understanding of your life and yourself better.
(e)  Try Bumble Profile Prompts!  Give your profile an extra edge by filling every corner of it. Update and fill Bumble Profile Prompts to let them peek more into your personal preferences. Start with available Prompts and fill them in a fun and conversational manner.
(f) Add Bumble Badges:- Use Bumble Badges to fill in more details of your life and personality. Advanced filters are helping you all the way to outshine your profile even more. So get started and follow these to give your Bumble journey a new life.
How to Fix No Matches on Bumble?
Bumble profiles are your virtual self that a person looks at and draws your imaginative picture inside their minds. There can be many reasons for facing issues with your Bumble profile.
To fix no matches on Bumble, follow the given points and fill your match queue with abundant messages and likes. 
Fix an Improperly Filled out Profile-
Many users often need to pay more attention to the importance of filling out their Bumble profiles and leaving blanks everywhere. It ruins the probability of getting the right swipes and often results in skipping or passing your profile.
Firstly, verify your Bumble profile. Fix an improperly filled-out profile using at least six clear and high-quality photos. Fill out your bio, about me section with icebreaking conversational starters, and Bumble additional features such as Bumble Profile Prompts and Bumble Badges.
(a) Sign in to your Bumble account at Bumble.com or open the Bumble app
(b) Tap the "Profile" icon and select the "pencil" icon to begin changes.
(c) Add six profile photos in the different poses while smiling and showing your face.
(d) Fill out your bio and "About me" section with generosity. You can add your job, education, organization, or other professional sectors to your work.
(d) Be creative and add Bumble Prompts to your profile. It gives additional information about your thoughts and personality.
Fix Your Bumble Settings
Sometimes, improper settings cause not finding potential matches. To fix this, you can change some settings of your Bumble profile and troubleshoot the issues.
You can expand or narrow the distance or preferential age of the potential matches. Use some advanced Bumble filters to add sparkling glitters to give it a dazzling shine.
To change Profile settings-
(a) Visit your Bumble profile and tap the "setting" cogwheel at the top left corner.
(b)  Tap "Filters" and select the advanced filters (2 for free, or Boost subscribed users can get access to all)
(c) Select "Add this Filter" of your choice, and repeat the procedure for the second one.
To change the preferential age and distance of potential match-
(d) Hold the "Yellow sliders" and slide them forward or backward on the respective category.
Fix Your Bumble Swiping Habits
Do you only wait for the most attention-grabbing profiles and swipe them only? If yes, this could be one of the reasons for getting fewer swipes on your profile. You can fix it by expanding your reach.
Be less picky and choose your potential match smartly. Go through their profile and read it thoroughly. If you like their fewer traits, swipe them right and open your doors for positive responses. 
Further, it would not create trouble for you if they swiped you back. The message will get expired if you don't respond. Or, to show your immense interest, you should use the Bumble SuperSwipe feature and get ahead of all.
Fix Being a Poor Fit for Bumble
Bumble is an online dating and connection-building app. All Bumble users are searching for healthy and reliable partners to take their dating, friendship, or professional relations to another stage.
On the other hand, if you are using Bumble for casual hook-ups or fun, unfortunately, you can be a poor fit for Bumble. And, if your Bumble profile reflects this behavior and thoughts, then you rarely get any potential matches swiping you right! 
For that scenario, you can use other known dating apps (Tinder) to carry out casual hook-ups and chattings with many people having the same perspectives.
Is it normal to get no matches on Bumble?
Yes, it's common to get no matches on Bumble. Specifically, if you are a guy and have swiped days and nights in the wait of one rematch. Well, it has nothing to do with your face. Or looks, but with Bumble photos and profiles.
You can fix your profile to get your Bumble dating, BFF, or Bizz experience several folds ahead! Add at least six solo photos (avoid group photos, as someone else can steal your bread). Fill every corner of your bio and About me sections, and use additional filters and badges.
Bumble No Likes After First Day?
It's not a big deal if you get zero likes on your first day. Have patience and work on your profile to grow its lovers instantly. Change a few settings, such as the distance of finding potential matches. Be sure to verify your Bumble profile to build trust between you and your profile viewers.
No Matches on Bumble After a Week?
After using Bumble for a week, it is problematic if you face issues with no matches or options to swipe upon. Often, it indicates that there are no users that match your preferential criteria.  Specifically, It can include modes of building connections, age, distance from your space, etc.  You can change your Bumble settings and edit the requirements. Try expanding or narrowing your distance and other details.
Conclusion
Bumble offers various features to outshine your Bumble profile and steal Spotlight and likes. But, if you have used Bumble for a long time and still didn't get your first right swipe, introduce changes to your Bumble profile. Read this complete article to figure out your profile issue and follow the best possible solutions given.