Millions of people use Bumble and find their loved ones with profile swipes! To get a swipe is a secondary deal. The real journey starts by creating a good Bumble profile! Oh! Don't you know how to create a perfect Bumble profile? No worries! Because this article has a detailed guide to assist you in "How to make a Bumble profile?"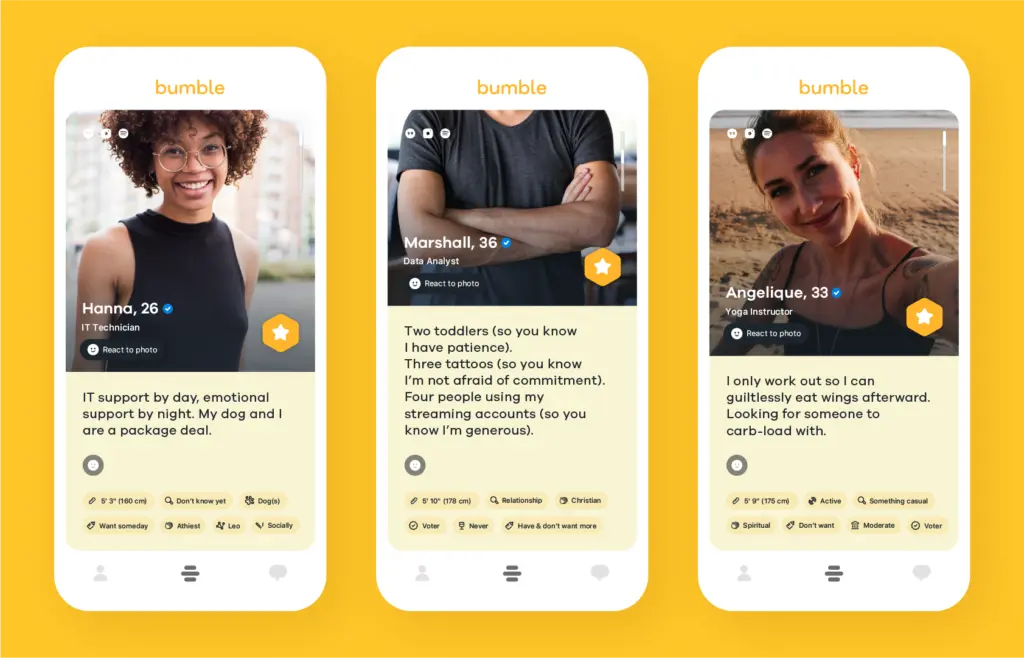 What to Know Before Making a Good Bumble Profile?
Before jumping to the profile section and creating a profile that could lead you to minimum swipes, it's better to know a few things. The mentioned things are for men. As Bumble has given women the privilege to make a first move. Men can like the profile of their match with swipe or SuperSwipe. It becomes essential for men to create an authentic and thrilling profile beforehand.
So "What to know before making a Bumble profile" Let's get insight into it:-
(a) In a heterosexual pair (opposite genders), a woman has to make the first move.
(b) Women get 24 hours to initiate the conversation with their potential match in the match queue section.
(c) In return, men get the next 24 hours to respond, or it disappears!
(d) For homo-sexual or sexes unspecified pairs, either can initiate the conversation and take a first step.
(e) There are three separate categories for Bumble connective circle. Bumble Dating for loving relationships, Bumble BFF for a new friend, and Bumble Bizz for business and social networks)
(f) Bumble is free of cost for users. To enhance the Bumble experience, users can use paid boost premium. SuperSwipe, Spotlight, and Beelive are some of the premium features.
(g) Bumble has a Desktop version for more comfortable operating.
(h) Avoid abusive words for bio and weapons in primary images in our profile.
How to Create and Fill in Your Bumble Profile?
Users can use the Bumble app for smartphones or the Bumble website for their PC, laptops, or Macs. Creating a Bumble profile is simple and needs a few steps to make it ready for your details.
Sign in or create a profile:-
– Users can create a new profile by using their Facebook account. Contact number or Apple Id.
– Once the verification ends, choose a category you are looking for (Bumble Dating, BFF, or Bizz)
– Range of finding your potential partner.
Create a Bumble profile and Fill in the details:-
– After signing in to Bumble.com, create a profile.
– Set your confident and alluring profile pictures. Be sure to use at least one recent pic. Other can include traveling images or a bunch of business or friend circles!
– Be sure to use clear images with face and eye contact towards the camera.
– Next, fill out your bio. You can include your organization, qualification, or other details.
– Utilize the "About me" space wisely! Instead of using silly jokes and crackhead sentences, write smartly! Use expressive and engaging words and weave them to outshine your personality.
– You can use Bumble prompts for an authentic and standard profile. Be genuine in what you say. In the end, your generosity will count.
What are good Bumble profiles about me examples?
Many people share more, and some share little! What makes the difference? Bumble profile gives equal opportunities to both sorts of people. You can write an essay-filled bio that does work. Or, you can write a few sentences but with opposite results.
So, how to get inspiration for a Bumble profile that let others crave and sneak peek into your profile!!
This section includes a few examples of standard Bumble profiles to introduce yourself to the world of unbeatable right swipes and hearts-
A clear profile picture:- Yes, it matters. Dating apps and websites are like doors, and profile images are key! When about to interact with an unknown being in search of a potential partner, how you present yourself plays a significant role. In addition to this, you can show sketches or paintings! Be sure to use a positive, attractive, and authentic image. Avoid over-exposing yourself!
The bio that initiates the conversation:- Add your details in less but unique elements.
For example, start with your favorite movie, song, web series, or anime. Create an engaging and friendly atmosphere with the first few lines.
Another example can include your favorite book, traveling location around the world you recently visited, and lots more!
Be creative while filling in the "About me" section:- Write explicit details about your life. Let them get acquainted with your profile and mentioned personality details. 
What to write in my Bumble profile?
Bumble requires mandatory user information. Make it easy for others to get a person's thoughts, personality, and lifestyle. Users get a chance to write about their life with a few thrilling details.
Be genuine. Write your qualifications, college, organization, profession, or other details.
Users can write their likes and hobbies in the "About me" section with lots of positive and creative words. What are your aspirations? Any favorite spot, book, movie, anime, song, or anything else to tell the next person about your bright side.
You can also include cheerful conversation baking lines to let them respond without wasting a second. (Avoid excessive cheezy-ness) 
Users can use Bumble prompts to make their bios more interesting. 
How to find a bumble profile?
If you are searching for someone else's Bumble profile, unfortunately, Bumble does not have this feature yet. New Bumble users can sign in to the Bumble website. Add the necessary details and create a new profile.
How to set up a bumble profile?
Sign in to Bumble.com for the website. You can use the Bumble app for smartphones.
Verify your Bumble account or create a new one using your Facebook account and contact number.
Set a profile image.
Add a bio and other things about yourself.
Bumble Profile Pro Tips to Stand Out
Here are a few pro tips to make a Bumble profile that beats the competition stands out.
Clear profile pictures
The bio that initiates the conversation
Be creative while filling in the "About me" section
Be genuine, avoid harsh or brutal words
Give room to your hidden artist and qualities
Conclusion
You can create an incredible Bumble profile using the points mentioned in this article. To start the Bumble journey, sign in to their official website and fill in the necessary details. Set a clear profile image to increase the chances of getting appreciation. Some Bumble features such as Bumble Spotlights depend on the profile your make and seek the response accordingly.