Are you excited to meet your potential partner and build long-term connections on Bumble?  If yes, here is a guide to your Bumble buzz!  It is a complete tutorial for your Bumble journey.
Read this exclusive article and learn "How to use Bumble?", "How to match someone?" and "How to stand out among the crowd." Beginners can take a quick review of what Bumble is and how it is different from other apps.
This comprehensive article has lots of Bumble knowledge and a few sure tips to help you stand! So, without further delay, let's start the complete tutorial guide paving the way straight to your match's heart!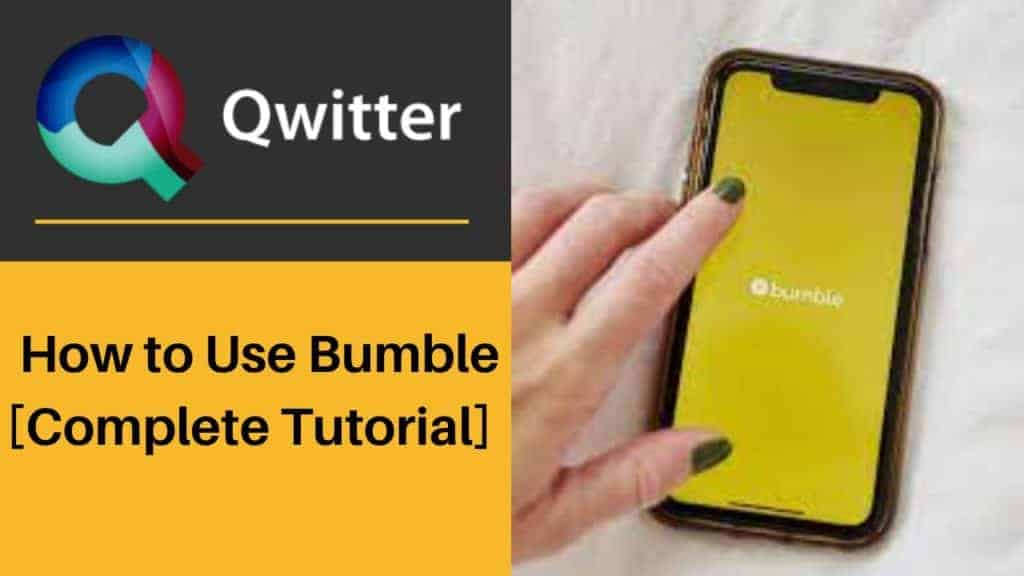 A Quick Review: What Is Bumble?
---
Bumble is an online dating and connection-building app. With more than 10 million users, Bumble is the second-most admired dating app in the US. Bumble is a perfect destination for people searching for genuine love and no casual hookups.
Bumble offers a social networking platform to its users, breaking social stereotypes and racial barriers. It provides secure and privacy-driven access to its users.
Features like photo verification and automatic blur to nudity are milestones to their user's safety. Further, they have zero tolerance for privacy invasion, harsh words, and toxic discrimination.
What Makes Bumble Different?
---
There are various other dating and connection-building apps. So, what makes Bumble different than others? And why should you start Bumble to find your special one?
Here we have discussed a few significant points to draw your attention toward Bumble's credibility:-
1. Women Make The Sophisticated First Move!
Bumble has given women the privilege to message first in a heterosexual couple.

Women get 24 hours to message their potential match.

On the other hand, men can only swipe (right or left) their profiles.

On receiving a message, men have to reply within 24 hours. Otherwise, a message will get disappear.
2. Three Modes Of Connection- Building!
Bumble Dating– For finding genuine love
Bumble BFF– To find friends and acquaintances
Bumble Bizz–  To build professional relations
3. Priority To User's Privacy And Safety!
Bumble provides advanced security to their user's privacy and safety

Tools, such as Photo-verification, check the identity of the users.

Bumble Premium subscribers can hide their profile.
4. Advanced Features-
Bumble users can get paid for advanced features to enhance their Bumble experience. Some paid features are:-
SuperSwipes–  To show your immense interest in your potential match's profile.
Spotlight–  To steal a straight 30-minute Spotlight and appear in other recommendations within the first few swipes.
Snooze Mode–  You can temporarily snooze (sleep mode) your profile to take a rest from Bumble life.
Bumble Boost and Premium subscribed users can get access to other standard features as:-
24-hour Extend-  Users can extend their time to reply to their potential match
Unlimited swipes-  Paid users get unlimited swipes daily.
Backtrack- To reviver an accidental left-swiped profile and swipe them right.
Travel Mode- While switching our location.
Rematch with your expired match.
Advanced Filters
Incognito mode for your privacy
Beeline–  To see who already liked your profiles!
5. Android And iOS Friendly!
Users can use Bumble app on their Android and iOS devices. Further, Bumble has already launched Bumble Web to provide easy desktop accessibility. With this, users can operate Bumble on Macs, Laptops, PCs, and Tablets.
These are a few perks of Bumble that its users get. For more, try Bumble and commence a healthy relationship.
6. Compliment Them Before Matching!
The compliment feature is a treasure for guys who have to wait until they receive a message! Here, both can send a short (up to 150 characters) compliment message to their match before getting matched! 
How to Block or Unmatch Someone on Bumble?
---
Unmatching some is as simple as liking them! All you need is to take a step. To unlike your so-called match, follow these simple instructions:-
Open your Bumble app
Visit your match's conversation
Click the 3-vertical dots on the top-right corner of the screen
Tap "Unmatch" and move on!
In case of any safety threats or uncomfortable behavior, "Report" the guilty profile. Bumble provides you with a healthy platform to build relations. If something becomes intolerant, you can take steps by reporting them immediately.
You can "Report" them online even after they unmatch you. Bumble's team will be there to support and help you anytime.
Matching on Bumble
---
Like other dating apps, Bumble also works by swiping your fingers. Users actively use Bumble and find their potential match in their preferential mode. People in dating mode will get their match dating mode.
Depending on your preferences (age or distance), you can "swipe right" for like and "swipe left" for the skip. If they swipe right on your profile, you will see their name at the top of the match queue. 
After Matching
---
After getting matched on Bumble, you can start a conversation if-
You Are In A Heterosexual Pairing
If you are finding your love, friends, or professional relations in a heterosexual pairing-
After matching, women will make the first move. Men can wait until receiving a message. 
They can initiate the conversation within 24 hours by sending a message. Otherwise, the match will expire.
In return, men get the next 24 hours to respond. 
After receiving messages from both sides, you can chat without restrictions.
NOTE:- You can get a "24-hour match extend" and "Rematch with an expired match" by taking Bumble Boost and Bumble Premium subscriptions.
You Are In A Homosexual Pairing
If you are finding your love, friends, or business relations in a homosexual pairing-
Either can start a conversation by messaging first within 24 hours of matching.
The other person will get the next 24 hours to respond/reply.
After replying from both sides, you can start chatting and video calls without restrictions.
Switching Methods Of Using Bumble
---
Bumble offers a separate mode for connection. People can switch between different methods using the same or another profile. 
To switch between Bumble profiles, follow simple steps:-
Open your Bumble app
Scroll down and tap on your Profile icon
Tap the Settings cogwheel
Select the option that says 'Choose Mode.'
Choose your mode of connection (Dating, BFF, or Bizz)
Confirm the settings.
Stand Out Among the Crowd
---
Bumble is a popular app with millions of active users. To stand out among the crowd, we are here with a few tips to help you out. Use these tricks to create an irresistible Bumble profile that forces the other person to swipe you right.
Step 1:- Create a profile 
Create a Bumble profile at Bumble.com using a Facebook account, contact number, or Apple ID.
In the case of the contact number, verify the code.
Add details such as name, age (must be above 18), etc.
Choose the mode of connection (Dating, BFF, or Bizz).
Distance of finding a potential partner.
Step 2:- Add clear profile images
After signing in, add up to 6 clear, high-pixeled, and heart-throbbing images.
At least one recent picture
Other images can depict your hobby, favorite destination, or food.
Use authentic, positive, and attractive images.
Preview your Bumble images.
Step 3:- Start interaction with conversational bio
In the section "bio," write your qualification, organization, work, and other details. 
For "About me," be creative as you can! Use words wisely.
Use interactive words such as your favorite book, movies, destination, etc.
Start the end with a question. For example, "Do you think a cup of coffee can be the beginning of our friendship"
In the end, be honest and authentic.
Step 3:-  Use Bumble Advanced Filters And Prompts
The more you share about yourself, the more others feel drawn to you.

Use Bumble's Premium features to fill every corner of your profile.

Be creative while filling them.
Step 4:-  Link Your Instagram Or Facebook To Bumble
Sometimes, people skip this step and regret it later. Be sure to link your social media accounts to your Bumble profile. This way, others can better understand your personality and lifestyle.
Step 5:-  Bumble Paid Features
You can use Bumble's paid features to outshine your Bumble profile as:-
Bumble SuperSwipes- You can use them to show your immense interest in your match. 
Spotlight- Give your profile a 30-minute of attention. It makes your profile appear within the first few swipes. Activate Spotlight on Sunday evening between 6 pm and 10 pm.
Unlimited swipes- Use unlimited swipes to improve your chances of getting a positive response.
NOTE:- If you are confident about your profile and getting matches daily, you can skip these features.
FAQ's
---
What Does the Star Mean on Bumble?
A yellow heart depicts a SuperSwipe on Bumble dating mode.

A green star shows you have been SuperSwiped in Bumble BFF mode.

An orange star shows a SuperSwipe in professional Bumble Bizz mode.

A black star shows a SuperSwipe on Bumble Premium.

A blue star shield is an indication of a verified profile.

A purple star means Spotlight.
Bumble Icon Meanings
Bumble Green Circles- Profiles with green circles in your match queue are people who swiped you right! They are often called 'admirers.'
Bumble Spotlight- Bumble Spotlight is a paid feature for Bumble Boost and Premium subscriptions. It allows the user's profile to get 30-minute attention.
Bumble SuperSwipes- These are yellow heart icons to show immense interest in your match.
Bumble Red Circles- Red circles around a profile picture indicate that 24 hours to make the first move is about to expire.
Bumble Pencil icon- The pencil icon is to edit your profile.
Green Lightning Bolt- The icon symbolizes Bumble's Boost subscription.
What Does "Night In" Mean on Bumble?
Night In is an icon through which you can invite your match to a video date. You can comfortably talk and get to know each other better.
To send an invite to your match, open your chats. Tap the "Night in" icon on the top of your chat's page. Bumble will let you know if your partner accepts the invite. Then you can set up a date and time to date to know each other.
Bumble Pink Circle Meaning
A pink dot around the profile depicts you have revied new views until you last opened the profile.
Which Way Do You Swipe on Bumble?
You can use Bumble and swipe in two ways:-
Right, Swipe- Profile you like, swipe them right. 
Left Swipe- Swipe left to skip the profiles.
Bumble Green Circle Meaning
A solid green dot shows that the person is an active Bumble user. The user has been online for up to 46 minutes.

An empty green circle shows that the user was active between 46 minutes and 24 hours.
Key Takeaways:
---
This comprehensive article has provided a complete tutorial for Bumble users. It has concisely explained the functioning of Bumble. For beginners, who want to explore Bumble, this article has done its job by giving insight into Bumble. You can read the article to understand what makes Bumble different from other dating apps with additional details. 
If you still have questions, please drop them in the comment section. We will help you out by clearing them up!