With millions of active users finding potential partners through a dating app, Bumble is among users' first choices. New Bumble users, before starting Bumble life, frequently question, "Is Bumble free?" Or how much do they need to pay to get extra features? 
Don't worry, because this article has solutions to all your problems. In this comprehensive article, we have explained Bumble's free access with its paid features. You will also get an insight into different Bumble modes, Bumble subscription plans, and how much they cost to lose your pockets!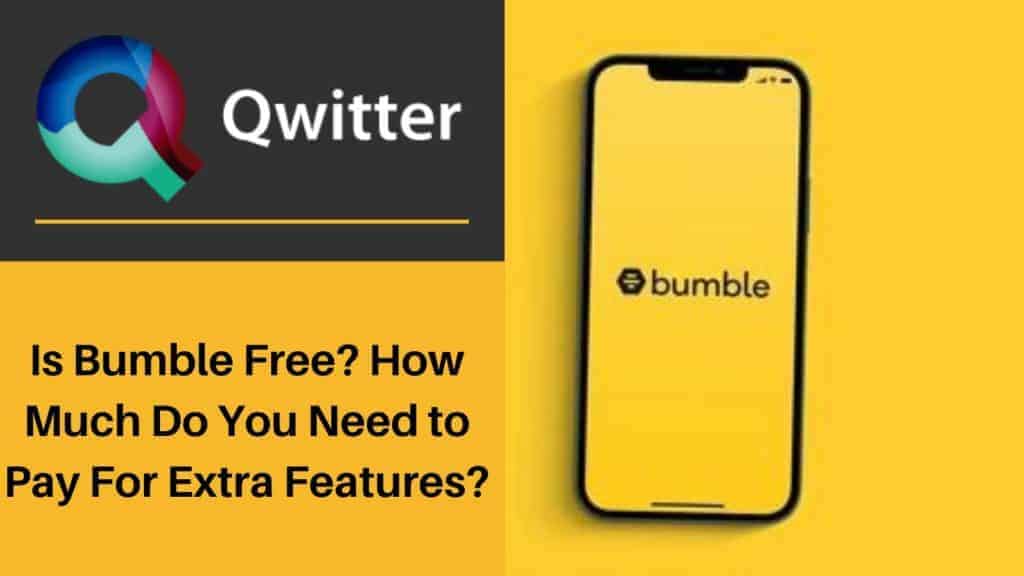 Do I have to pay for Bumble, or is it free?
---
Bumble's ordinary membership is free to use! Whether you are a new user or have been using Bumble for a long time, you don't have to pay a cent to keep your app working! Isn't it opportunely to find love, friends, or business partners without paying? Bumble is free and has no idea to let you pay for the time being. So, chase your love and enjoy Bumble.
Users can swipe Bumble profiles (twenty-five times a day), make a heavenly match, face time, and audio calls with their partner. You can get an opportunity to extend one profile daily, Bumble Badges, and Question Games for free! A new Bumble user gets these features right after signing in and creating a Bumble profile. 
For users who want to uplift their Bumble experience and create an irresistible profile – Take a Bumble subscription. Bumble offers mainly two paid subscriptions to their users. Bumble Boost is a more cost-efficient plan.
On the other hand, Bumble Premium comes with more advanced features! You can get all the advanced and thrilling features (based on your subscription) and unwind in a never-lasting match queue! 
How does Bumble work without paying?
---
Users can use Bumble for free and still get some exciting features to keep their Bumble journey going! Although Bumble Boost and Bumble Premium features are more advanced and often improve your profile's standard.
Still, more than twenty million Bumble users enjoy their app with free memberships. So, what exactly do users get with their ordinary Bumble membership (free access):- 
Limited swipes:- Bumble users get almost twenty-five sipes every day. You can use them to swipe right your matches. On the other hand, subscribed users get unlimited swipes daily.
Messages:-  Users can send messages to their matches without losing a cent! After the matching up, you can send unlimited and free messages to your potential partners.
 Audio/Video calls:  Are you Tired of typing texts constantly? Try Bumble's free audio or video call feature to chat with your partner for more! Know them better and start a face-time!
One Extend daily!:-  Bumble members get one Extend daily to extend one match time for the next 24 hours. Users with subscriptions get unlimited match Extensions.
Bumble Basic Info Badges:-  Users with the best profile have a high rate of getting more right swipes. Therefore, users can make their profiles irresistible by adding Basic Info Badges and sharing more! 
Question Game:-  Are you unaware of how to start a conversation? Use Bumble's Question Game to unlock each other's hearts in a fun manner. Answer with honesty and get started.
Bumble offers limited access to the features for its users. If you want to fulfill your Bumble life with SuperSwipes and Spotlight- Consider taking a subscription. Features like Beeline will let you know who already swiped you right and often improves the probability of getting matched up!
Is Bumble free to see likes?
---
Fortunately, all Bumble users can see their matched pair for free. They don't have to pay to have a look at whom they match with. All they have to do is head to their match queue on the conversation page. The matched profiles will appear at the top of their feed. Find your match and commence your dating or networking life.
From there on, if you are a woman in a heterosexual couple, go ahead and send the first message. Or, if you are a man, patiently wait until she replies! 
Users in Binary or same-gender pairing can make moves without any restrictions. 
To know the profiles of "who already liked you?" Consider a Bumble Premium subscription that comes with an advanced feature- Beeline. Beeline allows you to see the Bumble profiles that swiped you right. It improves the chances of your match-making with people like you! 
Is Bumble BFF free?
---
Just like Bumble dating, users can use Bumble BFF mode for free! As an independent Bumble user, you will get features that a free user gets in dating mode. You can swipe right to the profiles you like (yeah! It's limited). You can find new friends by matching them up! Messages, audio, and video calls are accessible without paying.
You can take Bumble subscriptions- Bumble Boost and Bumble Premium, to get advanced and exciting features. Spotlight and SuperSwipes can help you gain attention.
Beeline lets you know who has already given you attention! With a Premium subscription, you can fill every corner of your profile using Bumble Advanced Filters. So don't wait long and start your Bumble Bizz to find friends.
Is Bumble free to message?
---
Absolutely! Bumble users can message their paired-up match free of cost. You don't have to stress out about the limit of messages. You can text-message your potential partner unlimitedly. In addition, Bumble never stops you from reaching your special one.
Therefore, users on Bumble get access to free audio and video calls also. Now, know your partner with more modes of interaction.
Bumble is free, but lets you pay for extras
---
At the time of signing up, Bumble does charge you anything. You get basic features, such as limited sipes, messages, video calls, audio calls, and Basic Info Badges- without paying!
However, you can use some paid features to get an irresistible profile.  
Bumble Superswipes:- SuperSwipes are affordable features between $3.50 to $45.99. You can SuperSwipe your match's profile and show them your immense interest in them. 
Spotlight:-  Bumble Spotlight, a 30-minute attention activator, helps your profile to reach on users' first few swipes. Bumble Spotlight costs between $6.00 to $54.99. Activate Spotlight between 6 pm and 10 pm to utilize it more, as more Bumble users are active during this period.
For paid features, you get these two features. If you want to enhance your Bumble experience- Take a Bumble subscription.
How can you sign up for Bumble's paid subscriptions?
---
Bumble has two subscription plans for its users. Signing up for these paid subscription plans is comparatively simple. Just follow the given instructions and enjoy Bumble's advanced features right away:- 
Bumble Boost
Follow these five steps, and you'll be a Bumble Boost member-
Sign in to Bumble.com (website), or open Bumble app

Open your Bumble profile>Scroll down and click on the grey icon at the bottom

Tap the Boost subscription from the options

Choose your Boost subscription plan for a trial, month, or six months.

Select Continue and make a payment.
Bumble Boost Subscription costs around:-
For one week (trial)-  $11.99

For one month-          $24.99

For three months-        $44.99

For six months-          69.99
What You Get As A Boost Subscriber:-
Rematch to expired profile

24-hour match Extend

Spotlight

SuperSwipes

Unlimited swipes

Backtrack
Bumble Premium
To sign in to Bumble Premium, follow these steps:-
Visit Bumble.com or open the Bumble app

Go on to your Bumble profile

Scroll down and click the grey icon at the bottom of the page

Tap the Premium subscription

Continue following and make a payment
Bumble Premium costs around:-
For one week's trial-  $21.99

For one month-        $44.99

For three months-    $89.99

For lifetime Bumble BFF and Bizz-    $249.99
What You Get As A Premium Subscriber:-
Beeline

Travel Mode

One Spotlight

Five SuperSwipes

Backtrack

Unlimited Advanced Features

Rematch with an expired match

24-hour match Extend

Incognito Mode

Unlimited features
Conclusion
Bumble is a free application where users can find potential partners in respective Bumble modes. You can use a few Bumble features without paying a cent and can continue as long as you want! However, to enhance your Bumble experience and give an extra edge to your profile, take a subscription. Bumble has two subscription plans for its users. 
Bumble Boost is more affordable with advanced features. Bumble Premium is a bit costly with more features. Read this complete article to learn how to enroll for these subscriptions and keep your Bumble life alive!