Gone are the days when the light mode was by default the only option available to people.  Users can now choose to enable dark mode on their devices or enable it on selected applications on their devices. This article will discuss How to Enable Dark Mode on Snapchat (iOS & Android).
Dark mode is a display setting that utilizes a dark color palette to modify the appearance of a screen and provides a comfortable viewing experience to users, especially in low-light environments.
It is increasingly preferred by people because it emits reduced light from screens and has been found to reduce eye strain, as compared to screens with a brighter background.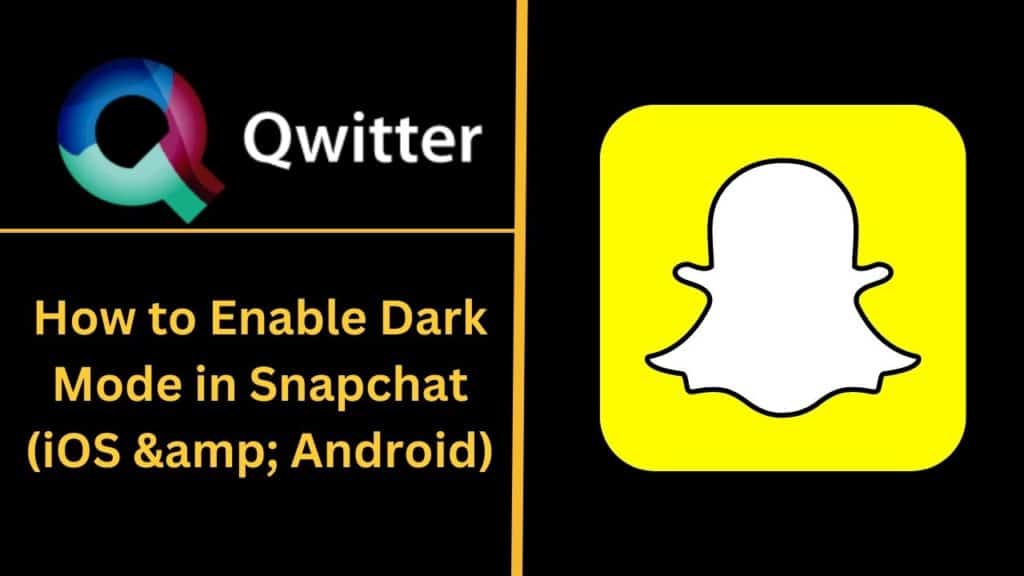 Get Snapchat Dark Mode on iOS and Android (2022)
---
Presently, Snapchat allows dark mode only on iOS devices. Android users cannot turn on dark mode on the App. The reason for the same might be a lack of demand or technical constraints.
However, the absence of a feature does not necessarily mean that you cannot enable the feature at all. There might be some way around getting dark mode in Android devices, also. Below we discuss everything you need to know about enabling dark mode on iOS and Android. 
Turn on Dark Mode in Snapchat on Your iPhone
Here's how you can turn on dark mode in Snapchat on your iOS or iPhone:
Ensure your iPhone has Snapchat, and if not, download it from the App store. 

Go to Snapchat and "Login" to your account. 

Locate your Snapchat bitmoji on the screen in the top-left corner and tap on it to open your profile. 

Now tap on "Settings" and then locate"My account". You will see the "App Appearance" option. Tap on it. 

Now choose the "Always Dark" option and your Snapchat will be shown in the dark mode. 
Enable Snapchat Dark Mode in Oppo, Vivo, or OnePlus Phones
Snapchat has not rolled out an in-built app feature to turn on dark mode in Android devices such as Oppo, Vivo, or one-plus phones. Whatever the reason may be Snapchat users have figured out certain ways to enable dark mode in Oppo, Vivo, or OnePlus Phones:
Go to Settings on your Oppo, Vivo, or OnePlus Phones. The settings are often represented by the gear-shaped icon. 

Now, go to the "Display" option and enable dark mode on your device. 

Now locate the option "Dark mode for third-party apps (Beta)" and tap on it. 

Now look for "Snapchat and press the "Toggle button" next to it to enable it. 
With these steps, dark mode will be enabled on your Oppo, Vivo, or OnePlus Phones. If you are not able to see the options on the respective devices, it might be because you are using an outdated or older version of Android on these devices. Make sure to update your android version to the latest one, and you can use these options effectively. 
Get Snapchat Dark Mode on Any Android Phone
In any android phone, you cannot turn on the Dark mode option using Snapchat itself. However, users use the option of "forced dark mode" available in Android devices to run Snapchat in dark mode on their Android devices. Here's how you can do it too:
In your android device, locate and go to "Settings". It is represented by a gear-shaped icon. 

Next go to "Display" and enable "Dark Mode" on your device. 

Next go to settings and find the"Build Number" option. Some devices also let you search options in settings using the search bar. So if you are not able to find the option, use the search menu to locate it.  

Now once you find the "Build Number", simply tap on it 7 times so that developer mode runs on your Android phone. 

Now, locate "System Developer options" in your settings and go to the said option. Tap on the "Override force-dark" option to turn it on. 
These steps might turn on dark mode in your Snapchat application. Please note that this option might not work effectively on certain versions of Android such as  Android 10 or newer versions. It might also not work on newer versions of Snapchat. 
As an alternative, you can download apps like "Blue Light Filter" from the app store which regulate the kind of light emitted from your phone's screen. Thus, you don't have to necessarily use your phone and Snapchat using the light mode. 
Frequently Asked Questions
---
Is there an official dark theme on Snapchat for Android?
The simple answer is no. Unfortunately, Snapchat does not enable Android users to enable dark themes using the platform itself. Android Snapchat users often use the force dark mode option to use Snapchat in dark mode. 
Why is forced dark mode not working on Snapchat?
The force dark mode option might not work with Android 10 or newer versions of android. Besides, Snoachat's new updates might also be hindering in the proper functioning of forced dark mode. If you are not able to use dark mode using the force dark mode option, use third-party apps like "Blue Light Filter" to regulate the display of your screen. 
Why don't I have a dark mode on Snapchat?
If you are an Android user, you will not have the option to turn on dark mode using Snapchat as per the present policy of Snapchat. However, if you are an iPhone user and still unable to use Snapchat, there might be a technical glitch with the platform or you might be using an outdated version of Snapchat. iOS users have the option to enable or disable dark mode using the Snapchat app itself. 
Does Snapchat+ include dark mode on Android?
Though Snapchat's Plus subscription comes with a lot of different and exciting features for the users, unfortunately even it does not provide a dark mode for Android Snapchat users. 
Easily Enable Dark Mode on Snapchat
---
We are pretty sure that with everything we have provided you above, you can easily enable dark mode on Snapchat. You can enable dark mode on iOS devices directly using the App, however, for android devices, there are some indirect methods that can help you.
On Android, either use the force dark option or use third-party apps to regulate the display light emitted from your screen. 
We just hope that Snapchat will roll out in built-dark mode option on the platform for android users also so that they do not have to rely on hacks and tricks to use dark mode on Snapchat.