WhatsApp's End-to-end encryption feature guarantees the complete security of users' data. This article will clarify what this feature is. This article will discuss four methods to "read encrypted messages" on WhatsApp. If you delete your crucial WhatsApp messages by mistake, we have the solutions to get them back.
What are Encrypted WhatsApp Messages?
Encrypted WhatsApp messages are your chats that WhatsApp secures with end-to-end encryption in its app. WhatsApp encrypted messages include users' text messages, images, calls, videos, documents, voice messages, & status updates.
End-to-end encryption ensures that only the sender & receiver can read & listen to chat messages. This security feature is so robust even the WhatsApp team cannot view your messages.
WhatsApp secures encrypted messages with a unique lock whose key exists only with the two users engaged in the communication. By default, your WhatsApp messages get automatically encrypted without turning on any settings. WhatsApp uses Signal encryption protocol to protect your messages before exiting your device.
Is There Any Way to Decrypt WhatsApp Messages?
WhatsApp end-to-end encryption security feature utilizes private keys, which are unique for all users to decrypt WhatsApp messages. WhatsApp provides no official ways to decrypt the messages.
Fortunately, you can view & read the encrypted messages in the WhatsApp app and Google Drive. All WhatsApp users can access their accounts on their PC using WhatsApp Web.
These security loopholes help you to decrypt WhatsApp messages. If you don't have the target phone, you must use third-party encryption apps like WhatsApp Viewer.
How to Read Encrypted WhatsApp Messages
This section will explain four different methods to read Encrypted WhatsApp messages.
Method 1: Read Encrypted WhatsApp Messages on WhatsApp Web
This method only works when-
You have the login credentials of the WhatsApp account whose messages you want to read.
Access to the mobile phone linked to that WhatsApp account.
Via the WhatsApp Web feature, you can sign in to the WhatsApp account of another person & read their complete history. You must have the target phone because WhatsApp Web prompts users to scan the QR code.
Here are the steps to implement it.
Open a web browser on your pc.
Copy the following URL in the address bar https://web.whatsapp.com.
Open the WhatsApp account of the person whose messages you want to read on their phone.
Tap the "three vertical dots" icon in the top right corner.
Tap on "WhatsApp Web."
Scan the WhatsApp QR code on your desktop screen using the phone.
Method 2: Read Encrypted WhatsApp Messages by Recovering WhatsApp Data
You can read your encrypted messages by restoring your WhatsApp backup. WhatsApp backup gets stored at different locations on Android & iPhone.
On Android.
You must have a WhatsApp backup on your phone's Google Drive, internal memory, or SD card. Here are different ways to recover WhatsApp data.
Steps to recover WhatsApp data from Google.
Install WhatsApp on your phone & open it.
Verify your number.
Tap the "RESTORE" button to recover your WhatsApp chats on Google Drive.
Once the restoration process ends, Tap on "NEXT."
All your encrypted WhatsApp chats will appear in the Chats tab. After chats, WhatsApp will recover your media.
Steps to recover your recent WhatsApp backup.
You require a PC, SD card, or file explorer to move the WhatsApp files to your mobile phone. WhatsApp automatically initiates the local backups every day at 2:00 AM. Here are the steps.
Install a file manager app.
Your WhatsApp data must be stored in your internal or main storage or SD card. Locate & open it.
Copy & paste the recent backup to your phone's local storage "Databases" folder.
Install & launch WhatsApp. Complete the phone verification process.
Tap "RESTORE" when asked.
On iPhone.
To recover your WhatsApp data on your iPhone from iCloud, You must use the same phone number you used for backup. Here are the steps.
You must complete the verification process to ensure your iCloud backup exists.
Open WhatsApp "Settings."
Tap on "Chats" & then "Chat Backup."
After you see your last backup date, reinstall WhatsApp.
Verify your number linked with this particular WhatsApp account. Follow the on-screen prompts to recover & read your encrypted messages.
Method 3: Read Encrypted WhatsApp Messages via PC
This method requires you to provide unobstructed access to the device you have connected your WhatsApp account to, i.e., root your mobile phone. You have to install the WhatsApp Viewer app on your PC.
The WhatsApp database viewer app is an excellent tool for decrypting the WhatsApp database keys so that you can read all your encrypted WhatsApp messages. 
For the success of this method, you must have a PC & a rooted Android device. Follow the below steps in the same manner to get your hands on the WhatsApp database key.
Part 1 – Locate the crypt files.
Open the file manager on your phone. Locate the WhatsApp folder & open it. It gets stored in the "Databases folder" in a Phone's internal storage & SD card.
Simultaneously, connect your Android phone to your PC.
Open the Databases folder. Scroll down & open the folder with the name "Files." Here, Locate a file with the name "key."
Again, return to the Databases folder & search for the "msgstore.db.cryptX" file.
Part 2 – Copy the crypt files to your PC.
Create a folder on your pc with any name.
Copy & paste "Key" & "msgstore.db.cryptX" to your PC.
Part 3 – Install & WhatsApp Viewer on your PC.
Install the WhatsApp viewer app & open it.
Part 4 – Decrypt WhatsApp files in WhatsApp Viewer.
Click on the "File" menu from the top. From here, select Decrypt.crypt12.
Load the WhatsApp files ( key & msgstore.db.cryptX ) you copied to your PC.
Click "OK." Wait till the decryption process ends. A new file titled "msgstore.decrypted.db" will appear in the same folder you copied WhatsApp files.
Choose your WhatsApp account number from the right side.
WhatsApp viewer app will show your encrypted chats on the left panel.
Method 4: Read Encrypted WhatsApp Messages from Another Mobile Device
You can use AirDroid Parental Control, a third-party app for parents to monitor their kids' phone activities. This app allows you to read the encrypted WhatsApp chats of the target phone via a simple setup process.
Anyone can use this app. You can download the AirDroid parental Control app from the Google Play Store on Android & Apple Store on iPhone.
You must install the AirDroid Kids app on your kid's phone to use this app. You can pair both devices via a code available on AirDroid Parental Control. Complete the setup process as prompted. Some of its valuable features include-
A screen-mirroring feature to cast any Android smartphone to your mobile.
It Provides access to real-time WhatsApp activities & notifications.
How to Read Deleted Messages on WhatsApp
Once you delete your WhatsApp messages, they get removed from your chats. WhatsApp still archives them as Google Drive & iCloud backup. You don't lose them forever.
You can save them in your Android central memory or SD card. Here are two valuable ways to read Deleted WhatsApp messages on WhatsApp.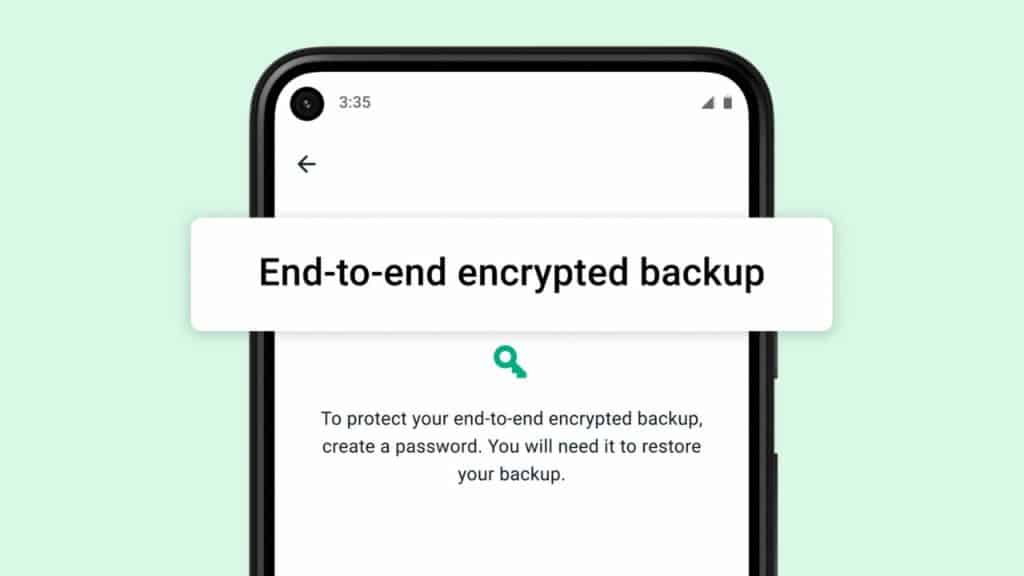 1. Via Backup.
The first method to read deleted WhatsApp messages is via restoring backups. In Android, you can locate your WhatsApp messages in your phone's local storage or Google Drive. iPhone users store the backup in iCloud. You can follow the instructions mentioned in our above section – Read Encrypted WhatsApp Messages by Recovering WhatsApp Data.
Restore the backup immediately after you delete the messages. Because your new WhatsApp messages obtained after deleted ones won't be a part of the backup.
2. Via Export Chat.
The "Clear chat" feature deleted your chats from WhatsApp. They still remain in the recipient's phone. You can ask your friend or person to export their chats & send them to you. Here are the steps to Export chat on Android or iPhone.
Open the WhatsApp app.
Open the chat box of a single person or a group.
In Android, tap the "three dots" icon & select the "Export chat" option.
On iPhone, tap on the chat name to access the "Export chat" option.
FAQs about Encrypted WhatsApp Messages
1. Can you decrypt WhatsApp messages?
As described above, WhatsApp conversations are end-to-end encrypted, implying only the two people part of a conversation hold the keys to decrypt them. You can rely on the WhatsApp Viewer tool to decrypt the database files via the key file on your mobile phone. WhatsApp officially doesn't support the use of third-party tools. With other methods, you need the phone of the target user.
2. Can WhatsApp encryption be hacked?
Undoubtedly, WhatsApp put its best efforts into tightening its user data security, but it still needs to be immune to cyber-attacks. In the past, multiple instances have left users' data vulnerable where hackers become successful in controlling WhatsApp app.
In October 2019, a random hacker used a GIF image to possess WhatsApp. In 2019, the Pegasus voice call attack authorized hackers to access users' devices by making only WhatsApp voice calls on the target's phone. Follow robust security measures from your side to protect your WhatsApp account.
3. Where is the WhatsApp encryption key stored?
WhatsApp has designed a new encryption key storage system for iOS & Android devices. When you select the password option, WhatsApp stores the key inside the "Backup Key Vault." It is built on specialized hardware known as "a hardware security module. Primarily, the WhatsApp encryption key is kept in the keychain.
Conclusion
WhatsApp has ended users' privacy issues after introducing an end-to-end encryption feature. Unfortunately, this latest development made it challenging for all to decrypt WhatsApp chats. You can execute the above four solutions using WhatsApp Web, a decryption tool, backup file & AirDroid Parental Control to read encrypted messages.