Instagram offers multiple ways to interact with content on its platform. One such engagement feature is Likes by tapping on the heart icon. You may not view the same post you liked again because either it disappears from your home feed or you no longer remember the Account's username.
Many of you may not know that even there's a direct setting on Instagram for all the liked posts.
If You want to know how to see posts you've liked on instagram, keep reading. We will describe the exact steps to see all your liked posts on Instagram on Android, iPhone, and computers in 2022.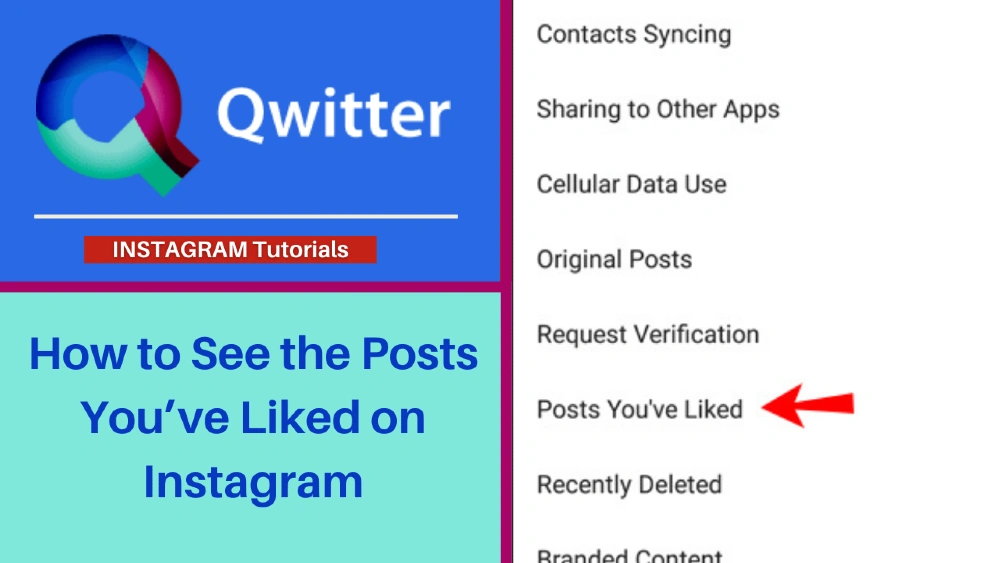 How to See All the Posts You've Liked on Instagram
---
In 2022, Instagram changed the location to find previously liked posts. Instagram displays only 300 recently liked posts in the default ordering of Newest to oldest. You can see your own posts that you have liked on the Instagram app.
You won't be able to see liked posts of other users because Instagram wants to protect users' privacy. The steps to view Instagram likes are straightforward, taking hardly one minute.
See Your Liked Posts on Instagram Mobile App [Android and iPhone]
The steps to view the recently liked posts are the same for android and iPhone.
Steps to see liked posts on the Instagram Android app.
Open the Instagram app on your device.
Login to your Account.
Your home page will open.
To open your Instagram profile page, tap on your profile icon in the bottom right corner.
Tap on the three horizontal lines or hamburger icon in the top right corner.
Tap on the "your activity" section from the pop up menu.
Tap "interactions."
Tap "likes."
You will view all your top 300 recent photos and videos liked by you.
If you want to see any Instagram post, tap on it.
You can filter Instagram posts on different criteria.
Tap on the "Sort & Filter" button at the top right corner.
Tap on the "Sort by" option to arrange the posts in order of "oldest to newest."
Select the "Author" option if you want to view a particular user's posts.
Tap on "Done." You will see lists of all the people you follow. Tap on the circle in front of a particular name.
All the posts liked by you on that Account will display.
You can specify a particular date range for which you want to see posts you've liked.
To adjust a date range, tap on the "Start Date" and "End date" options.
Select a date and tap on "Done."
Tap on "Apply." The filter will apply.
Go back and search for that particular post you want to view.
Steps to see liked posts on the iPhone Instagram app.
Follow the above steps in the same way by visiting your profile tab to view your previously liked photos, videos, and reels.
You can remove any particular post from the "Likes" section. To do that, open that post. Keep your finger on the heart button and unlike the post. This post won't appear in this section.
See Your Liked Posts on Instagram On Computer
You can not view your liked posts on the Instagram website ( web version) due to the availability of limited functions. You can like any specific post through a browser on a computer or laptop.
We will discuss a tested method to view your Instagram likes on windows and Mac devices.
For that, you will have to Install the google chrome extension of "Layoutify: Improved Layout for Instagram" It's a third-party tool that modifies the original structure of the Instagram website.
You will view your likes history on your Computer. Here are the steps.
First, install this extension by visiting the above link.
Visit the Instagram official website.
Open your Instagram profile.
Click on the three horizontal dots at the upper right corner of your screen.
All your liked posts will appear in a grid layout in your browser.
Find posts you have liked recently.
To view all posts, Click on the "Load more" option at the bottom end of the page.
Why Can't I See Posts I Liked on Instagram?
---
You can't see posts you've liked on Instagram, maybe because you don't know the new location.
From 2022, Instagram has moved the Likes Tab under the "Your Activity" section. Before this, the option "posts you've liked" was available under the "Request Verification" tab.
You have to go to the "Settings" and "Account. But now, the steps are completely different. Now, all the liked posts are under the "Liked Tab." If you are an android or iPhone user, you must follow the same steps.
Second, You will see only recently liked 300 posts at one time. You can add filters to search the liked posts from particular dates and users. The possibility is the post you are searching for is the one you have liked a long time back.
Make sure you remember that you have liked that post by either tapping on the heart icon or double tapping.
Did Instagram Remove Posts You've Liked?
---
Yes, as described above, Instagram has modified the name of the "Posts you've liked" Tab to the "likes" Tab. You will not find the liked posts on Instagram at a different location in 2022. Refer to the above steps.
Wrap Up
---
Users won't be confused about finding the "Likes screen" in their Account. We have explained each step so that you don't miss anything. Remember that you can only access the liked posts through direct settings in the Instagram app. The next time, if you want to save any post to comment for later, like it and find it later.
Do you like this news or article? Please, share it on your social media handles and let us know on Twitter: we love hearing your feedback!