Instagram like every social media, is prone to glitches and errors. A bug that recently plagued Instagram users worldwide is blacked-out Instagram messages. However, nobody knew the cause of the problem and solutions to fix blacked-out Instagram messages.  
Due to the error of blacked-out messages on Instagram, users worldwide cannot read or send messages on Instagram, and their screen is blacked out. Instagram users also raised concerns on other social media platforms, indicating the severe problem. 
Fortunately, there are some practical solutions to fix the problem of blacked-out Instagram messages. We will walk you through the solutions that will help you resolve the problem.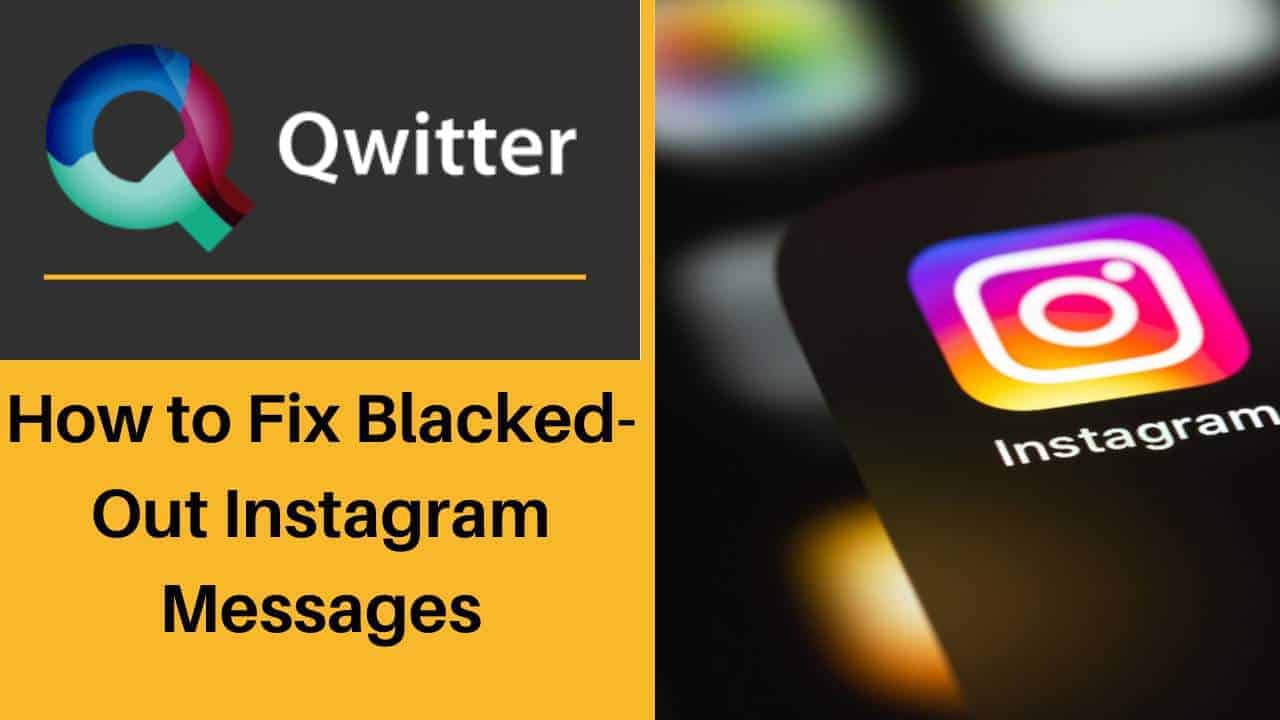 What are Blacked-out Instagram messages?
Blacked-out Instagram messages bug was a black bar that was covering the messages. You might see the person has sent you a message, but you cannot read anything; just a black bar appears on your screen instead of the message. Similarly, when you send a message, the only thing visible is a black box in place of words/sentences.   You might also receive a notification of a message but the screen does not display it or the messages you send are consistently disappearing. 
The blacking-out error started sometime back in the early half of 2022. People from all regions including Instagram users of the USA, UK, and Canada. Australia and other countries faced the problem of blacked-out messages. 
Many believed that issue might be with their device, however, once more and more people started raising concerns it was realized that the problem was because of an error in an Instagram update. 
It was believed that Instagram introduced an update, and after its installation, people started facing issues with their Instagram direct messages. Surprisingly, though it was a global problem, Instagram officially did not comment on it. Eventually, people came up with solutions, all of which will be discussed below. 
Why Are My Instagram Messages Blacked out? 
As mentioned before, one of Instagram's updates was believed to be a prime cause of the black-out messages error. Instagram has rolled out more updates after the error to solve the problem. So if you are facing the old version, it might happen that the blacked-out messages problem will surface. Ensure to update the application regularly to avoid any bugs or errors. 
However, if you are using the latest version of Instagram but still facing the problem, the cause may be poor internet connectivity, Corrupted Cache, or some issues with your device. 
It might also happen that sometimes the issue is not with Instagram, but the Instagram user has blocked you on Instagram or deactivated their Instagram account, and as a consequence, you see the blacked-out message on Instagram. In such cases, there is nothing you can do the fix the issue. 
How to fix blacked-out Instagram messages
There are specific ways through which you can fix blacked out- Instagram messages. They are pretty simple and straightforward. Instagram users have used these methods to fix their blacked-out messages on Instagram. Try and see if they work for you. 
Here is all you need to do:
Keep Instagram Up to Date
Ensure that you have the latest version of Instagram installed on your device. If not, check for new updates in the app store and update it if you find any. Probably installing the updates will fix the problem for you, and Instagram messages won't appear blacked out. 
Turn on Dark mode
It is believed to be the most effective solution for resolving the issue. Instagram users have reported that the Instagram message issue is fixed once they switch to dark mode. You will have to switch on dark mode on your phone for Instagram to also work on dark mode. 
Here's what you need to do if you want to turn on dark mode on your iPhone:
Go to "Settings" and choose "Display and Brightness." 
Now switch from "Light" to "Dark" mode by tapping the latter option. 
Thereafter,  open Instagram, and you will see it is now in dark mode. Hopefully, the issue would be resolved now. 
If you are an Android user, here's how you can turn on dark mode for your device:
Go to "Settings" and select" Display."
You will probably find an "Appearance" option. Tap on it. 
Now switch to "Dark theme" by either choosing the option or turning on the toggle switch, if there is one. 
 Thereafter, open Instagram, and you will see it is now in dark mode. Hopefully, the issue would be resolved now. 
If the issue persists, check out more solutions below to fix the problem. 
Restart Instagram 
Sometimes a simple restart is all you need. Restarting the Instagram App is all you need to do sometimes when the Instagram messages are not working properly. To restart the app, close and reopen it on your device. Thus, clearing the cache and memory of the app makes it function smoothly. 
Login from another device
Another possible solution for resolving blacked-out messages is to try logging in to the indifferent device. Sometimes issues with the device can also cause Instagram to make errors. You can use another phone or laptop and then log in to your Instagram account. 
Clear Cache
A Cache is some temporary files Instagram stores in the device's storage. If it's corrupted, features such as Instagram messages may behave erratically. In that scenario, clearing the Instagram cache is your best bet. 
Here's what you need to do to clear the cache on your Android device- 
"Settings"> "Apps">" Instagram">" Storage and cache"> Clear cache> Confirm the action, and the cache will be deleted. 
If you want to clear the cache on your iOS device or iPhone, follow these steps:
"Settings"> "General">" iPhone storage">" Instagram"> "Delete App"> Confirm the action, and the app will be removed from your device. Now re-download it from the App store and launch it. Hopefully, the problem may be resolved. 
Restart your Device
If you are still facing problems with Instagram messages, all you need to do is restart your device. Restarting the device often does wonders sometimes. Restart your tablet, PC, or phone and launch Instagram to see if the Instagram messages are still appearing blacked out. Simple solutions can be quite effective sometimes. 
Go to the Instagram messages feature and see if it is working properly. If it is working properly, the issue is with your device, which you may need to solve. If not, then try using some other methods. 
Change Password
Sometimes the solution you need comes with changing your password. When you use Instagram in multiple unrecognized locations or devices, the app may cause glitches. In that case, change the password. Changing the password will log you out of devices and locations you no longer use.
Once logged out from extreme places, the Instagram messages feature may work adequately. It is advised to set a secure password and not a weak one.  
Grant Permissions
Make sure you have granted all necessary permission to Instagram. If not, it may cause glitches like blacked-out Instagram messages. Here's how you can do that if you haven't-
Go to Settings"> "Instagram" >App Info> App Permissions. Tap on the toggle switch and turn on the permission if they are not. 
Report the issue to Instagram. 
If none of the above steps work, report the problem to Instagram. Report the problem to Instagram's help center. 
Here's what you have to do:
Open Instagram and "Login."
On the homepage, tap on "Profile Pictue" in the bottom right corner to open your profile. 
On your profile page, tap on "three-lines" in the top right corner and choose "Settings."
Tap on "Help" and then select "Report a Problem." 
Once you submit the issue, wait for Instagram to resolve it. Hopefully, your Instagram messages would not appear blacked out anymore. 
Conclusion
Facing blacked-out Instagram messages is a very frustrating problem that has troubled Instagram users worldwide. We have given you the causes and steps to resolve it. Follow these steps, and hopefully, your problem will be solved.
 If you face problems even after doing everything, contacting Instagram will help you. We sincerely hope your problem is resolved and you can use Instagram without any glitches.