Instagram Notes are a new and dynamic way for users to interact with one another. They provide a more dynamic form of communication than the typical post, allowing you to express various thoughts and feelings. 
These notes can be used in many ways, whether you want to inform your followers of an upcoming event or weigh in on current events. 
There's something remarkably nostalgic and old-fashioned about leaving these little post-it notes as we did back when MSN Messenger ruled the universe of online communication. 
Unsurprisingly, so many people have found Instagram Notes to be an effective way to communicate on this modern platform. So in this article, let's look at what Instagram Notes are!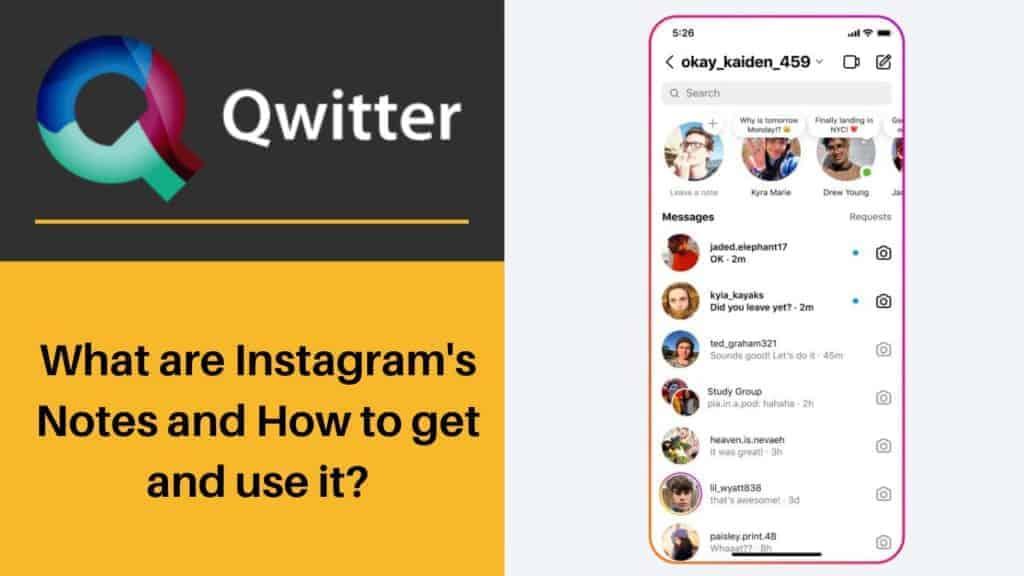 What are Instagram's Notes?
---
Instagram's Notes are a great way to maintain a secure, private conversation with someone on the popular platform. They afford users up to 60 characters of space to include their message and emojis and directly initiate one-on-one talks between the sender and recipient. 
This discrete mode of exchange ensures that any conversations between two parties remain unseen by outsiders. As such, it is an ideal tool for those who value their privacy during digital communication.
Instagram Notes Features
---
With Instagram now offering users a Notes Feature, the platform has become even more versatile than before. This new feature allows users to create and post notes with a minimalist design that will surely draw their audience's attention. 
From detailed explanations about an individual's opinions to sharing helpful industry knowledge, the new Notes feature provides plenty of options for content creators to display their work dynamically.
There's no telling where this new feature will take Instagram, but one thing is certain: It has opened up boundless opportunities for creative minds across industries.
How do Instagram notes work?
---
Instagram notes allow users to quickly and easily post updates or engage with their followers and friends. 
The process is simple – open your DM inbox on the app, locate your profile photo icon at the top left of the screen and click the "+" symbol to create your note. 
For optimal communication, each message must remain concise and clear; ensuring that each note has a maximum character limit of 60 keeps things meaningful while also direct. 
With this in mind, you can stay informed and connected when engaging with your followers or friends through Instagram notes.
How to get an Instagram Notes update
---
Updating Instagram Notes is a simple process made even easier by the app's automated update detection. If your app has an update available, look for the button next to it—it will say either "Open" or "Update." 
Tap the Update button and wait for the changes to appear, which should only take a few seconds. Once you update, open up the Instagram app and check your DMs to ensure it was successful! It's that easy.
How to post an Instagram Note
---
Posting an Instagram Note is a great way to quickly share your thoughts directly with those who follow and care about you. 
Begin by tapping on the plus sign or writing icon in the top right of your Feed page. 
Then, select"Share what's on your mind…" at the top of your Chats list. 
Enter up to 60 characters in your Instagram Note and decide which followers you'd like to see, be it all those who follow you or just members of your Close Friends list. 
Try posting an Instagram Note today to share what's on your mind.
This is how you post an Instagram note.
Why can't I see Instagram notes on my account?
---
Here are some reasons why you can't see Instragm notes on your account:
App update
It might be because of a recent app update if you're having trouble seeing Instagram notes in your account. First, ensure you have the latest version of the app installed on your device.
Wifi Issues
If you have a poor wifi connection, it may be causing the issue. First, try connecting to a different wifi network and check if that solves the problem.
Account problems
There are also possible account-related issues preventing Instagram notes from showing up in your account. Log out of your account, log back in and try again.
Create a list of close friends
If you're having trouble seeing your Instagram Notes, the solution is to create a Close Friends List. This list is essential for receiving notifications when someone adds new notes.
Don't worry if this sounds like an intimidating task – follow these steps, and you'll have it up in no time!
To add your closest friends, click the profile picture at the bottom of your screen. 
Now, you'll be at a page with three horizontal lines on the top and right sides – your menu bar.
Select 'Close Friends' from this list, then choose which pals you'd like to join it. 
Once finished, select 'Done' and voilà – you've added some trusted individuals to your inner circle.
How to turn off Instagram Notes
---
Although Instagram Notes still cannot be fully disabled, you can now quickly mute particular people whose content they do not wish to view – just like with the stories feature. By doing this, you will no longer see their posts and comments on your feed.
To begin, open the Instagram app (Android or iOS) and swipe right to access your DM section. 
Then, long-press on the note you'd like to mute and select "Mute Notes" from the menu that appears. 
Finally, tap on "Mute Notes" to confirm your action. 
Following these steps, you can hide all future notes from a particular account.
How to unmute Instagram notes?
---
If you accidentally mute someone's note on Instagram. Here are the steps to follow:
To Unmute Notes on Instagram, begin by launching the application. 
Next, visit a friend's profile and click the Follow-Mute menu option. 
Then select Notes and toggle off the slider button to successfully disable/Unmute any associated notifications with that account or post.
Conclusion
---
Overall, Instagram's Notes is a great way to organize posts and have them appear in your profile in a cohesive and easy-to-view manner. Notes also stay for 24 hours. So if you're seeking to use this great feature on your Instagram profile, upgrade your account and get creative with how you want to show off your content with Notes!