Instagram is a powerful platform that can help you build an audience and expand your reach. With over 1 billion users worldwide and 71% of US businesses taking advantage of the social media giant, it's no wonder why people are flocking to the network. Plus, when compared to Facebook, Instagram can generate more than four times the number of interactions.
No matter who you are – an aspiring entrepreneur or content creator – Instagram is a great place to start growing your presence. However, it can be difficult to get those first 1000 followers; when you only have a couple of hundred people paying attention, it's tougher to attract more. When searching for advice on how to increase your follower count, most of the tips are geared toward bigger accounts, not small ones.
So if you're looking to grow your followers and expand your reach, here's some simple advice: Start by delivering quality content and engaging with other users, then explore strategies like using hashtags and shoutouts to boost yourself. With these techniques, you can get your first 1000 followers on Instagram in no time.
First of all, we propose determining why you need subscribers, your goals, and what results you want after your work on Instagram.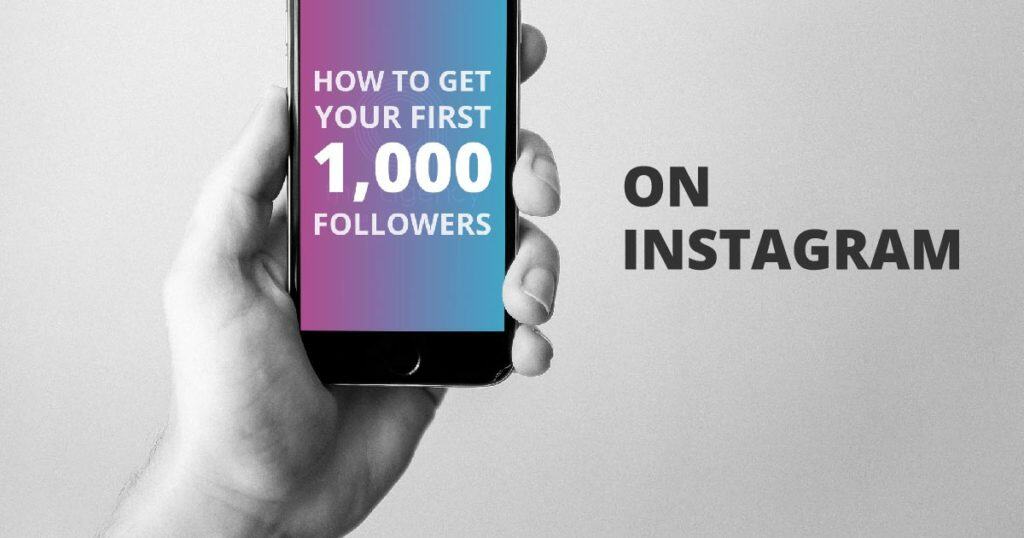 How to Get First 1000 Followers on Instagram
---
Make a great Instagram bio
Your profile is often the first impression someone has of you on Instagram, so make sure it's a good one. Show off your best features with a high-quality profile picture and include an interesting call to action in your bio – like a hashtag to click and share, a link to follow, or contact info.
Write snappy copy that makes it clear you're a real person, not a robot. When users search your username or name, they should get an idea of who you are and why they should follow you. If done right, this can be the perfect way to attract new followers!
Post quality content regularly. Posting good content that is relevant to your followers will keep them engaged, and it may even encourage them to share your posts with their own followers. Focus on a specific theme but don't be afraid to mix it up – try out different formats like photos, videos or stories over time.
Use hashtags
Come up with your own and choose a few popular ones that will describe what is happening in the picture and will fit your profile. You only need 5-6 hashtags, but they must be truthful and targeted. So your publication will not get lost in others and you will not mislead your audience.
Post quality content
Pay close attention to the content of your texts. It is better to publish fascinating and small ones so that the audience reads them to the end. Also, choose suitable photos for them that will attract attention. Develop your unique style to stand out in your niche. Focus on developing your content and photography because the most interesting content gets recommended by Instagram, which can increase your audience's reach.
Post consistently
Posting regularly and at optimal times is essential for success on Instagram. Utilizing your Instagram Insights to determine when your audience will be most active can help you increase engagement with them. By doing so, it also helps boost the visibility of your posts, potentially get 1000 instagram followers.
Scheduling content ahead of time can be beneficial in preparing for holidays, special events, and moments where creativity is lacking. The order in which posts are seen on users' feeds is dependent upon their performance according to the Instagram algorithm. Posts that garner more engagement will be pushed toward the top and receive greater visibility.
Therefore, fostering a higher level of engagement with your content can help you achieve success on Instagram.
Mass following and mass liking.
Mass following and mass liking is the introduction of a new audience to you through the use of mass promotions. They consist of the fact that you like and subscribe to many people, and they do the same in return. You can do it yourself if you have the time and desire.
But if you value your time and are not ready to spend it on such actions, then you can always use the services of an Instagram bot for followers. If you have never used the services of various promotion agencies or Instagram bot companies, you most likely noticed that the first thousand subscribers are complex and long to achieve.
He will be able to perform all these tasks automatically, which will save you a lot of time and effort. Also, using its smart algorithms, the bot will do everything efficiently and organically, as if you did it all. In other words, the bot will be able to automate all your work with your account.
At the moment, Inflect is the best Instagram bot on the market. Thanks to the presence of smart AI algorithms and constant adaptation and optimization, this web-based Instagram bot has been the best way to automate the promotion of your Instagram profile for many years.
Run contests and giveaways.
If your subscribers have exceeded 500 people, then we advise you to hold contests, for example, to win your service or car. You can choose any prize; the main thing is that it should be motivated to take action. Next, decide what the participants should do. Usually, it is a subscription, likes, and comments. To expand your reach, ask them to also repost the post with the contest and tag their friends under it.
Promote your Instagram
Gaining attention on Instagram can be quite a daunting task. If you don't promote your account, nobody will know it exists! So, first things first – start to get the word out about your profile. Embed posts in blog entries, share social links in emails and post across other social media platforms. Don't forget to ask current followers on other platforms to follow you on Instagram too.
Advertising your account is also key in expanding your reach. Get acquainted with Instagram ads and promotions to extend the visibility of your profile and gain more followers. With these steps, you will be well on your way to acquiring your first 1000 followers!
Mark geolocation
Another way to increase reach is to mark the geolocation on the publication. For example, the name of the place or city where you took the photo. With such actions, you can capture the attention of those who are or live in this place.
You can also make your location, for example, mark the location of your cinema or restaurant.
Comment on other people's posts
Another way to attract attention to your blog is to write comments under other people's posts. The main thing is not to spam but write thoughtful and relevant text. You can express your opinion, most importantly without insults. Those who like your thoughts will go to your page, and if you can hook them with the content, then they will stay with you.
Friends recommendations
You can always turn to your loved ones for help. Ask them to follow you and recommend you to their friends. A kind of word of mouth that will have an effect, as well as the people who come will trust you thanks to the recommendations. This is the easiest way if you are starting from scratch.