Bumble Bizz offers opportunities for employers, employees, and recruiters to build connections and networks in their respective fields. Bumble Bizz acts as a bridge between two unknown people within the same profession.
Newcomers can learn more and expand their knowledge by working with experienced people. So let's see how Bumble users can operate Bumble Bizz for professional networking.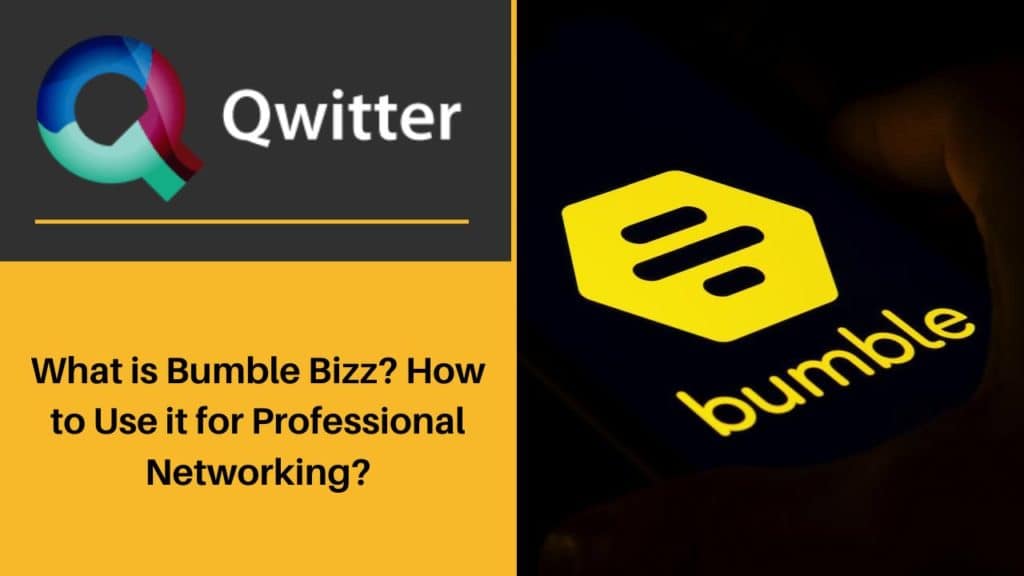 What to know about Bumble Bizz?
---
Bumble is a connection-making app. It has three modes of interaction- Bumble Bizz is one of them. Bumble Bizz offers interactive approaches to strengthen business relations and networking. 
You can spend hours on Bumble Bizz to find professionals in your suggested field. But here, you are searching for professional partners, not potential partners. Thus, it is different from dating and BFF versions.
Let's know a few things about Bumble Bizz before enrolling for this mode:-
Women Make The First Move!
---
Prevalent for giving women the prestigious first move is valid for Bumble Bizz too. After the immensely famous and noteworthy decision of women's first move, Bumble Bizz still incorporates this within its functioning.
In a heterosexual professional pairing, men and women can swipe each other. After getting matched up, women take the conversation ahead! 
However, in a same-gender professional pairing, the second one to swipe right takes the lead and sends the first message. 
You Swipe, You Like!
Bumble and Other dating apps (Tinder), Bumble Bizz works by swiping the profiles. If you have used Bumble dating, or BFF mode, you might have experienced running your fingers on the screen. 
For liking a Bizz profile, swipe right to match with them. To skip, swipe left! After swiping right, you have to wait. If the other person likes your profile back- It's a match! 
Now, if you are in a heterosexual pairing, women will make the first move! Otherwise, anyone in the match can initiate the conversation.
Time Matters!
Once in a pair, any member has sent a message, other gets 24 hours to respond. If the member responds within the timeline, the timer snoozes off. You can message, video call, and audio call, without restrictions. Otherwise, the match disappears/expires.
You can use Bumble's Extend (in a day) to extend a match by 24 hours. Bumble Boost and Bumble Premium subscriptions also offer unlimited match Extend. 
You Can Switch Bumble Modes!
Bumble offers an exclusive opportunity to its users where they can operate different modes at a time. Now, users can use one profile or a new preferably in separate Bumble modes. They can find their loved ones and expand their professional circles simultaneously.
It is simple with Bumble Web, where users can easily switch between separate modes to interact more.
It is done by a few changes to the Bumble settings, and your new Bumble mode is ready to find new possibilities.
A Golden Chance For Small Business Owners!
Bumble Bizz is not trying to overtake professional apps such as LinkedIn, but undoubtedly is an alternative for many. The established professional platforms often consider small businesses as job seekers.
On the other hand, Bumble Bizz can become a growing platform for thousands of start-ups trying to gain recognition in their respective fields. Small link-ups and small networking can be game-changers for many. They often find mentors or gurus to help them develop and implement their ideas.
What do you put on Bumble Bizz?
---
Bumble Bizz is a separate mode for expanding business relations. Unlike Bumble dating, where people search for life partners, Bumble Bizz is a connective spot to locate business partners.
Therefore, Bumble Bizz should include a few sure details to help you build a professional bio to strengthen your profile.
Verified Images:-  Yes, you should upload your verified profile images. Use images that better define your professional life.
Qualification:-  Mention your educational qualification and your expertise in the field.
Profession:-  Mention what exactly you do. And what are you looking for at Bumble Bizz?
Jobs And Skills:-  In this section, you can include your previous jobs and their related fields. 
Work Experience or a mini portfolio:-  Don't forget to include a mini portfolio of your previous work experience. It includes images regarding the firms you have worked with, some designs made by you, or other detailings of your skills.
Digital Resume:- Include a mini digital resume to get the lead. Use Bumble's "Fill in the Blanks' templates to improve the visibility of your Bizz profile.
Bumble Bizz Headline:-  Bumble Bizz profile is slightly different than the Bumble dating profiles. Here, a separate section is present for "Bumble Bizz Headlines." You can add a short jaw-dropping introduction. It must include "who you are" and what you do. You must write with a minimum of 100 characters to uplift your match chances.
The advantages of Bumble Bizz
---
Bumble Bizz unfolds various opportunities for professional relations. It is an alternative for People searching for opportunities to grow their businesses. The advantages of Bumble Bizz include:
Gender Equality
Unlike other networking platforms where women face sexual harassment and inequality, Bumble Bizz works to empower them. It has given women the prestige to initiate a business relationship by sending a first message.
Also, like other Bumble modes, it is a safe platform for all genders. Bumble strictly prohibits vulgar language, toxic behavior, and social discrimination.
An Alternative For Small-Scale Business Owners
Bumble Bizz helps to build social networks, whether it's for established business tycoons or small-scale start-ups. Bizz offers equal opportunity for the employees and recruiters to work collaboratively and develop connections last long.
The bigger networking platforms are comparatively tough to express, but here at Bizz, business owners can independently explore opportunities and showcase their potential.
Freshers Get The Deal
Undoubtedly, the pandemic severely impacted our education system and job opportunities. So as it affected business networking. In a blink of an eye, everything shifted to digital networking. Freshers didn't even get their chance to build connections.
But Bumble Bizz opens doors for the freshers trying to create new bonds for their benefit. They can use Bizz mode to find and build connections with professionals in fields and accomplish their dreams.
How to get started with Bumble Bizz?
---
To get started with Bumble Bizz, follow these simple instructions and build your connections:-
Open your Bumble app.
Visit our Bumble profile.
Tap the small grey-colored cog-wheel icon.
Select "Choose Modes" from the options.
Tap on "Bizz" > Done it > Select "Continue" at the bottom.
On the next page, add verified images.
Aff your qualification, job, resume, work experience, and mini portfolio.
In the "About me" section, add the necessary details. It can include hobbies, interests, work projects, etc.
At last, select "Done" and return to your profile homepage. 
Start swiping to build connections.
NOTE:-  Bumble Bizz is a separate mode of networking. When operating Bizz, other Bumblemodes and profiles will not appear.
What is Bumble date vs BFF and Bizz?
---
Bumble has three separate modes for users with different interests. 
Bumble Date:- Bumble Date is an online networking mode for finding genuine connections. The sole purpose of users operating Bumble dating is for love relations. Many users worldwide use this mode and are active users. 
Bumble BFF:-  Bumble BFF is a mode for finding new friends and acquaintances. Users can operate Bumble BFF for a certain distance to find their friends. Users with the same mode will appear in their match recommendations. 
Bumble Bizz:-  On the other hand, Bumble Bizz is a more professional (yet fun) mode for building business and professional relations. Users can use this mode to find mentors, employers, employees, and recruiters in the same field.
People often expand their business relations and constantly search for more opportunities at Bumble Bizz. Bumble Bizz can act as an alternative to other social platforms where start-ups can express their interest independently.
How many people use Bumble Bizz?
---
According to a source, almost 20 million users use Bumble Bizz for networking and mentoring. In fact, Bumble's own HR was at the Bumble app for selecting at least ten people from the Bumble Bizz mode. It was a wonderful opportunity for users who showcased their talent and credibility through Bumble Bizz.
Conclusion  
---
Bumble Bizz is one of the popular modes after Bumble Date and Bumble BFF. People surf at Bumble Bizz to seek and build professional relations. Bumble Bizz is a separate mode and easy to operate.
This article has explained other crucial details regarding Bumble Bizz crisply. You can easily understand Bizz and how is it different from other Bumble modes.