Many Instagram users have encountered the Instagram checkpoint required error on Instagram. This error message appears on the screen mostly when you make a login attempt resulting in jamming your Instagram feed.
If you struggle with getting rid of this specific issue, read the article "How to Fix Instagram Checkpoint Required Error." We will explain all the possible reasons for getting this error along with five valuable methods to fix the issue.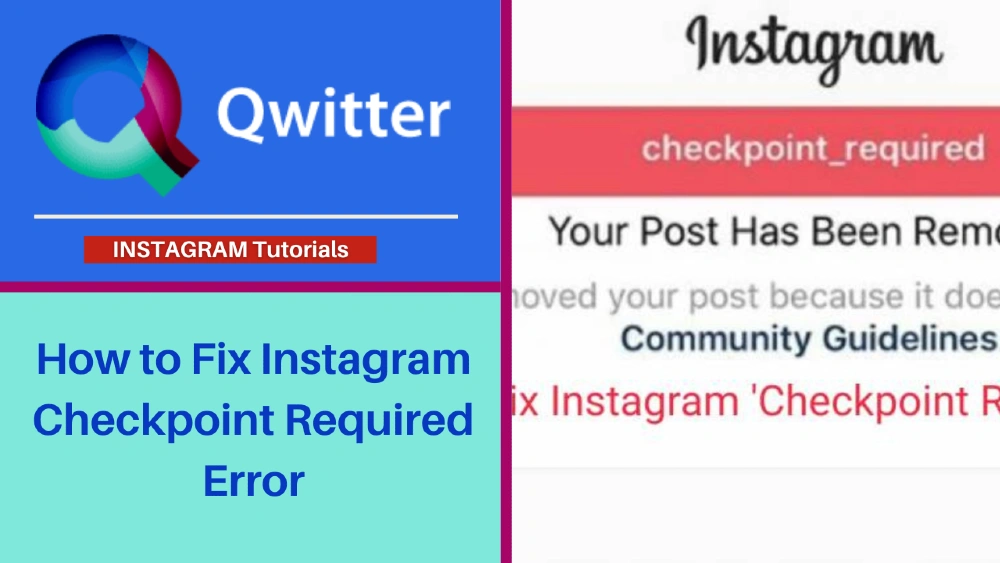 Why is My Instagram Saying Checkpoint Required?
---
Many people consider this an error made by mistake. In reality, "checkpoint required error" is Instagram's security attribute applied for the following reasons.
1. When a login attempt is made to an Instagram account from a different device and location.
2. When you use unauthorized apps and automation tools on Your Instagram profile to get more likes, followers, comments, and views.
3. When you exceed Instagram's rate limits defined by it on specific actions you perform manually on a daily/hourly basis. This error will appear every time you exceed the limits.
4. When you created a new Instagram account but didn't verify your email id and Phone number. Verify yourself as soon as possible to avoid the checkpoint required error.
How to Fix Checkpoint Required Error on Instagram?
---
Instagram has not provided some specific solutions from their side to fix checkpoint required errors. Many users have shared the below measures on different social media platforms to resolve this annoying error message.
These measures have successfully helped many Instagram users with the same issue.
1. Update the Instagram App
The checkpoint required error got removed when many users updated their Instagram apps. If you're using an outdated version of Instagram, probable chances are that you will encounter this error message many times.
You are the best person to know when you updated your Instagram app last time.
Head to the google or apple play store and type Instagram. Tap on the "Update" option. When the updated process is complete, Open the app and check if the checkpoint required error has disappeared or not.
2. Verify That You Are Trying to log in
If you encounter the checkpoint required error because Instagram's bots think that someone else is trying to access your account, this solution is effective for this case.
You will have to verify to Instagram that you are the actual owner accessing your account by confirming with the following steps.
Log out from your Instagram account.
Remove the app from the background.
Again, Open the Instagram app. An Instagram login page will open.
Enter your login credentials. Tap on "Sign in."
In this login attempt, a pop-up notification will display on your screen asking for confirmation that it's you, the actual owner.
Tap on the "It was me" option to confirm your identity on Instagram.
You can access the Instagram app.
3. Restart Your Device & Re-install Instagram
In the third method, You can follow these steps-
Open your device settings and uninstall the Instagram app.
Restart your device.
When it opens again, use any other apps on your phone (except WhatsApp and Facebook.)
Use them for a few minutes.
Open the play or app store.
Search the Instagram app.
Install it again.
Again, log in to your account.
Use all the features as you usually do.
4. Deactivate Your Instagram Account Temporarily
This method requires you to disable your account for a few hours temporarily. Until now, the best chances are that the checkpoint-required error will disappear.
Apply this method via a browser. You won't find the "disable account" option in the Instagram app. Follow the below steps to deactivate your Instagram account temporarily.
Open the web browser on your computer or laptop.
Open the official Instagram website.
Click on the account profile button.
Click on the "Edit Profile" option on the screen.
Scroll down. Click on the "Temporarily disable my account" button.
Select a reason for your account deactivation. You can choose "Just need a break."
Wait for a few hours.
Install the Instagram app again and open your account.
This method is highly efficient in removing the checkpoint required error.
5. Create an Alternate Instagram Account
This is the final solution that we have. Even after applying the above four methods, you still encounter the "checkpoint required error."
Try this one in which you have to create a new Instagram account. Many times, this issue becomes prominent in particular Instagram accounts.
You can enjoy the Instagram features through a new account until the time checkpoint required message is fixed in the previous account.
Why Does the Checkpoint Required and Privacy Checks Errors Appear on Instagram?
---
The first checkpoint required error appears below the Instagram logo on the timeline. You become unable to perform any action on Instagram. The second "Privacy check" error appears on a plain screen.
Both result in jamming your Instagram app, which stops you from accessing its feature. We will look deeper into all the possible reasons for facing these two errors.
1. Due to Security reasons
The first reason is to protect your account from hacking. When you try to log in from a different geographical location and device, Instagram asks you to verify your identity. Instagram considers this as a hacking attempt by another user from a different location.
If you are not the one accessing your account and still face this issue, verify your identity. Immediately take assistance from the Instagram support team and change your password.
2. To control the automated actions of unauthorized third-party apps.
This is also a method devised by Instagram to check whether you're a bot or a human being. With the introduction of Instagram marketing, people have started earning from this platform. People use automation tools and third party apps to generate fake followers, likes, or comments.
Many apps also add auto comments, likes, and followers to an account which is against Instagram policies. When you try to access your Instagram account through third party apps, Instagram detects your activity.
This act also counts in the hack attempt by an unauthorized third party app. That's why Instagram displays the checkpoint required error to stop your actions.
3. Exceeding the rate limit
Instagram has limits some actions, such as Instagram comments, likes, comments, direct messages, number of followers, hashtags, stories, and tags. For example –
You can follow/unfollow only 200 accounts/per day and 10 accounts/per hour. When you exceed this limit, you will see the checkpoint required error on your screen. This can also be considered an attempt made by an automation bot.
You can like up to 1,000 posts/day and a maximum of 800 likes.
You can send 50 to 100 Instagram DMs in a single day.
You can write a maximum of 200 comments in a day.
Instagram encourages users to rely on organic promotion strategies rather than automation tools.
4. Unverified account.
New Instagram accounts don't verify their accounts. Instagram shows this error more on unverified accounts. Many times people use fake accounts to perform malicious acts. All users must verify their email addresses and linked numbers on Instagram for security purposes.
Conclusion
---
If you solve this issue successfully, ensure not to repeat the same actions that led you to face this. Third-party apps interfere with the experience of other users. Therefore, Instagram advises people not to use them and engage in safe and secure activities.