Twitter displays only the first 3200 tweets on the Tweets & replies tab of the profile page, making it challenging to find the user's old tweets. Sometimes, people want to go back to see their old memories on Twitter and wonder what their first tweet is.
We will help you find your and someone else's first tweet using simple methods on Twitter.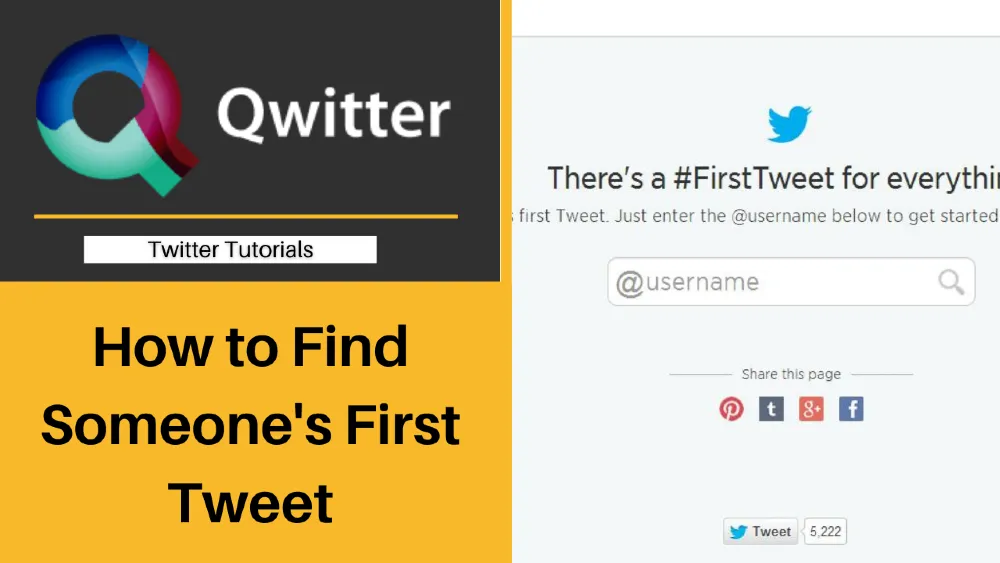 How to Find Someone's First Tweet on Twitter
---
It's impossible to see a user's first tweet directly from their profile page until they have posted very few tweets. Using the following steps, we are sharing an easy way to find someone's first tweet on the Twitter app and website.
1. Twitter's search bar.
Log in to your Twitter account.
Move to the profile page of the person whose first tweet you want to search.
Below their profile picture, note down their date ( including month & year) of joining Twitter along with their username.
Go to Twitter's search bar.
Copy this format in the same manner – (from:username) until:2015-08-02 since:2015-08-07.
Enter the username and date range.
For example- If the joining date shows – joined in Sep 2020. The search results will display all the tweets posted in September month of 2020.
You get lucky if there are few tweets to search from. The last one with the oldest date is your first tweet.
2. Twitter's Advanced Search feature.
This advanced search function is available only in Twitter's web version. It gives you more ways to refine the search results.
Open your Twitter account.
Directly enter this link in the browser to open the advanced search- https://twitter.com/search-advanced.
Second, Click on the right corner of your screen to access this feature.
If you remember any words from your first tweet, enter them in the "words" section.
Enter any information you remember about their first tweets, like any keyword, phrase, hashtag, and date range.
Enter the username in the "from these accounts" section. 
Click on "Search."
You'll view a list of all the top tweets from that month and year in the search results.
How to Find Your First Tweet on Twitter
---
The two methods are the same to find your first tweet on Twitter. Enter your username and joining date. It's relatively easy to search for your own first tweet as you remember more refined details about your tweet. The more ways to find your first tweet, use the Twitter archive and the third-party applications.
1. Twitter Archive-It contains all the tweets of a Twitter user, even the deleted posts. By chance, if you deleted your first tweet, you can find it here. It's a time-taking process. 
Open this link – https://twitter.com/settings/account. Under the "your account" section, click on "Download an archive of your data."
Enter your Twitter account's password.
Inside the "Twitter data," click on "Request archive."
Twitter can take a few days to send your archived data.
You can download it from the email and push notification. 
On the desktop, Unzip the file.
Open Your archive.html file. Click on the "tweets" section to find all tweets.
To save time filtering tweets by date, you can use an external Twitter archive viewer application like back tweets and archive explorer.
2. Wayback Machine – It can help you search even your deleted first tweet.
Open this link on any browser– https://archive.org/web/.
In the "browse history" section, type this – http://twitter.com/[username]. 
Click on the Browse History. 
The Wayback Machine delivers screenshots of a user's Twitter account managed by day & year.
Select your joining year and see all the tweets on your screen. Then click on a particular month & date bubble.
Can the Very First Tweet on Twitter Be Found?
---
Yes, Use above described methods to find tweets on Twitter from any date. You can use any method that saves you time and effort. All are tested and effective in searching the first tweet. The first priority should be to use Twitter.
Which was the first tweet on Twitter?
---
Jack Dorsey sent the first tweet on Twitter in march 2006. He was the first one to create a Twitter Profile. After creating the account, He posted the first tweet declaring, "just set up my twttr."