Searching using multiple hashtags can filter down your results and make it easier for you to find exactly what you are looking for. Unfortunately, Instagram does not have this feature yet. This means that you can only search for one hashtag at a time on Instagram. However, you might be happy to hear that there are still two easy tricks to search multiple hashtags on Instagram.
You can either use Google or 3rd party websites to search for numerous hashtags simultaneously. Although this is not exactly on the Instagram app, you can still get the accurate results that you are looking for. Hashtags are not just a bunch of words; they can actually help you grow on Instagram.
To learn more about the benefits of hashtags and how to search multiple hashtags on Instagram, you must check out our handy guide below.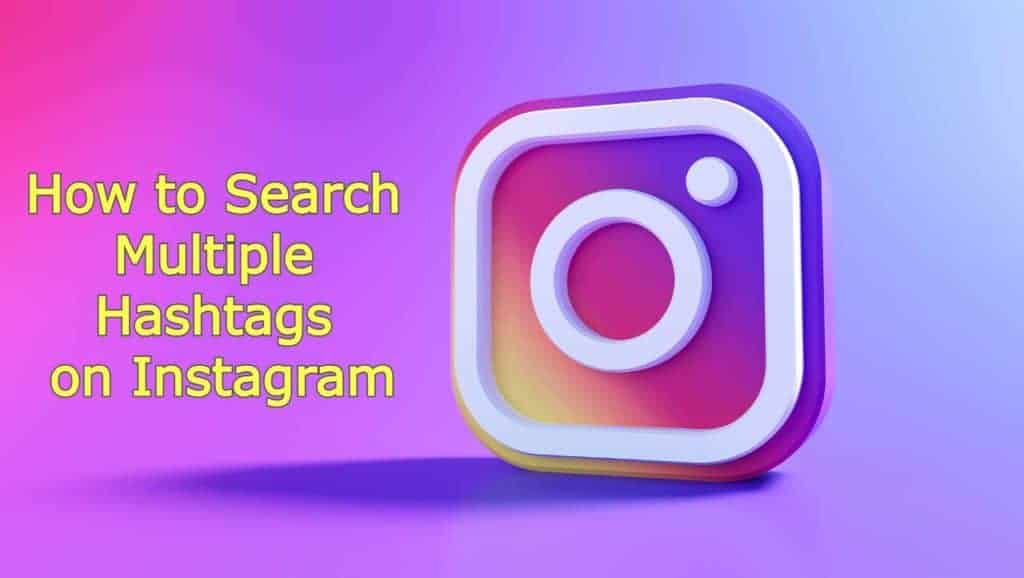 How to Search Multiple Hashtags on Instagram?
Since you cannot use the Instagram app to search for multiple hashtags simultaneously, there are two other methods you can use to do so. Check them out below, as we have explained them in detail. 
Method 1: Google search results
Step 1: Open the Google search engine on your mobile phone or PC. 
Step 2: You will see a search bar where you must enter the text: site:Instagram.com "#tag1" "#tag2". You can type down any of the two hashtags you want to find in tag 1 and tag 2. 
Step 3: Then, hit the Search button to get your search results. You will then find many Instagram posts containing the particular hashtags you inputted above. Feel free to view those posts on Instagram. 
Method 2: 3rd-party tools
Many platforms, like Brand24, AiSchedul, AiGrow, and many more, specialize in helping you search using multiple tags on Instagram. Some ask you to create an account before you start searching, and some even have paid pro-versions you can try.
Each website has its own set of rules to help you search for multiple hashtags on Instagram, and they will guide you through the process. 
Why Can't You Search Multiple Hashtags on Instagram?
Instagram does not allow its users to search using more than one hashtag on the platform. You might be wondering why, and we wish we had the answer. But Instagram has not yet revealed the reason why you cannot search multiple hashtags. 
However, there are many speculations from various users online that it is because the search engine for Instagram is not optimized yet to cross-reference multiple hashtags simultaneously.
Another theory is that since Instagram is marketed as an easy and simple app, searching multiple hashtags simultaneously may render the platform too complex and put off users instead. So, to remain simple, many users believe that this feature has not been added yet. 
Benefits of Using Multiple Hashtags on Instagram?
Hashtags are one of the most efficient social media tools right now. Almost everyone uses them on Instagram, whether they are a business or a creator. The main use of hashtags is to increase your reach, following, and exposure.
If you use a particular hashtag for your post, then your post will automatically be seen on the page for that particular hashtag. 
This means that people searching for that hashtag will get to see your post, increasing your engagement and brand awareness while simultaneously promoting your posts and content.
Your content will also become more popular and easier to find on Instagram. In addition, using hashtags can actually help you gauge your competitors on Instagram. This will help you devise new strategies and improve your brand for the better. 
If you want to describe your content with short and simple words, then hashtags are the perfect options for you. No matter what type of content you post, you can always use the most relevant and suitable hashtags to describe your content.
FAQ
After reading all this, I'm sure you are probably tempted to start using the best hashtags on Instagram. So, here is a question that most of you may be having at this point. 
What is the Best Hashtag Finder for Instagram?
To find the best and most successful hashtags on Instagram, there are plenty of third-party websites and tools to help you out. Each hashtag finder has its own list of advantages and disadvantages, but we recommend one that stands out the most: AllHashtag. 
It is not only a top hashtag finder, but it also aids in creating your very own hashtags and provides you with analytics about each hashtag. You can even filter out hashtags depending on your requirement! Overall, All Hashtag is a one-stop shop when it comes to hashtags. 
Conclusion
Hashtags are a great way to boost your brand and increase your visibility. You can find and discover new content through Instagram hashtags. But unfortunately, you cannot search using multiple hashtags on Instagram. Instagram has not really revealed the exact reason why, but do not be too sad because there are some easy workarounds to this issue.
You can use either Google search or third-party tools like Brand24 to get the job done within minutes. These are great alternatives, and you can search with multiple hashtags simultaneously.