Connecting with friends and relatives is so easy these days. Thanks to WhatsApp which help us contact our known persons without a running bill on our phone plans.
Therefore, this article will explain how you can use WhatsApp internationally for free simply with wi-fi nearby! We will also disclose a few facts on how you can contact someone from another country and who pays for your WhatsApp calls. So, stay tuned and read this complete informative article so that distance never remains an excuse to part your relations!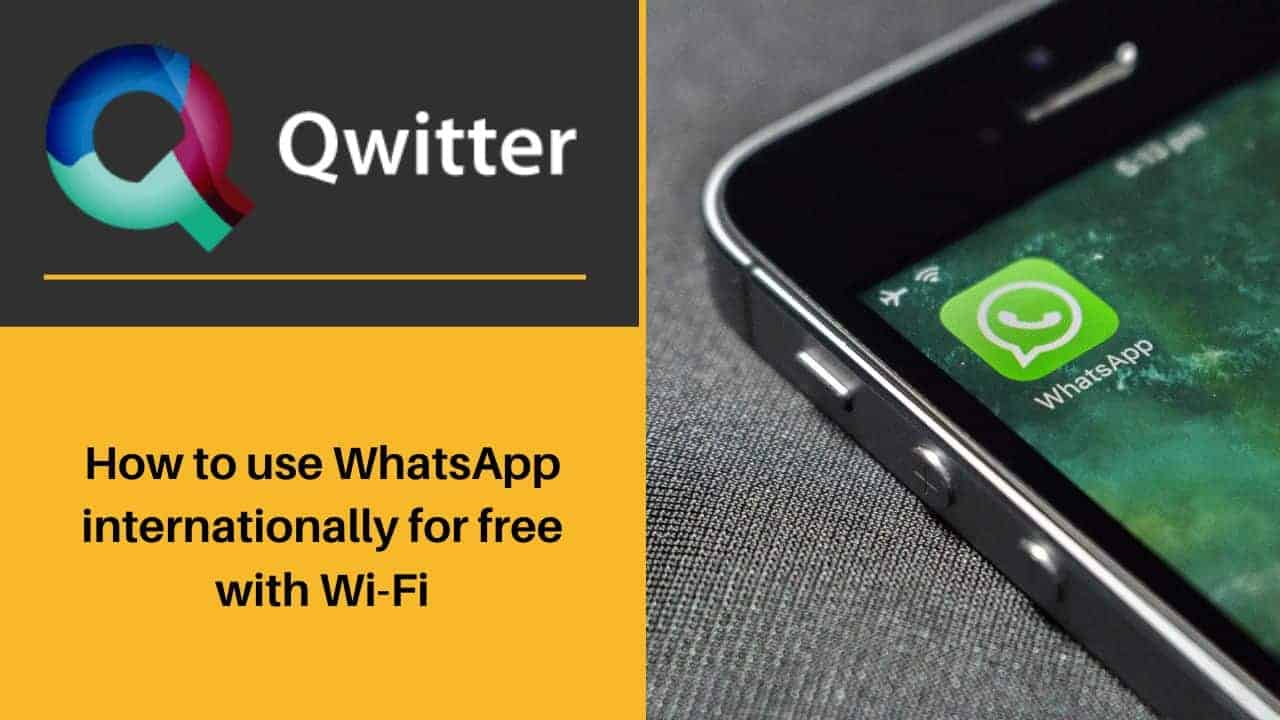 Is Whatsapp Free Internationally?
---
Absolutely! WhatsApp calls are free for international users. WhatsApp is a VoIP (Voice over Internet Protocol) calling app. It allows users to make voice calls using broadband Internet instead of traditional phone lines.Therefore, you can contact each other until you and the person you wish to connect with has installed WhatsApp.
Although WhatsApp users can connect freely internationally, your carrier may charge you expensive bills. It usually happens when your daily data has already been exhausted, and you continue on a roaming plan.
If you use your cellular plan outside its coverage area (on an international land), you will pay the international charges on WhatsApp calls, texts, and video calls.
To save your pockets from spending an expensive cost, always turn roaming off and look for a wifi connection in your hotels, restaurants, or a fancy place nearby.
Further, you can schedule all chit-chat, meetings, and calls in the evening once you return to your hotels or until your mobile data does not reach its limit.
How to use WhatsApp internationally?
---
To use WhatsApp internationally, operate it from a wifi connection. Although WhatsApp works with your internet connection, texting messaging on an international land on roaming can add quickly to your expenses. So, to tackle this issue, find a wifi connection nearby and then make WhatsApp calls, video calls, or text your homeland people.   
To use WhatsApp internationally, follow the given measures to avoid paying extra fees-
Turn Off Data Roaming
International cellular plans have varying choices with limited and unlimited access for users. If you don't have international cellular plans for internet access on an abroad trip, you can turn off your roaming. It will save your pockets to avoid unwanted pay. 
To turn off your roaming in Android, follow the simple steps given below:
Open your Menu.

Tap the "Settings" app.

Select the "Connections" option (the first one)

Scroll a bit and tap "Mobile networks."

Gently slide the "Data roaming" button to the left.
Hence, your mobile will not find and connect to any local network and won't charge you a bit! Still, you can turn on wi-fi to get internet access in the local places around you.
For iPhones:- 
Go to the iPhone's "Settings" 

Tap on Cellular data 

Tap on "Cellular Data Options" from the Cellular Data section.

Turn off "Data Roaming."
Get A Roaming Plan From Your Carrier
Before your international trip, contact your carrier to purchase international roaming plans for uninterrupted communication. However, these plans are relatively expensive when serving more than 30 days.
You can reach your connection carrier to add an international roaming package for the trip duration. T-customer can get an international roaming package without extra charges.
Purchase A Local Sim
In case of a long international trip, you can purchase a local sim to get the benefits of cost-efficient plans. It is the best way to work without interruption for a limited duration.
Does WhatsApp charge for international calls?
---
Fortunately, WhatsApp does not charge a bit for international calls. You can use your international roaming plans or accessible wifi to operate your WhatsApp messages, audio calls, and video calls. 
If you are not using an international roaming package, turn off your Data Roaming for Android and iPhones. It will let you avoid unwanted expenses on data usage. You can manage your data usage by turning it off once it reaches its limits. 
How Do I Make International Calls on Whatsapp?
---
It's the same! You can make an international call on WhatsApp, similar to how you make a local WhatsApp call. Follow these easy steps and connect with your loved ones:
Open your WhatsApp.

Tap the little green icon on the bottom right side of the page.

Select the contact you wish to call.

On the top right side, click the "video" icon for video calls and the "phone" icon for audio calls.

Tap on the icon and start the call.
Few things to know before calling an international friend:-
(a) Your friend should have a smartphone.

(b) Your friend should have installed WhatsApp on their phone.

(c) You must have saved their contact number on WhatsApp.

(d) The contact number should come after the country code to avoid chances of cross-connections (Ex: +1 before the actual number for the USA and +91 for India).

(e) They should have a stable internet connection

(f) WhatsApp calls cannot connect to the office or home landlines.

(g) The country should be WhatsApp accessible.
Who pays for WhatsApp calls?
---
It's you! WhatsApp calls are paid for by both parties (one who calls and one who receives the call) through the data they use. WhatsApp calls and video calls are free of cost until you have turned on your Data Roaming. Little do you know that this will end you paying an eye-opening charge, something you may not be happy with! 
On the other hand, the traditional pre-paid and post-paid phone calling charges for the person who calls (outgoing). The call receiver does not pay a single buck, even to disconnect it!
How can I chat with someone from another country on WhatsApp?
---
Chatting and texting someone (let's call them your friend!) from another country on WhatsApp is way easier than computer science! Follow the given instructions and get started:
(a) Save their number in the WhatsApp list:
–     The international numbers are written after the country code.

–      You can ask your person to tell his country code, or simply ask Google search engines to help you out!  
(b) How to save the number:
–  You can save your friend's numbers directly on WhatsApp or add them to your phone's contact list. To add them on WhatsApp:-
Open your WhatsApp.

Tap the little green icon on the bottom right corner of the chats page.

Tap on the "New Contact" option beside the green +profile icon.

It will divert you to the Contact page.

Add your friend's name and contact number with the country code (Ex: +1 for the US).

Tap "Save" to save the contact number. 

Now, open the WhatsApp page and tap your friend's name.

Say Hello! And start the conversation.

Tap the small green arrow icon on the right corner to send it.
Can You Text Internationally With Whatsapp?
---
Of course, you can text internationally with WhatsApp! You can send a text, video, or audio message free of cost, as you send it to people in your own country. Here are easy instructions to get you on board with connecting on WhatsApp:
Save their contact number on your contact list.

Open your WhatsApp.

Tap the little green icon on the top right or bottom left corner.

Search the international friend.

Tap their contact on WhatsApp.

Start typing a text.

Tap on the green arrow in the right corner to send the message. 
Whatsapp is Not Working Internationally
---
WhatsApp does not work internationally if the country has blocked WhatsApp for local citizens. Although WhatsApp is a successful messaging app, a few countries have banned it for users due to its most significant policy- end-to-end encryption of conversations.
The reasons are supposed to promote their own networking companies or not approve of user's privacy. It often happens due to political and security reasons also.
The countries that have banned WhatsApp are:- 
North Korea

China

Syria

Qatar

United Arab Emirates (UAE) for WhatsApp voice and video calls.
How can users communicate while traveling to WhatsApp-banned countries?
When you travel to such a country, you can not operate WhatsApp. However, you can take a few measures to connect internationally:-
(a) Use a VPN-
–     VPN, aka Virtual Private Network, can unblock WhatsApp while traveling to these countries.
–     Sign up for a VPN app and connect to the server that is near you.
–     Open WhatsApp and start communicating.
–     You can use Nord VPN for better performance and high security.
NOTE:-  Virtual Private Network or VPN protects your online identity by masking it and encrypting it for making it invisible to unauthorized detection. In simple words, it lets you delve into a private network that keeps your identity safe from detection. You can use VPN sitting in a WhatsApp-banned country, and it will appear as if you are operating WhatsApp from an accessible country.
Final Thoughts:
---
You can use WhatsApp free of cost until you use a wifi connection or operate it from international roaming packages. You can also purchase a local sim to make it easier to get WhatsApp access. We also discussed that both the WhatsApp parties pay for the calls. 
Further, this article explains how you chat with an international friend and what to do when WhatsApp does not work. Some countries like China and North Korea have banned WhatsApp and how VPN is an effective way to operate WhatsApp.
Read this complete article and understand some rarely known facts about WhatsApp.