It's senseless to keep older tweets in your account after a certain point. You can delete superfluous tweets using the Twitter app, but this will take a long time as you'll have to delete one tweet at a time. Tweet deleter tools are really useful in this situation.
There may be an excess of useless tweets that upset you greatly. It can be terrible in some cases where you might want to flee the site for your own comfort.
However, there is no longer a need to feel this way because a variety of tools available in the market will remove your old tweets and are really simple to use. Let us discuss them: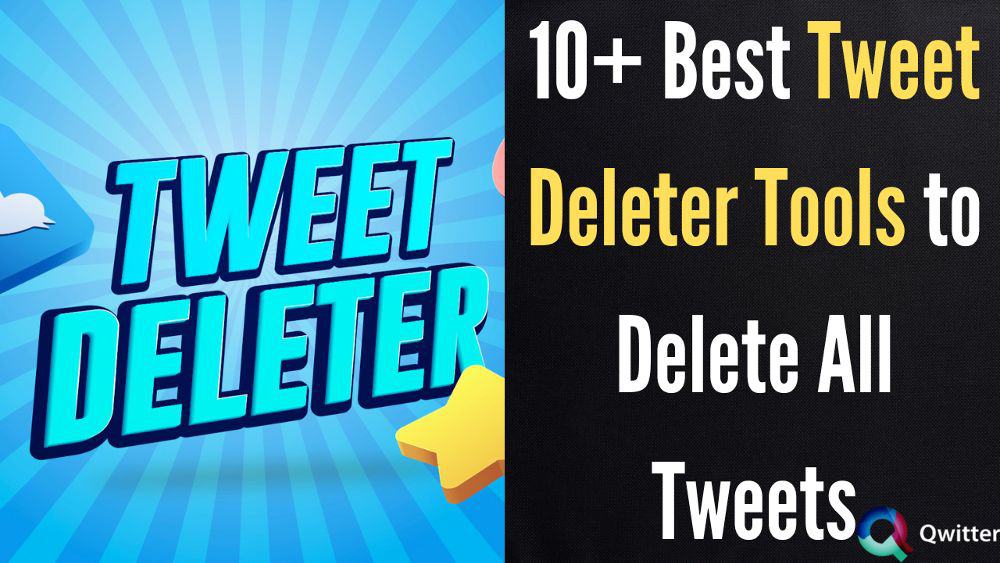 What Does A Tweet Deleter Entail?
---
Tweet deleters are tools that assist you in deleting your Twitter posts in bulk based on their age or content. However, a 'Tweet Deleter' is the ideal tool to eliminate all of your old tweets.
If you only want to delete some tweets, go into your account and delete them individually; but, if you want to erase all of them at once, you must preferably use the Tweet deleter tools.
Nevertheless, Twitter deleter will help you in case of freeing up space on your Twitter account as it is the simplest method to delete old tweets. This article includes an assembled list of some favorable tools which Twitter users popularly use.
The Benefits of Tweet Deleting Tools
---
Tweet deleting tools are the most effective way to delete all of your tweets while being overly expressive or emotional, as well as any regrets you may have had. Let's have a look at other benefits of this tool:
You can easily erase current or prior tweets on Twitter using the tweet deletion feature.
Picking and choosing the unwanted tweets from a certain time period that you want to delete also becomes effortless.
A minimum of 3200 tweets can be deleted from your account using tweet deleting tools, which will help you save time by deleting them one at a time.
These tools can also be used to upload your archives from Twitter and help you delete any undesired likes or outdated tweets.
Varieties of Tweet deleting apps have a function that can auto-delete, which saves the effort of manually removing tweets and likes.
This application can assist you in managing several accounts by allowing you to delete any irrelevant tweets.
Tweet Deleting Tool is unlike other programs because it has serious privacy concerns and avoids spamming. However, the data is saved for later use, which is of one-time value compared to other programs, so you can utilize it later. This also allows you to save and review your tweets.
You can also quickly locate your tweets chronologically by searching date, time, medium, or keyword.
Steps To Delete All Your Tweets
---
With these instructions, deleting your tweet will seem simple:
Make sure your account is logged in to Twitter or the account whose tweet you want to delete.
Go to your preferred website of the Tweet deleter. You will be prompted to click the "Authorise access" option on the screen. You can access your Twitter account only after you are granted approval.
Now you need to click the "Authorize app" option to delete tweets. After this, you need to click on all the Tweets you want to delete, then confirm your choice; it might take a few minutes to take effect. After a few minutes, all of your selected tweets will be removed.
When you're finished erasing, a box with the words "Restore access" appears on your screen. Select this option if you want to restore what you deleted; otherwise, deny and get access to your Twitter account.
Best Tweet Deleter Tools To Delete All Tweets
---
Following are some of the best app to delete tweets which are most preferred and famous:
Circleboom
TweetDelete
TwitWipe
TweetDeleter
TwitEraser
TwitLan
DeleteAllMyTweets
Twit Archive Eraser
Semiphemiral
Cardigan (Not available anymore)
Circleboom – No.1 Best Tweet Deleting Tool
Circleboom is the greatest and excellent solution if you want a simple and multi-purpose tool for erasing your previous likes, tweets, retweets, and history.
Circleboom was launched in 2017 by a US-based startup. It provides you with several tools that allow you to delete unnecessary tweets in a single click. Its advanced search engine lets you quickly locate relevant tweets.
The following are some of Circleboom's most important and useful features:
Date Range Searching:
It uses a date range that involves filtering your old tweets by their sent dates, allowing you to remove previous tweet's history.
Using Free-text Search:
Search and delete the undesired tweets by using a username keyword or hashtag search in this function.
Language-Based Search:
Your language is saved in order to optimize the search for tweets sent in that language. So, if you see a tweet you don't identify, you can delete it immediately.
Methods of Circleboom:
Deleting tweets is a very simple procedure while using Circleboom. All you have to do is first login to your Twitter account in order to erase your old tweets. Once you've signed in, go to the "My Tweets" menu and pick from more options such as "Delete selected" or "Delete All Tweets" in case you want to delete them all at once.
These methods are simple to follow and result in permanently deleting outdated and undesired tweets.
TweetDeleter Review – Best Tweet Deleter
This tweet deleting tool is one of the most user-friendly tools, making it the most popular in the market. Their dashboard is very simple and convenient to use, displaying all of your tweets after the authorization process.
Selecting its Auto-Delete option will help you delete all tweets in one go. They also provide a search option that you can use to easily find where a specific tweet was tweeted from.
Moreover, to get the best result, you can use the following additional features:
Rude Word Filter: This will allow you to easily locate Tweets that include offensive or abusive language.
Tweet type Filter: This filter allows you to discover comments, likes, retweets, and replies.
Media Filter: Finally, the use of media filters to find movies, photos, and other visual stuff.
Methods of TweetDeleter
In order to begin, go into your Twitter account. On the site of TwitterDeleter, you'll find "delete many tweets with one click." Simply tap on it.
Now, a new window will appear when you click, asking you to authorize the app. To begin the procedure, click "Authorize App."
This is the step where you must choose which Tweets you want to remove. You can select multiple options at once.
The "Delete Tweets" option appears at the top of the screen; go through the options and click the "delete box."
Here are some of the FAQs for Tweet Deleter:
Is Tweet Deleter legitimate?
2,000,000 users have trusted and then used the TweetDeleter tool to safely and securely delete their tweets since its introduction ten years ago.
TweetDeleter's services prioritize security and privacy. They only import available tweets to the public and ensure not to share this information with any third party.
TweetDeleter, a free web tool that allows you to remove your history in Twitter and set a timer for future tweet deletion, is the most popular of such services.
Does Tweet deleter provides refund?
Although it is not clear how to get a refund from TweetDeleter, you can unsubscribe with the tool by going on to its webpage so that it does not charge you further.
How to Cancel tweet deleter subscription
After signing in to your Tweetdeleter account via the web, go to Settings, then select Manage Account to terminate your subscription to the Service. The tool will stop billing you after you have unsubscribed.
TweetDelete – Best tweet Deleting Tool
TweetDelete is a great Tweet Deleting tool accessible since it lets you swiftly and easily delete up to five Tweets every day. It also allows you to alert your followers about deleted Tweets, something that other services may not provide.
TweetDelete is the most effective tool for quickly removing your Tweets. It is much faster and allows you to customize it to meet your specific requirements.
Methods of TweetDelete
When you are utilizing the tool, the process of TweetDelete has a basic setup and is the same. You must uncheck everything that you desire to delete and insert your password before enabling the option to delete.
In addition to deleting tweets, they have several free features and some premium options for anyone interested in leveling their account with additional benefits or needs.
TweetEraser– Best Tweet Deleting Tool and Easy to use
TweetEraser is the ideal app for keeping your social media accounts running in a smooth flow. TweetDeleter and TweetDelete combine their features in this software. You can search for certain Tweets by inputting related keywords or by using a standard filter.
This application lets you access numerous accounts, allowing you to delete retweets or tweets without restriction. Some advanced features also include the ability to sync several accounts, which is particularly useful for individuals with personal and professional Twitter accounts.
Methods for TweetEraser
Tweet Eraser is a program that allows you to delete tweets from your Twitter account. Follow the procedures outlined in this article and enter your username to delete old Tweets using this approach.
TwitWipe – Best Tool Deleting Tweet in Bulk
TwitWipe is the perfect to-do list for tweeters, with a simple solution for individuals who wish to keep their feed clean. You may erase all Tweets from your account in a single click, and not only some previously-dated ones that will vanish in some days, but every single tweet on Twitter!
Methods of TwitWipe
As previously said, use the above procedure to erase all old tweets. Also, TwitWipe is completely free to use and requires no cash commitment.
Twitter Archive Eraser – Best Bulk Tweet Deleter
The Twitter Archive Eraser is the latest program that allows you to post more than 3200 tweets. Furthermore, it will allow all your previous content to be completely erased from the site's servers.
This tool is remarkable as it not only helps one get rid of annoying or enthusiastic followers who constantly retweet or like everything you post, but it also allows you to remove your postings before they've even had a chance to gain likes.
Methods for Twitter Archive Eraser
Here's how you can delete your tweets using the Twitter Archive Eraser:
You must first sign in directly on the Twitter website using OAuth through twitters automated authentication.
Open your Twitter archive.
Utilize precise dates, phrases, or user mentions to find tweets you want to delete.
Finally, select "Delete Tweets" from the drop-down menu.
Twitter Archive Eraser makes it simple to erase up to 1,000 tweets for free. However, there are three plans as mentioned below:
Basic (2K/week/$9),
Advanced ($19-$29), and
Premium ($49)
TwitLan- Best Tool for Mass Tweet deleting
Twitlan is a tool that provides a quick and very easy solution to erase several tweets at once. Twitlan, with 15 years of experience, offers a fantastic platform for filtering and deleting your tweets with a single click and with lightning speed!
You can also use this helpful dashboard to clear out all those awful old tweets by picking keywords or dates– no need to trawl through thousands of them like earlier.
They also provide step-by-step directions that are simple to follow, even if you are using their services for the first time.
Methods of Twitlan
Log in to your Twitter account using the Twitlan app, click the "Authorization app" button, select the tweets that you want to delete, and tap on the button. "Remove all tweets." You can use Twitlan completely for free.
DeleteAllMyTweets- Best Tool for Deleting Multiple Tweets
There is no need to log in or install any software; the DeleteAllMyTweets application makes it simple to erase thousands of tweets at a time. The postings you make are irreversible after, so think twice before deleting your account's history.
Methods of DeleteAllMyTweets
The procedure for deleting tweets is simple. To delete a tweet, first, log in to Twitter, authorize the app, then choose the tweet you want to delete and tap the "Delete" option on the tab. This service is completely free!
Cardigan
Cardigan is a very simple dashboard that allows you to erase tweets and delete likes from a Twitter account. It's not only useful for erasing posts but also for deleting notifications that you no longer want on your device.
You may also use this tool to keep irrelevant stuff out of your feed so that if somebody looks at your social media activity, they don't see old Tweets about unrelated topics.
Methods of Cardigan
To delete tweets, follow these steps:
Connect to Twitter
To let Cardigan compile your most recent 3,200 tweets, click "Fetch from Twitter."
Choose the tweets you want to delete and press the "Delete" button.
What Next After Deleting My Old Tweets?
---
Your undesired tweets have been successfully erased, and nothing else is left. However, you must first sign in to your Twitter account to ensure everything is in order.
There are a few other points to keep in mind:
The deletion of Tweets, chats, likes, etc., may trigger a Twitter bug that can only get fixed by Twitter support. When deleting many tweets at once, you should stay cautious.
Third-party programs with access to read and write on your Twitter account are mentioned in this article. This is in effect until you cancel their access using the instructions below. Revoke access in Profile and Settings > Apps and Devices.
Conclusion
---
You may remove the tweets no longer in need with the greatest tweet deleter apps. These tools can also be useful in case of starting over with a new account or to erase old tweets for privacy concerns. Hopefully, you have discovered the ideal tool for deleting all of your tweets.
In case you haven't! Subscribe to this blog to receive updates on this topic in case we add more information and evaluations of new tools that might be useful to you. Share your thoughts with us and make tweeting easier and have fun tweeting.