When it comes to Twitter, there are a lot of different accounts that you can follow. But, if you're looking for accounts that will provide you with knowledge, then you should definitely check out the best Twitter accounts to follow for knowledge.
These accounts are filled with experts in their respective fields who share their insights and expertise on a variety of topics. Whether you're looking to learn about the latest news in your industry or want to hear from thought leaders about the big ideas that are shaping our world, these are the Twitter accounts that you need to follow.
So, if you're ready to start learning, here are the best Twitter accounts to follow for knowledge: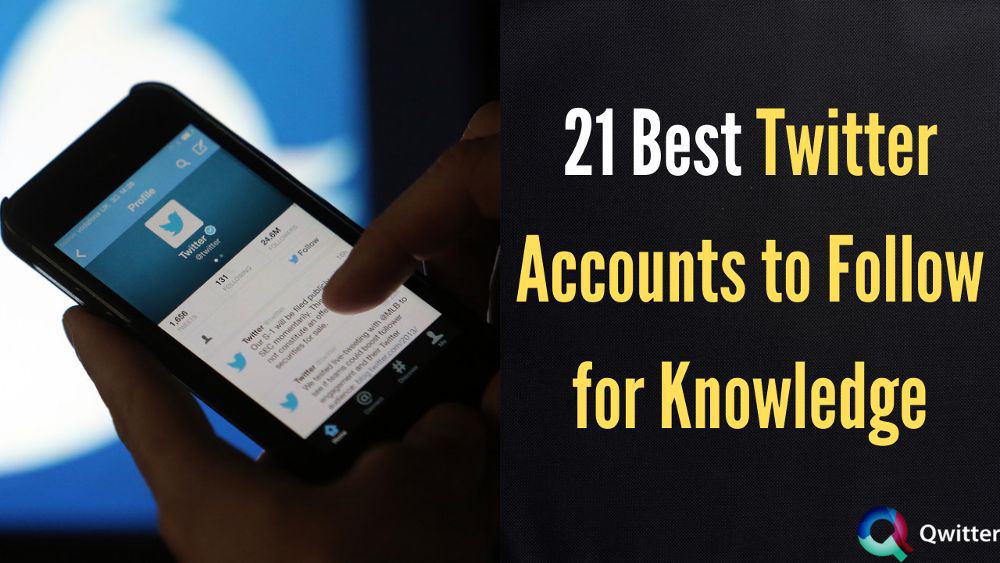 21 Best Twitter Accounts to Follow for Knowledge in 2022
---
The whole experience on Twitter is defined by the accounts you follow. To help you add
some intelligence to your feed, we have compiled a list of the 21 Best Twitter accounts for knowledge.
TED is a nonprofit organization dedicated to spreading ideas. Their Twitter account covers the various spectrums, from technology and science to abstract topics.
Their page also consists of multiple speeches from experts on different subjects. This is a premier account to follow if you want new knowledge.
How do you take the ordinary and make it extraordinary?

Watch this magical talk filled with a dash of rule-breaking — and a whole lot of sugar! — to find out: https://t.co/d5dw36eyW6 pic.twitter.com/KN3BS3PLki

— TED Talks (@TEDTalks) June 26, 2022
This Twitter account is a definite guide to the world's hidden wonders. Those interested in knowing about different remote geographical locations can get much information from here.
Their feed is also full of history-related topics. From exciting landmarks from the past to interesting facts, you have got it all covered. You can get a lot of information if you choose to follow this account.
There are over 1,000 sculptures throughout this complex, though in recent years around 45 of them have been removed with their fate unclear. https://t.co/Rh5qPbXqo3

— Atlas Obscura (@atlasobscura) June 26, 2022
LifeLock's Twitter account offers advice on identity theft protection, helping in protecting your personal information. Their page consists of small tips that should be kept in mind to keep free from identity theft.
This handle is convenient for those who frequently travel on day to day basis. If you are looking for some tips on theft protection, you can find some valuable knowledge here.
Filing taxes 🧾 can be a headache. Read on to learn more about the most common scams tied to #taxes & #COVID19, as well as helpful steps to take to protect your identity when you file: https://t.co/ZHF7iMJuRt

— LifeLock (@LifeLock) March 24, 2021
Their Twitter account contains information on wide-ranging facts about every aspect of life. The account contains information on day-to-day topics, shows, and comics, among many others.
If you want a general knowledge about these on your home feed, you can rely on this. It has 13 million followers at present, making it a reliable source for all your knowledge needs.
Interesting facts about music festivals🎶🎟🪩 pic.twitter.com/gvuzBnH1V7

— UberFacts (@UberFacts) June 27, 2022
Word of the Day's Twitter handle gives knowledge about new and different words- every day.
If you are particularly interested in increasing your vocabulary, this page can help. You have all types of words, from simple to complex. This is a good account to follow to increase your linguistic skills.
9/3 – ergophobia/ n: an abnormal fear of work, an aversion to work

— Word of the Day (@thewordoftheday) March 9, 2018
The Twitter account provides knowledge about history, untold science stories, pop culture-related incidents, and surprising facts. Their handle is full of a different range of topics.
If you are interested in increasing your daily knowledge about different things, this is a great account to add to your following list.
More than a half-century after his assassination cut his presidency short, JFK remains one of history's most intriguing figures—and, according to Gallup, America's favorite president.https://t.co/EbJvgqIs6f

— Mental Floss (@mental_floss) June 28, 2022
7. Second World War tweets from 1944 (@RealTimeWWII)
This Twitter account is dedicated to the timelines of World War 2. Anyone interested in learning more about the war can rely on this page without tuning in the past. This handle gives real-time progress of the war by tweeting daily.
If you are interested in gathering knowledge on the maps, original photographs, and history, you can add this account to your following list.
Faced with a tangle of German bunkers & defensive lines in Normandy, Allied troops are relying on massive artillery barrages to "soften" French towns prior to assault. pic.twitter.com/FpSwfVdJ6Z

— Second World War tweets from 1944 (@RealTimeWWII) June 27, 2022
8. Neil deGrasse Tyson (@neiltyson)
Neil deGrasse Tyson is an American astrophysicist, cosmologist, and author. His Twitter account is full of illuminating physics-related topics. He provides information on everyday events as well.
Saturday, April 16, 2022

Full Moon today — the first one after the March Equinox. The Sunday following that Full Moon is, by definition, Easter.

This rule precludes solar eclipses from ever taking place on Easter Sunday. pic.twitter.com/Vimo9ICIpO

— Neil deGrasse Tyson (@neiltyson) April 16, 2022
The National Aeronautics and Space Administration- NASA, is an independent agency
of the U.S. Government that provides knowledge on Space research. Their Twitter handle contains space-related information, graphics, and exciting facts. Their Twitter account is a good follow of getting knowledge about Space.
These images? They're Mars!@NASA's Mars Reconnaissance Orbiter is releasing one of its last rainbow-colored maps, revealing dozens of minerals found on the Red Planet's surface. The 5.6-gigapixel map will be released in batches over the next six months. https://t.co/ajCcNeiBk1 pic.twitter.com/Q4Eanfxpo8

— NASA JPL (@NASAJPL) June 25, 2022
Their Twitter account focuses on sharing history- via pictures and videos. This account is a good follow if you want to add history-related information to your feed.
The handle posts pictures of the people and events- from the past. This account is a good track for improving knowledge and facts about history.
Lincoln was the first president to bring cats to the White House. The family's cat, Tabby, would often be seen eating at the dinner table with the family. On top of this, Abraham Lincoln would often feed the cat with a gold fork. pic.twitter.com/iE41BnDCu9

— History In Pictures (@HistoryInPics) June 5, 2022
One Perfect Shot's Twitter handle focuses on cinematography elegance. This page is dedicated to highlighting beautiful frames used in films. It consists of famous shots used in films.
It also gives knowledge about the art of cinematography through its posts and improves your aesthetic skills.
ATLANTICS (2019)

Cinematography by Claire Mathon
Directed by Mati Diop
Explore a list of the best movies that were not nominated for Best Picture: https://t.co/KoU3C7pAcM pic.twitter.com/IPDltJuGr0

— One Perfect Shot (@OnePerfectShot) June 16, 2022
12. Quite Interesting (@qikipedia)
Quite Interesting Twitter handle is dedicated to the same-named show on BBC. Its Twitter feed contains random exciting facts every day. To get an update on random topics on your feed daily, you can add this account to your following list.
After the French Revolution, saints' days were replaced with days honoring important items in rural French life.

June 21 was the day to honor the onion. pic.twitter.com/ktvBMKzCEZ

— Quite Interesting (@qikipedia) June 21, 2022
13. MIT Technology Review (@techreview)
The Massachusetts Institute of Technology is regarded as one of the world's leading colleges. This Twitter account gives information regarding the latest technology in the making.
It regularly tweets about science and technology-related topics and findings. You can get updates about new technologies and knowledge about different science-related matters by following them on Twitter.
Hyper-accurate positioning is that much better than GPS. https://t.co/jx7e003pmy

— MIT Technology Review (@techreview) June 28, 2022
Slate's Twitter handle provides daily reports on topics related to political culture and technologies. If you want to know about what is happening currently in the world, you can add this Twitter handle to your following list.
This account is a daily magazine, so you can find various topics here.
To understand the impact of the overturning Roe v. Wade, @Slate wants to hear from people seeking reproductive care across the country. We want to know how the state laws are affecting real people, in real time. https://t.co/CXIiIfmQmd

— Slate (@Slate) June 28, 2022
15. Medieval Manuscripts (@BLMedieval)
The Twitter account provides knowledge about medieval archives in the British Library. From telling meaning about different manuscripts to giving information about the history, you can find everything here.
In celebration of the genius of Matthew Paris, medieval historian, artist and influencer.

These four manuscripts are held at @tcdlibrary and @britishlibrary

They can now be viewed online in all their glory.
Check out these links:https://t.co/0qeIdcEpRIhttps://t.co/TTgsA4qJCP pic.twitter.com/4aCTyCvkfh

— Medieval Manuscripts (@BLMedieval) June 24, 2022
This Twitter account provides information on day-to-day related topics. You can get knowledge about everything from psychology research to tech tips. You can add this to your following list, to get daily information.
Files by Google is a handy app that helps manage your Android phone's storage space and securely transfer data to the cloud and other devices. Now, it can also lock your personal files too https://t.co/I5MQkFVJOi

— Lifehacker UK (@LifehackerUK) August 27, 2020
Jonah Lehrer is a featured writer in Wired and The New Yorker. His account provides daily information about science, psychology, and the humanities. For knowledge on these topics, you can add his account to your daily following list.
Why Smart People Are Stupid http://t.co/h2nnf0Gm via @NewYorker

— jonahlehrer (@jonahlehrer) June 12, 2012
Their Twitter account is full of GIFs and videos about science. Their feed also gives you thought-provoking updates from the science channel and other publications.
A lot of valuable educational material is there on the page, which can be checked to get more information.
Tonight's #MysteriesOfTheAbandoned covers the ghost town of Poggioreale in Sicily, Italy, and its slow rebuilding effort.

The town was hit by a devastating earthquake in 1968, making the entire population houseless overnight.

▶️ #MysteriesOfTheAbandoned starting now pic.twitter.com/ArPTnKIqqX

— Science Channel (@ScienceChannel) June 8, 2022
The Twitter account is a great knowledge-giving handle for the natural world. You get it all covered here, from general information to details about animals.
You can get essential information regarding the animal kingdom, exciting daily facts, and up-to-date information.
Did you know deer can hug? They can and it's the best. pic.twitter.com/TNQ8N5bLf1

— Dose Animals (@DoseofAnimals) October 12, 2016
The Twitter account offers loads of interesting facts on the animal kingdom. If you are an animal lover and a fact hunter, you can add this account to your following list. You can also get a significant amount of knowledge through these daily tweets.
Elephants sing to each other, but their songs are in a frequency too low for humans to hear.https://t.co/s4KnDauokV pic.twitter.com/gunL5o5vz7

— Fact Retriever (@factretriever) June 24, 2022
Letters Of Note Twitter's account shares thousands of pieces of old correspondence, from legendary exchanges to goofy ones. This account gives an insight into the way people used to write letters.
You can get knowledge regarding the way of writing and the ways through which people used to communicate in here.
Nora Ephron 26 years ago. pic.twitter.com/HM5gBX56wp

— Letters of Note (@LettersOfNote) June 24, 2022
Conclusion
---
Twitter can provide you with a vast amount of knowledge. No matter where your interest lies,
Twitter makes it easy to find the knowledge about it; on point. Following the best Twitter account for knowledge in your following list help improve your home feed and make you discover the knowledge about it.