Live streaming on any social media platform is a great way to connect to your audience. The process of live streaming on Twitter is quite easy regardless of the platform you're using it on.
In this article, you will get to know all of the basic native broadcasting features on Twitter, and how to use them. 
Twitter offers easy-to-use tools that let brands and influencers offer real-time interaction to their audience and converse with them.
This often creates a better relationship with customers and builds a better engagement on the social media platform. Without further ado, let's get started with the process of how to go live on Twitter.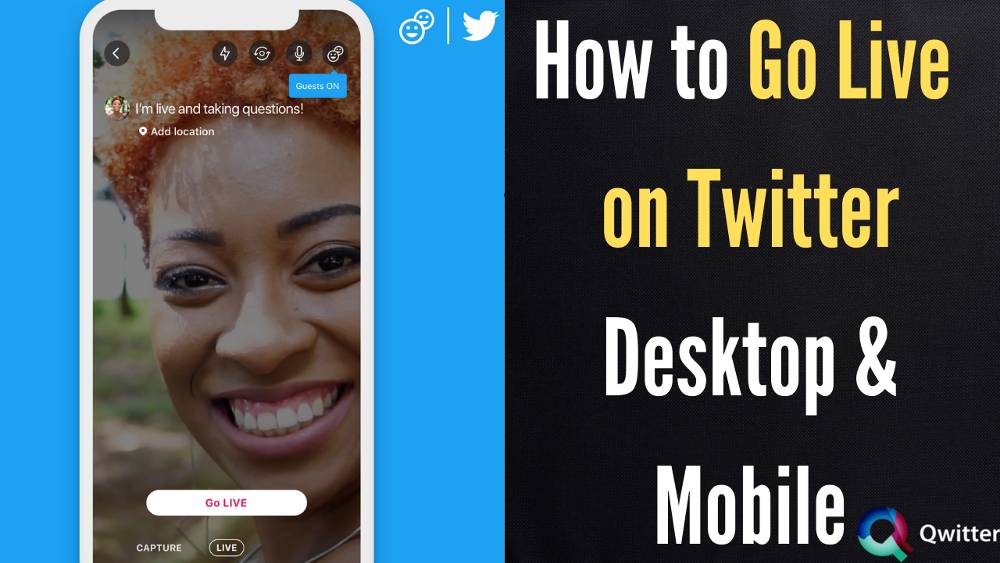 How to Go live on Twitter on desktop
---
Depending on the platform, the process of going live on Twitter can vary significantly. On desktop platforms, Twitter does not provide a native streaming studio in their set of media production tools.
As an alternative, you need to get your unique stream key from the social media platform and use it along with third-party software such as OBS Studio.  
In this section, we will take a look at how you can go live on Twitter while browsing on a desktop. Without further ado, let's get started with the process of live streaming from Twitter on Desktop platforms.
Open the Twitter app or the web page and log in to your account.
Tap on "More" from the left navigation bar, and select "Media Studio"
From the library that opens up, you will be able to view all of the posts that you've uploaded on the platform.
Next, tap on the "Producer" tab from the top bar.
From the top right corner, select the "Create Broadcast" button.
Select a unique and creative name for your broadcast and choose a category for your stream.
Next, tap on the "source" button to bring up the drop-down menu, from where you need to select "Create a new source".
After tapping on create, you will receive your unique "RTMP URL" and the stream key. You need to use these in conjunction with your preferred streaming software. We have used OBS as our preferred software in this article.
Open OBS Studio, and navigate to settings from the bottom right corner to select from the various streaming platform options.
Select "Twitter" from the drop-down menu and choose the region that is the nearest to you for the best streaming quality.
Enter your unique stream key in the fields that come up and tap on "Start Streaming". After this, your stream should start broadcasting on the platform.
How to Go live on Twitter Mobile [iPhone or Android]
---
On mobile platforms like Android and iPhone, it is quite easy to live stream directly on the go from the Twitter app. This can be done by following the steps listed below: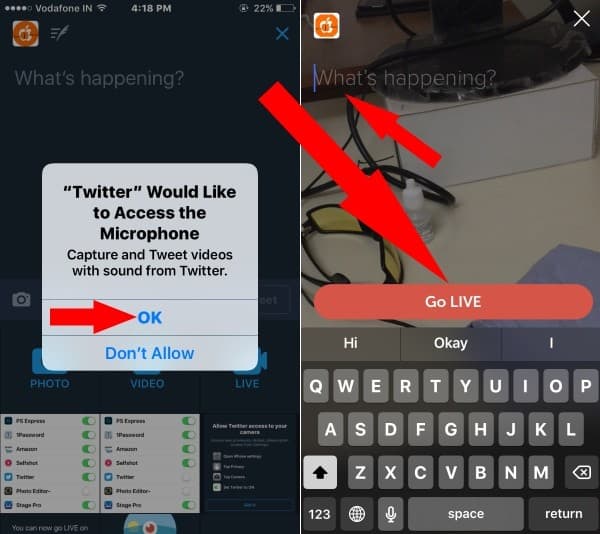 Open the Twitter app on your device and tap on the composer to select the camera icon.
Next, select "Live" from the options that are listed below.
In case you want to create an audio-only stream, you can do so by tapping on the microphone icon located in the top right corner.
You can choose to write a short description for your live video before starting to broadcast. This will later become a part of your tweets on the platform.
Next, select the "Go live" button to notify your followers and go live on Twitter via mobile devices.
How to End a live video on Twitter                 
---
On desktop platforms, you can end your stream on Twitter directly from the OBS studio or any other broadcasting software that you're using.
Tap on the button "Stop Streaming" located under the controls section of OBS to terminate your stream on Twitter. 
To end a live video on Twitter while streaming from the mobile app, look for the big "stop" icon on the top left corner while recording.
Tap on it and confirm your choice by selecting "Stop Broadcast".
This will end your stream on Twitter while using the mobile app.
Also Read: 7 Tips for Live Streaming on Twitter
How to Start a Live Stream on Twitter using third-party hardware or software
---
As clarified earlier, you can broadcast your live stream on Twitter using third-party software on desktop platforms.
This can be done once the user gets their unique streaming key using the steps listed above.
Regarding mobile platforms, the stream can be started directly using the app on both Android and iOS.
Streaming using third-party software is a great idea in case you have a dedicated desktop-based recording platform.  
How can I find live videos on Twitter?
---
With the recent design updates on Twitter, the live videos can be now found on the "Explore" section on the home page. This applies to cases when you want to view live streams from accounts that you don't follow on Twitter.
When any of the accounts you follow begins a Livestream, their video comes up on your timeline. Also, you can search for individuals who are streaming currently on Twitter to view their streams as a tweet.
Can I share a live broadcast or replay?
You can easily share live broadcasts directly from the live video, or when viewing the replay. To share a live video, tap on the "Share Live" button when viewing a Livestream. When in replay mode, tap on share and select the "Share from beginning" button. The live streams can be shared either as a Tweet, or its link can be copied to share externally.
When I go live on Twitter, where does it go?
Once you start a live stream on Twitter, it is visible to all of your followers directly from their feed. Also, after the broadcast has been finished, you can view it amongst all of your other tweets. Also, your live streams are visible to all of your followers just like any other tweet on the platform.
Can I make changes to my live video once it's been broadcasted?
Livestreams can be edited just like normal video tweets after it has been broadcasted. On mobile platforms, this can be done quite easily. Several parameters like specifying the start point, changing thumbnail images for your video, and modifying the video title can be done quite easily.
Can I save my live video?
Live videos can be saved after the user has ended the stream. Once the stream ends, it is directly saved as a tweet on the It can be either saved directly using the third-party broadcasting service or from the option "Save to Camera Roll" on mobile platforms.
Can I receive notifications when accounts I follow start a live video?
In case you want to want to receive special notifications for live videos on Twitter, you need to enable it from the "Account Notifications" preferences, located in your profile settings. The user can choose from either "Only live videos" or "All Tweets" to set their preference for live stream notifications.
Can I comment on a live video on Twitter?
The comment and the "heart" feature are available during live streams for all platforms that you can use Twitter on. You can easily comment on any Livestream and send likes directly from the video.
What are hearts in live video?
The "heart" feature is the same as liking a post on other social media platforms. You can send hearts to a streamer's broadcast in case you find it interesting. The streamers can also see who sends hearts to their live video.
Can you remove someone from watching and commenting on a live video?
Twitter offers a simple way to remove someone from watching and commenting on your live video. To do so, just tap on the profile that you want to stop viewing the comments from, and block them by tapping on the settings icon.                                   
Can I delete my live video?
While streaming, you have the option to end the stream, and after that, you can delete the Livestream directly by tapping on the "Delete Broadcast" button on iOS. For Android devices, you can achieve the same by first tapping on the share button and then selecting the "Delete Broadcast" button.
Can I go live if my Tweets are protected?
In case you have protected tweets enabled on the platform, then it is not possible to go live. Once you make your tweets protected, your previous Livestreams can be deleted from your list of tweets.    
Can viewers comment on my live video?
Your followers and accounts that are viewing your Livestream can easily comment on them. They can also like your videos by sending "hearts".
How do I find more live videos to watch?
New and popular live videos are available to watch on the Twitter timeline when they are broadcasted by accounts that you follow. You can also discover new live content from the "explore" section on Twitter.
What type of content is allowed in live video?
Any content that does not include self-harm, nudity, gore or otherwise content that can disturb users on the platform is accepted as valid content for live video.
How to Use live videos to stand out to your followers
You can use live videos as a one-to-one interaction with your followers and thus, increase your trust in them. This helps you to stand out to your followers and attract new customers to your stream.
Why don't I have the live option on Twitter?
As clarified earlier, you won't have the option to live stream on Twitter in case you have protected tweets enabled on the platform. To re-enable live tweets, just disable this option from your account preferences.
What Happens to Past Twitter Live Streams?
Your past Twitter live streams get saved as normal tweets on the platform. These can be revisited later by your followers and people who are interested in your profile. Furthermore, these can also be edited at a later point and posted on the platform to bring attention to it.