You already know the stories feature that is available on many social media platforms like WhatsApp, Instagram, Facebook, and snapchat.
Now considering their success over their respective platforms, Twitter has now also released its story feature in the form of Fleets. This feature is called Twitter Fleet.
Twitter ran a pilot program in Brazil in March 2020, before rolling out the new update to its platform. Fleets are currently available only on Twitter's mobile app for Android and iOS.
In this article, we'll tell you how to post a fleet on Twitter and share your views.
What are Fleets?
---
Fleets are tweets that disappear after a span of 24 hours. They are described as disappearing tweets although they are similar to the stories feature available on other platforms like Instagram and snapchat.
Although like standard tweets, you can't Retweet or like a fleet. Also, Fleets are tweets with no character limit and they are pinned to the top of your followers' feed.
You can add text, images, videos, or even actual tweets to your fleet to post it for 24 hours.
How do Fleets work on Twitter?
---
Twitter's fleet feature is quite similar to the concept of stories on snapchat and Instagram. Fleets appear at the top of your screen and you can manually browse through them or they will automatically play like any usual story.
You can see the name and Twitter handle of the person who has shared the Fleet, you can also see the time since it has been uploaded. If a fleet includes a website link you can easily open the link just by clicking it.
You can see a list of people who have seen your fleet and replied to it. The reply will appear in your direct messages.
How to Post a Fleet on Twitter
---
To post an original fleet on Twitter follow the below given steps.
Step 1 – Open the Twitter app and login into your account using your login credentials.
Step 2 – Click on the Add button at the top left corner of your screen.
Step 3 – A screen will appear where you can create your tweet and you can choose how you want your fleet. You can create a fleet in the below given forms.
Text – Add some text
Camera roll or Gallery – You can select an image or video from your gallery. Although the maximum length of a video is only 30 seconds. You might need to trim your video if it's more than 30 sec.
Capture – You can click a picture using the camera to use in Fleet.
Video – It will let you capture a video but it should be of the length of 30 seconds.
Step 4 – You can add text by tapping on the screen. You can also customize the text style and font according to your need.
You can also customize the size of the font by pinching in or out on the screen. You can drag it anywhere on the screen where you want to place the text.
Click on Done when you are finished.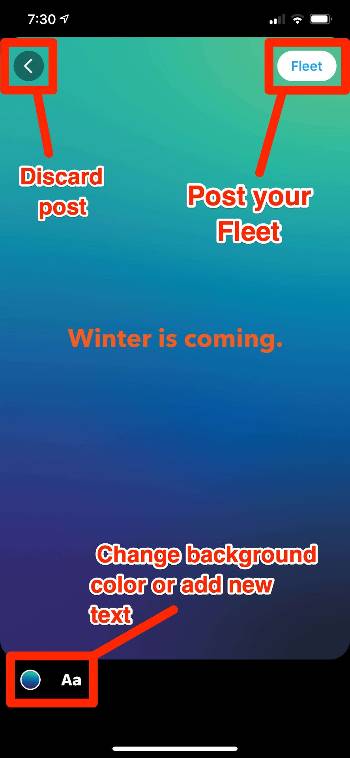 Step 5 – When you are done tap on the Fleet button on the top-right corner of the screen to post the Fleet.
How to Fleet a Tweet
---
You can also share a tweet directly on Fleet. Just follow the steps mentioned below to Fleet a tweet.
Step 1 – Open the Twitter app and login into your account using your login credentials.
Step 2 – Open the tweet that you want to put into Fleet.
Step 3 – Under the tweet, click on the share icon, which is to the right of the like button. (The share button looks like a box with an arrow pointing upwards)
Step 4 – A share pop-up menu will appear, click on the share in a fleet option.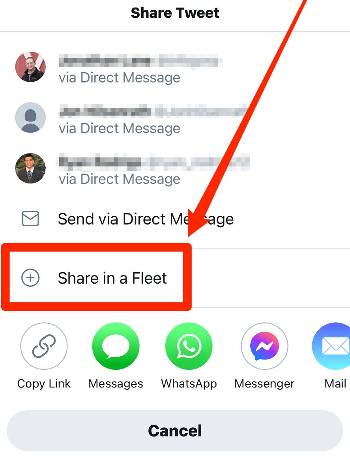 Step 5 – The tweet will now turn into a fleet. You can still add text and images, and you can customize the fleet according to you.
Step 6 – When you are done tap on the Fleet at the top right to post your fleet.
How to Download Twitter fleets
---
You can't download Twitter Fleets using Twitter although you can download it using a third-party website. One such website for downloading Twitter fleets is ddlvid.com.
To download the fleet you just need to enter the URL of the account in the writing field of the web. After typing the address in the field, click on the get the video button.
After clicking on the button, you will go to a page where you would be able to see the fleet published by that profile. You can download them by clicking the download button there.
Why can't I fleet on Twitter?
---
There are many reasons why you can't fleet on Twitter. Maybe it's because you are using Twitter on a desktop. The fleet option is only available for users using the Twitter app on iOS and Android.
Also, you may need to update your app to use the fleet option if you are unable to use it. If you still can't fleet on Twitter, you may need to contact customer support.
Wrapping Up
---
The Twitter fleet is a great option to enhance the growth of your account and reach. You would be able to reach a larger amount of audience using Twitter fleets.
It increases your engagement with your audience by helping you to provide them with regular updates.
Twitter fleets are a great opportunity for people who want to increase their accounts' engagement with people and update them on a daily basis. You have seen how to use fleets on Twitter, now you can use fleets as it is an easy and quick process to post updates daily.