Job hunting on Twitter seems like an oddball approach, but surprisingly this platform can be useful in the job hunt process. From following companies and hiring managers to build your brand, here's how you can leverage the blue bird for your career life: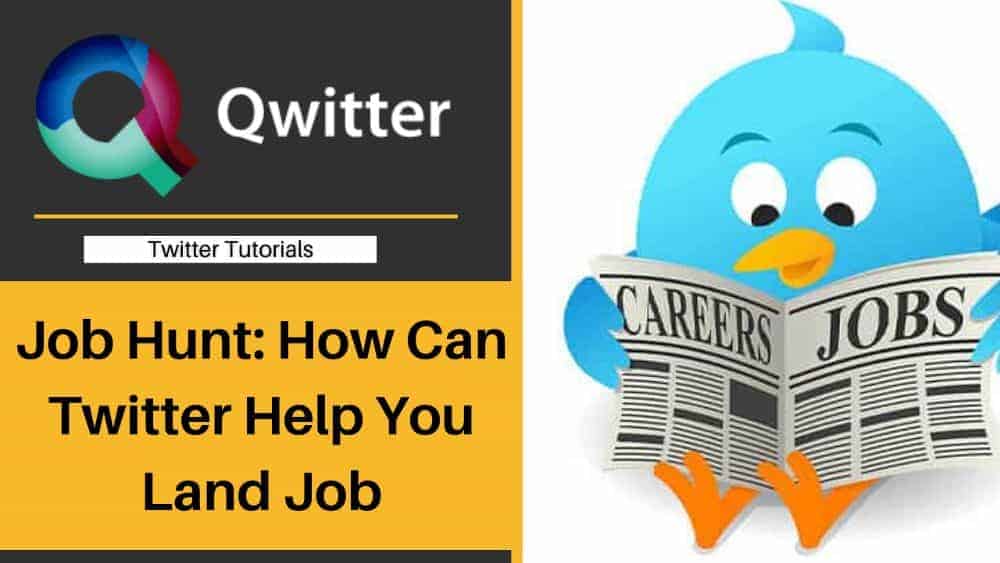 Twitter Helps You Get information about The Company
So, you're using Twitter to get a job? Well, a good way to leverage this is by following the companies you intend to apply for. By hiring managers, job hunters can get noticed by doing this, but it's also a great move if the goal is to find out more about the company that interests you.
Do that research and snooping, and you can add what you've found out to your cover letter. It will show recruiters that you've done your research about their company and their culture. It's a win/win.
Twitter Helps With Entry-To-Mid-Level Jobs
If you need more time allocated to your job hunt, but academic chores burden you and your time, then it's high time to invest in getting an expert to help you lighten the burden.
Whether you need a writer to write your thesis paper, your essays, or you just need to get help with homework, then simply go to Studyfy and hire a seasoned expert to tackle those academic tasks for you. We can't do everything by ourselves.
Moving along, finding entry-to-mid-level jobs that offer remote positions on Twitter can be a lucrative search. Many are hiring for such positions. Especially in the domains of:
eCommerce
Brand Management and Marketing
Data Science
Coding
Many companies and recruiters tweet about roles they want to be filled up, and some larger names will typically have a Twitter account just for job postings and vacancies, so be sure to find out their specific Twitter accounts for those. Also, be sure to use hashtags to find job listings.
Some hashtags you can use include: #jobsearch #nowhiring, and don't forget to take advantage of Twitter's advanced search feature.
Use Twitter To Prep Up For Interviews
Practice makes perfect, and preparation is key to success. This is where Twitter can be handy. Use the bluebird to know the company you are applying for from the inside out, which means staking out who your interviewers will be.
Get to know them, research who they are, and improve the chances of landing that job.
So, how do we do this?
First, use Twitter to your company's profile or recruiters/interviewers' profiles to find out the latest happenings. These can be crucial to make you more appealing in the interview process.
Research your interviewers as well but don't follow them. Instead, look at their tweets and find out what they're interested in. Of course, this will only work if their profile is public.
Doing this gives you more chances to engage and impress your interviewers since you'll know some topics to bring up during the process. However, avoid getting too personal and keep it professional.
Using Twitter To Make A Personal Brand
Anyone who's been on the internet long enough will know that everything is being capitalized, even in the digital sphere. So marketing is important and unavoidable for anyone or anything. The same goes for job hunters.
The more solid your online presence, the higher your chances of getting hired. Personal branding comes in to attract more of the right traffic. You are the honey to the bees.
The role of social media is huge nowadays. Many employers will check your social media profiles, such as Twitter and LinkedIn, before making a decision.
So, you must polish your professional profiles to create a personal brand that is enticing, credible, attractive for recruiters, and so forth.
It's the same as making a social media profile, but you're tailoring it to your professional life and the services and skills you can offer recruiters.
So, get to it. Make a banner to showcase what you can do, build a website to demonstrate your skills and portfolio, and link your social media profiles to excellent work examples.
Do this, and the job hunt will be easier since you won't only be hunting but attracting the right recruiters. If you want to turn your hobby into a career, you should consider getting a job in social media field.
Tweeting Helps For Online Exposure
Just by the simple act of posting on Twitter, job hunters can help themselves get online visibility with no effort. Tweet, retweet, and simply post about things that professionally interest you while using the relevant hashtags.
And by engaging with the algorithm, job hunters will keep in touch and up to date with the latest in their field by tweeting and retweeting, so again it's a win/win. Job hunters have themselves an online echo chamber.
Use Twitter To Find Live Job Openings
With Twitter, job hunters can find older job posts and live job openings on the spot. There are a lot of companies and recruiters out there who post very high-priority openings on Twitter.
So, look for job openings that need to be filled immediately, especially if you need a job ASAP. Follow recruiters who specialize in your industry to do this.
Final Thoughts
---
As we've stated, using Twitter to find jobs might seem very silly or counterintuitive if you've never used it for your career prospects. Still, it's even more foolish to completely black out this platform because you don't think it can be useful.
Instead, use our guide and leverage your job hunt efforts by using Twitter for your efforts as well. Many job hunters would be surprised at how much more possibilities they can be presented with by simply expanding their online presence.
Twitter can be an additional platform along with your LinkedIn profile and other profiles like Fiverr or Upwork. Use every tool at your disposal whenever you can, and your job hunting efforts won't be wasted but multiplied. Work smart, not hard.