Twitter gives a choice to every user to choose their handle and display name as they want. However, some users wish to hide their identities on Twitter, but it does not allow users to keep a blank name. By viewing many profiles with a blank name, people are curious about How to Have Blank Name on Twitter?
In this post, We will teach a clever method to keep a blank name on the Twitter web and app. So, Keep reading our post to find the answer.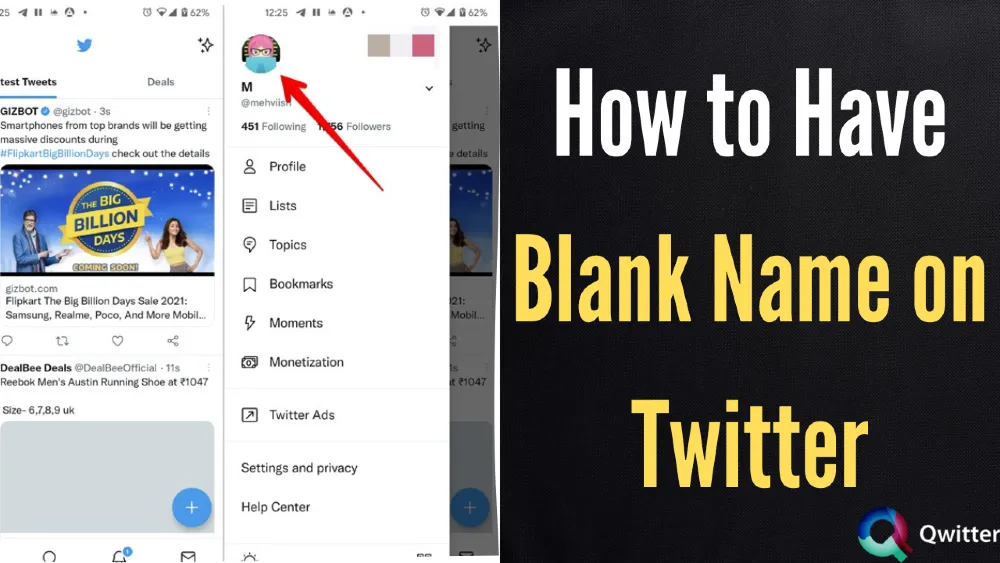 How To Make Twitter Name Blank On Twitter Web?
---
When a Twitter user decides to keep his Twitter handle empty without adding any characters, it is considered a "Blank Twitter name." No direct setting allows users to keep a blank name on Twitter.
Using our trick, you can easily keep your Twitter username blank for other users. It's a simple task to make a Twitter name blank on the Twitter app with the following steps.
Search and visit the Twitter website on your device.
Sign in to your Twitter account with your password and username.
Open your Twitter profile page.
Click on the "Edit Profile" option on the right side.
Navigate to the name box.
Copy the symbol "ً" as it is.
Paste this symbol in the Twitter name field.
Delete the apostrophes present and click on the Save button.
Now, refresh your Twitter profile page and check your changed name.
How To Make Twitter Name Blank On Twitter App?
---
The steps are similar to changing the name on the Twitter app.
Download and open the app.
Sign in to your account with your login information.
Click on your image icon and navigate to your profile page.
Tap on the "Edit profile" option on the right side.
Navigate to the name box.
Copy the symbol "ً" as it is.
Paste this symbol in the Twitter name field.
Delete the apostrophes symbol present and click on the Save button
Blank Twitter Name Copy Paste 2022 Using Copy Paste Dump
---
Sometimes, users face problems with the symbols they use in keeping a username blank. People can use the copy-paste dump website to get an invisible character for the Twitter display name.
Visit this link- https://c.r74n.com/twitter/invisible-name; tap on the box to copy the character. Go to the name changing screen and paste it there.
Frequently Asked Questions
---
Here are answers to some related questions people ask about this topic.
How Many Characters Are There in a Twitter Name?
A Twitter user can keep a unique username with a maximum of 15 characters. A Twitter username should not be less than 4 characters and can be maxed up to 15 characters. A username must contain only numbers, numbers, and underscores. Spaces are not allowed.
What's the Difference Between Twitter Username and Name?
Both the names represent a user's identity on Twitter. Let's see the difference between both names on Twitter.
Twitter Username
A username is also called a Twitter handle. It begins with the symbol "@" and is unique to every account. It appears in your Twitter profile URL. People are allowed to log in using a username. It's easy for another account to search anyone through usernames. A username is made of 15 characters.
Twitter display name
A Twitter display name is also known as a Twitter name. It works like a personal identifier that differs from a username. People can keep it as their business name or real name. It always appears next to a username. A display name is made of 50 characters.
How Many Times Can You Change Your Twitter Name?
Anyone can change their Twitter handle whenever and as many numbers as times they like. Twitter sets no limits on how many times one can change their name. Instagram allows making changes only 2 times in 14 days. Similarly, Facebook only changes its name after every 60 days.
How to Fix Twitter Won't Let Me Change My Display Name
---
There are a few cases where Twitter faces issues with changing its display name. If this happens, Twitter has activated your account.
You cannot change the Twitter display name from the inactivated account. The other reason can be that you include some words which Twitter doesn't allow.
For example, Twitter restricts unverified accounts from adding the words "admin" and "Twitter" in their display name. Only official Twitter accounts can include these words in their display name.
Twitter can reject these names if they include a URL, an email, or any words that they considered triggering and seemed inappropriate to their staff. Going with a blank name on Twitter is a decision one can implement and change anytime.