Twitter is an excellent place for having discussions and a fun way to communicate. Twitter has grown in popularity since its launch, and everyone from Kids to Adults is using it.
Wherever kids come, safety and security issues do too. Therefore, here we're going to see if Twitter is safe and secure for 11, 12, 13, 14 year olds kids and adults and what you can do to ensure you stay safe.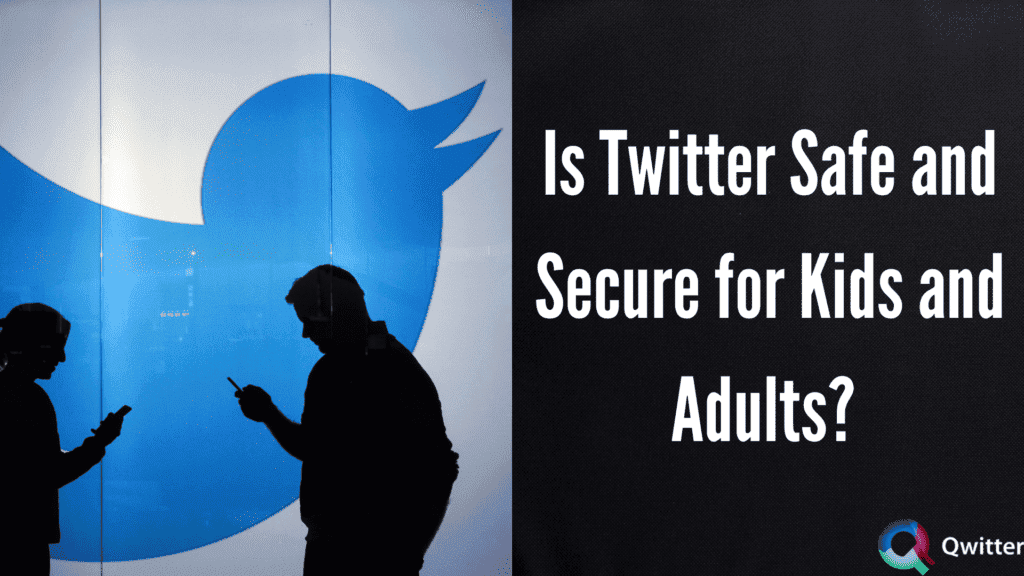 How safe is Twitter?
---
Twitter has some potential security issues. For example, it has no review process for tweets that increases chances for sensitive content on the platform, and it's easy for people to misrepresent themselves (Catfish, as you might popularly know). However, just like any other social media, Twitter is safe and secure as long as you take necessary safety precautions.
Is Twitter Safe for Kids?
---
Twitter requires a minimum age of 13 years to create an account and use the platform. However, even though Twitter allows you to create an account at 13, it's not safe for kids. You can ask children to protect their accounts by setting them private and keeping them educated on what they should do and what they shouldn't. Social media at such a young age can be informative but risky.
What are the dangers of Twitter?
---
As Twitter accounts are public by default and anybody can interact or see your tweets and likes, it possesses certain dangers that should be considered when using the platform. These dangers are:
1. Cyberbullying: Cyberbullying and harassment can occur on Twitter as bullies may troll or write wrongful comments about the users. This is possible by private messages or direct tweets and retweets.
2. Grooming: Twitter accounts are set to public by default meaning strangers can easily engage and have interactions. This might give groomers a chance to contact and interact with kids, putting them at serious risk.
3. Exposure to Sensitive content: Twitter is flexible in its scope and lets users post whatever they see fit. As a result, kids and light-hearted adults may come in potentially sensitive content such as violence or nudity.
4. Permanent Record: It's long known that nothing on the internet goes away. The same goes on Twitter as accounts are automatically public, and even though you set it to private, any engagement or tweets done via public profile will stay public.
Make sure that kids do not engage in controversial conversations or unlawful activities. Many employers and institutions use social media to check people's personalities and know them better as part of decision-making.
Is Twitter safer than Facebook?
---
Twitter is better than Facebook regarding safety and Privacy as it does not require much information to set up an account. In contrast, Facebook asks you to share almost everything, from your habits to your birth location. Twitter users often use one image for years as their display picture and a one-line bio.
15 tips for how to be safe on Twitter
---
To be safe on Twitter, it's important to stay cautious and take the necessary steps in maintaining one's Privacy and connections. We've compiled a list of ways to make your Twitter as safe and secure as possible.
Login Verification
Only a strong password is not enough to keep your Twitter account safe. As a result, Twitter provides Two-factor authentication and additional verification methods to reset passwords.
To enable Two-factor authentication, Go to Settings and Privacy > Security and account access > Security. You can choose how you want to receive your verification, Text Message, Authentication app, or security key.
After verification login is enabled, enter your password and login code given by the second activation form. When you're offline, use the codes provided by Twitter when enabling the feature and keep them securely.
You can also try using password reset protection to ensure no one gets a hold of your account.
Tweet Privately
Twitter allows you to interact with anyone on the platform, not just your immediate friends in your profile; this gives a chance to strangers to come after you.
You can protect your tweets and activity by setting your account to private only to let your followers see what you're sharing. On Mobile and PC, go to Settings and Privacy > Privacy and safety, and check the box to Protect your Tweets.
After this, anything you tweet will only be visible to your followers and will not appear in searches or even retweeted. You'll see a lock next to your name on your profile, and you'll have a chance to approve who gets to follow you.
Deactivate Tweet Location
You must have noticed that you can send your location attached to your tweets. It allows users to share their places and connect with people from the same area. But, sharing location online can be dangerous; therefore, Twitter lets you disable your location sharing.
To disable location on your mobile, navigate to settings and Privacy and then, Privacy and safety. Now select Precise location and turn it off.
To disable on your PC, to change privacy settings on twitter, go to settings and Privacy and then, privacy and safety and location information and untick the box Add location information to my tweets.
Control Photo Tagging
Twitter lets you tag people in pictures to share user experiences on the platform, but it is highly used to spam or harass other users. Twitter allows you to manage who can tag you in tweet photos. You can learn How to tag someone on a Twitter post.
Go to Settings and Privacy > Privacy and safety > Audience and Tagging > photo tagging. Here, you may completely turn off tagging or choose in– Anyone can tag you, and only people you follow can tag you.
Edit Discoverability
Twitter recommends people you may know and people to follow using your e-mail and phone contacts, meaning that people who have your contact will be able to see you, and you certainly wouldn't want people stalking you.
Therefore, it is automatically off, but you can ensure this by visiting Settings and Privacy > Privacy and safety > Discoverability. You can restrict people from finding you by deactivating e-mail, your phone number, or both, for that matter.
Don't just follow anyone and Everyone
When you're new on Twitter, it's tempting to follow new people thinking they might follow back. However, when you observe just anyone, you can contact strangers who may post tweets or information that is no use to you.
By this, you also let strangers see what you're tweeting, so it's suggested that you only follow your friends or people who you know and verify profiles.
Shut Down Your DMs
Although Twitter is a public messaging platform, you can also message people privately via Direct Messages (DMs). Initially, Twitter allowed DMs only between people who followed each other. But now, even people who don't follow you can send messages that can be helpful and dangerous.
However, you can manage who can message you and know if you've seen their messages. To manage your DM status, Go to Privacy and safety and then to Direct messages and uncheck receive messages from anyone to ensure people who follow you can only message. You can also turn off your Read Receipts and activate Quality-filter for separate low-quality messages.
Beware of Direct message Scams
Twitter lets you communicate with people with Direct messages, but you need to look out for fraudulent direct message scams. The messages that offer you something or try to get personal information are often methods for obtaining money.
Make sure that you only communicate with people you know, friends, and family, and do not visit any suspicious links that you may receive in your DMs.
Mute Words
If you find certain words that you do not like or are harmful, you can easily mute them. When you add words to your mute list, twitter filters out all the tweets with those words from your timeline.
You can mute words from Settings and Privacy, go to Privacy and safety, then, muted and finally, muted words. Click on the plus or add an icon to add words you want to mute. Now choose the timeline that you want to mute for.
If you want to remove the word from mute, select it and click on Delete word.
Block and Mute Accounts
When you block an account, it won't appear on your feed and prevents the blocked user from viewing your activity. However, when you block people, they can see that you blocked them, so people prefer to mute accounts.
When an account is muted, the tweets will not appear on your timeline, and you'll only see replies and mentions in your notifications if you follow them.
You can directly block and mute from the account's profile or their tweets using the three dots on the left. You can review muted and blocked accounts from Settings and Privacy > Privacy and safety > select muted for muted accounts. For block, select blocked accounts.
Hide Sensitive Content
You may encounter sensitive content that you don't want to see on your feed. From Settings and Privacy and Safety, you can control this and uncheck the box 'Display media that may contain sensitive content.'
Also, if you want to tweet some sensitive information, you can check the box 'Mark media you Tweet as containing material that may be sensitive.'
Turn On the Quality Filter
Turning on Quality-filter stops you from seeing low-quality content and cuts down spam. It is the best feature if you're not looking for muting or blocking words and accounts. You can turn it on from, Settings and Privacy, next go to, Privacy and safety, and finally, mute and block.
In advanced filters, you can also choose to mute notifications from people. Who don't follow you; you don't follow, with a new account, who have a default profile photo as well as who haven't confirmed their e-mail addresses and who haven't confirmed their phone numbers, respectively.
Never give out Personal Information, or post it in a Tweet
Always keep sensitive and personal information off of social networks like Twitter to ensure your safety. Users only need to provide your full name, e-mail address, or phone number when signing up on Twitter.
No employee of Twitter or even Twitter will ask for any other information. Do not give your financial information to anybody, whether in DM or tweets, as Twitter doesn't ask you to pay for using the platform.
Update your Privacy Settings Immediately
When you create your Twitter account, make sure to check privacy settings. Settings, by default, may give your information more than you want and enable other users to view your tweets or find you.
To ensure you don't encounter any issues, immediately set your settings according to your comfort.
Turn on Two-Factor Authentication to protect your Account
Turning Two-factor authentication gives extra protection to your account. It allows you to receive a text message, security key, or authentication app to make sure nobody else can log in and use your account.
To activate two-factor authentication, go to Settings and Privacy, next, Security and Account access, and then, Security.
Should I let my 13-year-old have Twitter?
---
Although Twitter lets 13-year-olds create an account, it is not really safe. There are many security concerns around kids, such as grooming, cyberbullying, and much more. Your kid may get influenced by any dangerous events in a video, such as trying to copy a jump from balconies or watching a violent/ scary video that can inflict trauma on them.
Even if you keep a watch and educate what your kid should or shouldn't do, it still doesn't make it any less dangerous.
Conclusion
---
This article explains if Twitter is safe and secure for kids and adults and mentions several tips to keep yourself safe and ensure kids' safety. I hope you find this helpful.